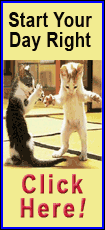 Fairmount Police Chief Roger Reneau said the roof of the structure collapsed Thursday. It's the second collapse since July 3, when a smaller section of the building caved in.
The school about 50 miles east of Indianapolis closed in 1986 and is owned by the Madison Grant Youth Basketball League. Dean fans and local officials have tried over the years to save the three-story red brick-and-limestone building, but David Loehr, curator of the James Dean Gallery a few blocks from the school, said proposals never panned out.
"There was a lot of interest, but the money didn't come with it," he told The Associated Press in July.
Reneau told The Indianapolis Star (http://indy.st/1a69X6X) the owners are considering razing the site, which has been barricaded to prevent people from trying to grab bricks as souvenirs.
"The walls are falling. We had some people doing that last night so we went ahead and barricaded it," he said.