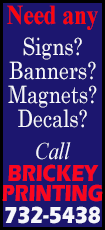 In his letter, Wilmert said he would officially leave office on Jan. 15, 2014.

He said that during his tenure in office, his personal life has taken some significant turns, and he feels that he needs to devote more time to his young family.

He expressed that he would continue to be a resource when needed, but he felt that he should not continue as a member of the city governance.

Wilmert was first elected as a Ward 2 alderman in 2009. He ran against and defeated incumbent Verl Prather and was sworn into office in May of that year.

In September that year, he married Cari Keysear of Lincoln, and in June of 2011, Cari gave birth to their son, Cameron Tiberius Wilmert.

In his years of service to the city, Wilmert has been active in several public functions, including groundbreaking ceremonies for Habitat homes in his ward; participation in the annual Fourth of July children's parade with his wife and son; and he was on hand in July of 2009 to welcome home a local soldier returning from Afghanistan.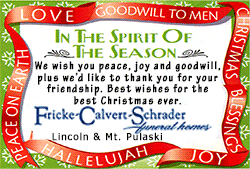 Wilmert was appointed to the sanitation committee at his swearing-in, and he worked with the Logan County Joint Solid Waste Agency throughout his tenure.
Along with former Ward 1 Alderwoman Stacy Bacon, Wilmert worked several months to develop and implement a parking ordinance in the city of Lincoln that would allow the parking of trailers on personal property in residential areas. At last action on that matter, the proposed ordinance came to a vote in March but failed to pass.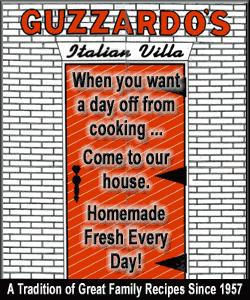 Wilmert's resume as alderman also included working with Alderman Tom O'Donohue and the city clerk, Susan Gehlbach, to update and upgrade city hardware and software, and he worked with Chief Ken Greenslate of the police department to get donated laptops up and running for city aldermen and department heads.
Wilmert served on a committee with Snyder and O'Donohue to conduct a search for a city administrator and was also a member of the intergovernmental committee with city and county officials that led to the selection of a consultant for electric aggregation.
He also expressed opposition to implementing a utility tax in 2013, saying his constituents did not want the tax, and he could not in good conscience go against their wishes.
Wilmert often spoke out on issues that involved adding more restrictions on Lincoln residents. He many times said that he believed there could be too much governance and that the city should be careful not to make too many rules about how people had to live their lives in the city.
Tuesday evening, Snyder expressed his appreciation for the years Wilmert has served and the work he has done for the city of Lincoln.
Snyder finished by saying: "We are glad that you will be here for a little bit. We will miss you and your service to the city. We hope that down the road, perhaps there will be opportunities for further service to the city." Snyder also drew a laugh from all the aldermen when he quipped, "We'll roast you later."
[By NILA SMITH]