During the Logan County Board's meeting as a board of whole in November, Lynn Haseley and Reynold Goff were honored for lifetime service to emergency services and presented with the distinguished Larry Shroyer Award.

The annual awards are named for former civil defense director Larry Shroyer.

By way of introduction, current EMA director Dan Fulscher explained that Shroyer's ability to think ahead of his time made him like the Walt Disney of emergency services. Shroyer came out of the World War II era and was Logan County's director of what is now the Emergency Management Agency. It was he who put the phone booth with a working phone on Lincoln City Hall as a lookout point for storms.

Fulscher said: "He was the one that received the grants for the public safety complex as you know it. He wrote a comprehensive operations plan back in the '50s that without a doubt would today still reach accreditation. I just marvel at his abilitiness." Fulscher added that the lower level of the complex was dedicated to Shroyer.

Calling forward Lynn Haseley, Fulscher said that Haseley has served as a trustee of the Lincoln Rural Fire Protection District for 25 years and is its current president. To his credit, Haseley aided in numerous changes to the department, with one of the most significant being just a few years ago: the new building that allows the consolidation of all the fire equipment in one location.

Among other advances, Haseley was also part of developing the Mutual Aid Box Alarm System, Division 1. MABAS coordinates with emergency management needs for water and other types of rescues.

Haseley, in response, confirmed: "A lot of these things have happened, and I'm very pleased to have been a part of it, but it was not just me alone. It took a lot of work and a lot of good people; especially (those) on board when we went to pass a referendum to build a firehouse."

He was most pleased with the relationship that has developed with the city of Lincoln Fire Department. "That was one of my goals when I came on as a trustee," Haseley said. "It's a win-win for everybody."

As part of his learning experience, it became personal. He went on to recall that the department had wanted an aerial truck, "and I said, we don't need an aerial in our district."

"Well, our house burned down, and it was a big, old two-story. They had a heck of a time putting out the roof. They said, boy, if we'd had an aerial, this would have been a piece of cake. "

He chuckled, and others joined him as he continued: "Needless to say, about three months later an aerial came up for sale in our price range; there's an aerial parked in our garage now."

Haseley concluded by saying that he had really enjoyed his service and learned a lot over the years.

"There's some interesting times coming for fire service, especially in Logan County as smaller departments find it harder and harder to find people to man the stations," he said. "They're relying on Lincoln Rural to help out because they know we are full time."

"Thanks again. I certainly appreciate it. Thank you!" Haseley said.

Fulscher called forward Reynold Goff as the other Larry Shroyer Award recipient. Goff has over two decades of service with the Chestnut Fire Protection District, having served as assistant chief and chief.

Fulscher recalled calling on Goff during a blizzard, and with assistance, Goff conducted over 35 rescues, cruising from Beason to Latham by snowmobile. Then, after the roads closed, he came to Lincoln, Fulscher said, and did a rescue of a man who had changed his mind three times before deciding he wanted help. That was up at Route 136.

Goff most recently represented the east side of the county in putting numerous projects into the Logan County Hazards Mitigation Plan.

Many of the projects for that area are water-related, ranging from water districts that serve for drinking water and firefighting, to flood control, particularly related to Salt Creek often coming out of its banks during heavy rains. Having the projects in the plan enables application for grant funding as it would become available.

Fulscher concluded: "With your due diligence, decades of health and fire and EMS services to the area, we present Reynold Goff with the Larry Shroyer Award of distinguished service and lifetime dedication to safety of citizens of Logan County."

While Larry Shroyer died a number of years ago, he is remembered well today. Special guest for the presentations to honor his memory included Darwin Shroyer, Shroyer's nephew, from Decatur.

[By JAN YOUNGQUIST]

Past related article
---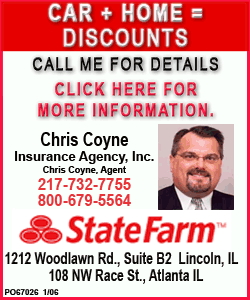 ---

Hundreds benefit from Open Arms Thanksgiving

The annual Thanksgiving meal served at Open Arms Christian Fellowship brought in hundreds of guests and benefited many others in different ways.

There were 350 meals served, including meals to the Lincoln Police Department, Lincoln Fire Department, Lincoln Rural Fire Department and Logan County Paramedic Association.

In addition, the following won gift cards in a drawing at the dinner:
John Hoyt – $25 Wal-Mart gift card

Ernest Petro – $25 IGA gift card

Geneva Skelton – $25 IGA gift card

Steven Windlan – $25 Wal-Mart gift card
In addition to gift cards, there were drawings for turkeys. Those winners were:
Jerry Birdwell

Shaun Bertolino

Arlene Busse

Jean Cypher

Liz Howell

Robby Hupp

Brandy McCormick

Susan Radespiel

Shaun Rathe

Rose Tolliver

Angela Wheeler

Mike Wunder
Including the drawing winners, Open Arms Christian Fellowship gave out a total of 60 turkeys, with many given to families in need through their local churches. The churches that participated were LifePointe Church of God, Faith Assembly of God, Abundant Life House of Praise and Open Arms Christian Fellowship.

Open Arms Christian Fellowship extends a very special "thank you" to Home Sweet Home Ministries and Mission Mart of Lincoln for their assistance in raising funds for this year's event.
---

St. John's celebrates another successful Germanfest

The Germanfest co-sponsors, St. John United Church of Christ and the Oasis Senior Center, have announced the total for the 2013 event. There were 244 meals served by the youth with the drive-thru orders and over 500 eating inside, giving the event a total profit of $4,242.23.

From the proceeds, $500 was given to the St. John Youth Group for their annual program and dance for veterans. The balance was divided between the two sponsors. The Oasis received $1,871.12, and St. John United Church split their $1,871.11 among three recipients. A total of $1,500 was designated to go to disaster relief, to be given to help with the recent needs in Washington and the other communities in central Illinois that were affected by the tornado and to a Philippine relief fund. The balance of $371.11 will be sent to a sister church, St. John UCC in Chicago, for their inner-city mission work.

Also, the remaining brats not sold were shared with a family in Lincoln who had lost everything in a fire.

Chairing this year's Germanfest were Wayne Mara and Tonita Reifsteck for St. John UCC and Georgina Binzen and Dennis Schrader for the Oasis.
---