Tickets for the event are available at Logan County Quilt Shop, MKS Jewelers, Regions Bank and Lincoln Christian Church for a donation of $8. Tickets will also be available at each tour site during tour hours.

15 Fairway Lane

The home of Bill and Kay Armbruster, 15 Fairway Lane, was built in the fall of 2007 by architect Jim Manning. The home was designed to leave in place many of the stately oak trees framing the lot, although many of these trees have since died and been replaced.

The Armbruster home features wood and natural elements. The wood, color scheme and decor of the house give it an agreeable masculine feel. Large windows offer great views year-round. The house is nestled in the landscape, complementing rather than competing with the surroundings. The location offers a view of the golf course from the home's full-length windows.

The laundry room offers one feature that is somewhat unique — a dog shower. Since the Armbrusters have several pets, it has become a handy area in the home.

As the basement concrete was poured in the fall of 2007, leaves from the trees surrounding the house left impressions in the concrete. The Armbrusters chose to stain the basement floor and leave it bare so that the delightful leaf pattern remains visible today.

Bill and Kay invite you to visit their home as part of the Harvest of Talents tour.

5 Fairway Lane

Close by at 5 Fairway Lane, the home of Dr. John and Sheema Wahab will also be open to tour. Completed five years ago, their Mediterranean-style home was designed to be a modern and beautiful residence that would not serve not only as a home for their active family but also as a great setting to share their traditional hospitality.

In choosing the southern view of the Lincoln Elks Club's 18th fairway and pond, the Wahabs enjoy the scenery of every season from outdoor patios, balcony and expansive windows.

Tour guests will be intrigued and amazed by the family's collection of big-game trophies preserved from their hunting trips to South Africa and the Sahara, including a giraffe (affectionately called Reginald by the children), Cape buffalo, lioness, niala, zebra, wildebeest and various antelopes.

Family is the primary foundational inspiration for the Wahabs' home, and, as such, comfortable accommodations for three generations are integrated into the house on all levels.

The Wahabs are hosting "Mrs. Claus' Workshop" near their kitchen and encourage tour guests to take advantage of this special opportunity for Christmas shopping amid homemade treats and handcrafted items made especially by the Harvest of Talents ministry team for Sunday's home tour. Every purchase will benefit this ministry for hunger relief around the world.

515 Eighth St.

Across town at 515 Eighth St., the cozy one-story dwelling of Betty York is the third stop on the home tour. The house was built in 1971 by Frank Hinman, who lived there for several years. It was most recently owned by Richard and Halcyone Eimer and purchased from the Eimer estate.

In October of 2012, Mrs. York moved from the historic William Maxwell two-story house just up the street, her home for over 40 years, to the smaller house, which better suited her physical needs. Situated on a tree-shaded corner lot, the four-room brick home with patio and two-car garage ideally fits the needs of a couple or single occupant.

Lovely pieces of antique furniture, Harvest of Talents quilts and clocks refurbished by Mrs. York's late husband add to the charm of the home.

Longtime friend Jan Schacht has used her personal collection, many years in the making, to decorate Betty's home for Christmas. Ms. Schacht has adorned the home with a variety of evergreen arrangements that make a perfect backdrop for the many rustic and primitive Christmas decorations that harken back to the early years of our nation.

204 N. McLean

Also included in the tour is the newly remodeled sanctuary of Lincoln Christian Church. The building of bricks and Bedford stone was dedicated on Dec. 5, 1954.

One of the special features of the sanctuary, then and now, are the stained-glass windows of the nave, each carrying a message for those who worship there. On the right, the "I Ams" of Jesus are symbolized in glass. On the left, his entire life is symbolized, including the following events: incarnation, nativity, early life, baptism, atonement, resurrection, victory, the church, "Rock of Ages" and "A Mighty Fortress." The large window at the front of the church is 28 feet high, and the glass is fully encased in stone. The three circles at the top carry the symbols of the Godhead: Father, Son and Holy Spirit. Just below them are the symbols of the four evangelists — Matthew, Mark, Luke and John – with the busts of the four evangelists below each. They tell the story of redemption (John 20:30-31). Tours of the stained-glass windows will be conducted from 1 to 3 p.m. by Ron Otto, pastor of the church

Quilt show — 30 years of Harvest quilts

Sunday afternoon the church sanctuary will also feature a display of many of the quilts that been purchased in the 30 years of the Harvest of Talents for World Hunger. The purchasers of these handmade treasures have loaned them back to the Harvest ministry to be displayed, celebrating the 30th Harvest of Talents for World Hunger and honoring the many quilters who have shared their quilting skills. The Harvest of Talents ministry displays these quilts with great thankfulness, acknowledging that they have provided food for many hungry people throughout the world and humbly recognizing the generosity of both the quilters and the purchasers.

All proceeds from the Holiday Homes on Tour will become a part of the 31st annual Harvest of Talents for World Hunger, scheduled for the fourth Saturday in October 2014.
---

LARC sponsors 5K for Kaylee
The Lincoln Area Running Club will host a 5K run/walk on Saturday, Dec. 14, at Kickapoo Creek Park.
The event begins at 2 p.m. and will include a 1.5-mile route and 5K run/walk. Virtual Runner will also be available.
All proceeds from the event will go to benefit the family of Kaylee Helton. Kaylee is a 14-year-old from Middletown and a student at Lincoln Community High School. She recently suffered a massive pulmonary embolism and was hospitalized in St. Louis with serious complications.
Everyone is encouraged to come out and lend their support to Kaylee and her family.
To participate, register online at runninglincoln.webs.com, runsignup.com, or do a Web search for "Kaylee Helton Benefit Run." Runners may also register at the park on the day of the race.
---

Community Action board meeting notice
The next regularly scheduled corporate board meeting of the Community Action Partnership is scheduled for Thursday, Dec. 19, at 7 p.m. The meeting will be at Community Action's corporate offices, 1800 Fifth St. in Lincoln.
---

Red Cross encourages eligible donors to give the gift of life

PEORIA — The holiday season is here, and with it comes the exchange of gifts among family and friends. For many hospital patients, one gift on their wish list can't be found at stores: a blood donation.

Blood donations could be the gift of life to people like Lauren McCrary, who was immediately hospitalized after being diagnosed with acute myeloid leukemia. She received more than 140 blood and platelet transfusions. Now in remission, she serves as the blood drive coordinator at the high school where she works.

"I can never repay the donors who helped save my life, but I can remind others that giving blood is truly the gift that means something," McCrary said. "The blood I received has helped me celebrate more holiday seasons with my family."

The American Red Cross encourages eligible donors to give what could be the most meaningful gift of the season to someone.

Upcoming blood donation opportunity in Logan County:
Wednesday, Dec. 18, noon to 5 p.m., at the Lincoln Sports Complex, 1400 Primm Road in Lincoln
How to donate blood

Simply call 1-800-RED CROSS (1-800-733-2767) or visit www.redcrossblood.org to make an appointment or for more information. All blood types are needed to ensure a reliable supply for patients. A blood donor card or driver's license or two other forms of identification are required at check-in. Individuals who are 17 years of age (16 with parental consent in some states), weigh at least 110 pounds and are in generally good health may be eligible to donate blood. High school students and other donors 18 years of age and younger also have to meet certain height and weight requirements.
---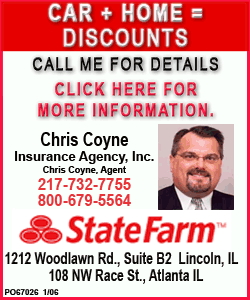 ---

Haseley and Goff receive distinguished Larry Shroyer Award

The Logan County Emergency Management Agency has recognized two men for their commitment to protect the lives of Logan County residents.

During the Logan County Board's meeting as a board of whole in November, Lynn Haseley and Reynold Goff were honored for lifetime service to emergency services and presented with the distinguished Larry Shroyer Award.

The annual awards are named for former civil defense director Larry Shroyer.

By way of introduction, current EMA director Dan Fulscher explained that Shroyer's ability to think ahead of his time made him like the Walt Disney of emergency services. Shroyer came out of the World War II era and was Logan County's director of what is now the Emergency Management Agency. It was he who put the phone booth with a working phone on Lincoln City Hall as a lookout point for storms.

Fulscher said: "He was the one that received the grants for the public safety complex as you know it. He wrote a comprehensive operations plan back in the '50s that without a doubt would today still reach accreditation. I just marvel at his abilitiness." Fulscher added that the lower level of the complex was dedicated to Shroyer.

Calling forward Lynn Haseley, Fulscher said that Haseley has served as a trustee of the Lincoln Rural Fire Protection District for 25 years and is its current president. To his credit, Haseley aided in numerous changes to the department, with one of the most significant being just a few years ago: the new building that allows the consolidation of all the fire equipment in one location.

Among other advances, Haseley was also part of developing the Mutual Aid Box Alarm System, Division 1. MABAS coordinates with emergency management needs for water and other types of rescues.

Haseley, in response, confirmed: "A lot of these things have happened, and I'm very pleased to have been a part of it, but it was not just me alone. It took a lot of work and a lot of good people; especially (those) on board when we went to pass a referendum to build a firehouse."

He was most pleased with the relationship that has developed with the city of Lincoln Fire Department. "That was one of my goals when I came on as a trustee," Haseley said. "It's a win-win for everybody."

As part of his learning experience, it became personal. He went on to recall that the department had wanted an aerial truck, "and I said, we don't need an aerial in our district."

"Well, our house burned down, and it was a big, old two-story. They had a heck of a time putting out the roof. They said, boy, if we'd had an aerial, this would have been a piece of cake. "

He chuckled, and others joined him as he continued: "Needless to say, about three months later an aerial came up for sale in our price range; there's an aerial parked in our garage now."

Haseley concluded by saying that he had really enjoyed his service and learned a lot over the years.

"There's some interesting times coming for fire service, especially in Logan County as smaller departments find it harder and harder to find people to man the stations," he said. "They're relying on Lincoln Rural to help out because they know we are full time."

"Thanks again. I certainly appreciate it. Thank you!" Haseley said.

Fulscher called forward Reynold Goff as the other Larry Shroyer Award recipient. Goff has over two decades of service with the Chestnut Fire Protection District, having served as assistant chief and chief.

Fulscher recalled calling on Goff during a blizzard, and with assistance, Goff conducted over 35 rescues, cruising from Beason to Latham by snowmobile. Then, after the roads closed, he came to Lincoln, Fulscher said, and did a rescue of a man who had changed his mind three times before deciding he wanted help. That was up at Route 136.

Goff most recently represented the east side of the county in putting numerous projects into the Logan County Hazards Mitigation Plan.

Many of the projects for that area are water-related, ranging from water districts that serve for drinking water and firefighting, to flood control, particularly related to Salt Creek often coming out of its banks during heavy rains. Having the projects in the plan enables application for grant funding as it would become available.

Fulscher concluded: "With your due diligence, decades of health and fire and EMS services to the area, we present Reynold Goff with the Larry Shroyer Award of distinguished service and lifetime dedication to safety of citizens of Logan County."

While Larry Shroyer died a number of years ago, he is remembered well today. Special guest for the presentations to honor his memory included Darwin Shroyer, Shroyer's nephew, from Decatur.

[By JAN YOUNGQUIST]

Past related article
---

Hundreds benefit from Open Arms Thanksgiving
The annual Thanksgiving meal served at Open Arms Christian Fellowship brought in hundreds of guests and benefited many others in different ways.
There were 350 meals served, including meals to the Lincoln Police Department, Lincoln Fire Department, Lincoln Rural Fire Department and Logan County Paramedic Association.
In addition, the following won gift cards in a drawing at the dinner:
John Hoyt – $25 Wal-Mart gift card

Ernest Petro – $25 IGA gift card

Geneva Skelton – $25 IGA gift card

Steven Windlan – $25 Wal-Mart gift card
In addition to gift cards, there were drawings for turkeys. Those winners were:
Jerry Birdwell

Shaun Bertolino

Arlene Busse

Jean Cypher

Liz Howell

Robby Hupp

Brandy McCormick

Susan Radespiel

Shaun Rathe

Rose Tolliver

Angela Wheeler

Mike Wunder
Including the drawing winners, Open Arms Christian Fellowship gave out a total of 60 turkeys, with many given to families in need through their local churches. The churches that participated were LifePointe Church of God, Faith Assembly of God, Abundant Life House of Praise and Open Arms Christian Fellowship.
Open Arms Christian Fellowship extends a very special "thank you" to Home Sweet Home Ministries and Mission Mart of Lincoln for their assistance in raising funds for this year's event.
---

St. John's celebrates another successful Germanfest
The Germanfest co-sponsors, St. John United Church of Christ and the Oasis Senior Center, have announced the total for the 2013 event. There were 244 meals served by the youth with the drive-thru orders and over 500 eating inside, giving the event a total profit of $4,242.23.

From the proceeds, $500 was given to the St. John Youth Group for their annual program and dance for veterans. The balance was divided between the two sponsors. The Oasis received $1,871.12, and St. John United Church split their $1,871.11 among three recipients. A total of $1,500 was designated to go to disaster relief, to be given to help with the recent needs in Washington and the other communities in central Illinois that were affected by the tornado and to a Philippine relief fund. The balance of $371.11 will be sent to a sister church, St. John UCC in Chicago, for their inner-city mission work.

Also, the remaining brats not sold were shared with a family in Lincoln who had lost everything in a fire.

Chairing this year's Germanfest were Wayne Mara and Tonita Reifsteck for St. John UCC and Georgina Binzen and Dennis Schrader for the Oasis.
---