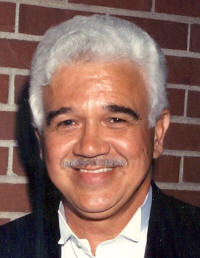 Ronald Jones
[December 09, 2013] LINCOLN — Ronald Lewis Jones, 73, of Lincoln, died Saturday, Dec. 7, 2013, at 3:36 p.m. at The Christian Village.
(Below is a copy of the obituary from the funeral home.)
___
Lincoln- Ronald Lewis Jones, age 73, of Lincoln, IL. died at 3:36 P.M. Saturday, December 7, 2013 at The Christian Village, Lincoln, IL.
Ronnie was born August 22, 1940 in Lincoln, IL., the son of Melvin Lewis and Mary Catherine Molloy Jones. He was united in marriage to Kay Lyn Schrader on March 8, 1958 in Clinton, IL. and she survives. He is also survived by one daughter, Renee Jones of Lincoln, IL., and four sons, Rod (Mary) Jones of Williamsville, IL., Randy Jones of Lincoln, IL., Robbie (Gretchen) Jones and Richie (Jani) Jones both of Lincoln, IL. and 10 grandchildren, Rachel, Nick, Chelsea, Taly, Austin, Gabby, Riley, Emma, Elaina, and Kaeli. Ronnie was preceded in death by his parents and was the last of his immediate family.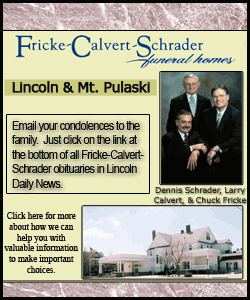 Ronnie was an electrician for 32 years and retired from Lincoln Developmental Center in 2000 where he had worked as an electrician. He was a member of Local #193, IBEW, the local Musicians Union and Knights of Columbus. Ronnie began playing the saxophone in High School and started traveling with the Nu Notes band before graduation. He traveled locally for many years playing. Ronnie became a Christian in the 1980's and continued to play music at church and occasionally for parties and other places. Ronnie was an avid sports fan. He loved NASCAR, college and professional basketball as well as the Dodgers and Steelers. Ronnie will be missed greatly by his family and friends.
Funeral services will be at 10:30 A.M. on Wednesday December 11, 2013 at Fricke-Calvert-Schrader Funeral Home in Lincoln, IL. with Gary Schmidt, Ryan Edgecomb and Nick Jones co-officating. Burial will be in Zion Cemetery in Lincoln, IL. Visitation will be from 4-7 P.M. on Tuesday at the funeral home. Memorials may be made to The George D. Gahr Memory Center.