The Habitat affiliate continues to collect televisions for recycling.

Additionally, the following items will be accepted:
Computer equipment, including laptop and desktop personal computers, hard drives, monitors, keyboards, printers, scanners, CD-ROM, DVD, Zip and tap drives, cords and cables.

Entertainment equipment, including TVs, radios, stereo and game systems, game controls, VCR and DVD players, and cameras.

Small business equipment, including phones, copiers, typewriters, fax machines and calculators.
Small household and countertop appliances will also be accepted, as well as aluminum, copper, brass and stainless steel items.
Electronic equipment is not to be left at the site and is not accepted outside the hours of the collection.
Information on the electronics recycling program is available by contacting the Habitat office at 217-732-6412 or visiting www.habitatlogan.org.
---

New Lincoln Christmas ornament made available; Abraham Lincoln Statue Committee continues fundraising efforts
Friday afternoon, JoAnne Marlin, Mary Ellen Martin and Wanda Lee Rohlfs were busy numbering their new arrival of Christmas ornaments and adding the certificates of authenticity to each one.
The ornaments arrived last week and are already on sale at several local businesses.
The ladies explained that the new ornament design is a depiction of the Abraham Lincoln speech on the steps of the Logan County Courthouse on Oct. 16, 1858. The likeness of Abraham Lincoln on this ornament is the same as the Logan County Historical & Genealogical Society hopes to create in a lifesize statue to be erected on the lawn of the Logan County Courthouse next year.
Rohlfs said the ornaments have been made by Desmark, the same company that produced the series of city of Lincoln ornaments. The new ornaments are sized and designed to complement the city ornaments on a tree.
Martin said that was one of the nice things about the ornaments, and so far she's had a few people who have asked for them because they have the full collection and want to keep it going. She also noted that some have asked if the society will continue doing annual ornaments in the future. Right now no specific plans are outlined for that, but the ladies agreed that it might be nice to pick that up as an annual event for the society.
Each of the new ornaments is numbered, comes in a hunter green box and is accompanied by the certificate of authenticity.
The first 30 ornaments have been set aside for those who are buying the miniature bronzes of the statue. Those purchasers will be offered the opportunity to buy an ornament with the same issue number as their statue. Rohlfs said that if the statue owner decides not to purchase an ornament, the number will be put back in the stack to be sold to the general public.
The Christmas ornaments now being offered for sale are just one of several fundraising activities the society is conducting for the statue.
Currently, the committee has sold 12 of the 22-inch bronze miniatures of the statue. Bill Donath was on hand Friday afternoon and said a new shipment of the statues will be in next week. When all of the statues have sold, the net proceeds going toward the project will total about $30,000. It is estimated that the funding needed to erect the statue on the courthouse lawn is $48,000.
Rohlfs said that Ms. Marla Williams' history classes at Northwest School have taken a keen interest in helping raise funds. Their penny drive this fall brought in over $300 for the statue. The classes will also sponsor a "Hiking for History" walking marathon in the early part of next year.
Another fundraiser coming soon will be the sale of postcards depicting the statue. Marlin said the cards will be coming in the near future, and the society has hopes of selling the majority of them at local businesses.
For those who are interested in purchasing the new Lincoln ornament, they are currently available at Beans & Such, MKS Jewelers, Serendipity Stitches, the Logan County treasurer's office, or from the Genealogical Society.
The Logan County Genealogical & Historical Society is located on Chicago Street, across from the train depot. The hours are Tuesday, Thursday and Friday from 11 a.m. to 4 p.m.
The society also has on display the 22-inch bronze, which is currently being offered. Anyone who is interested in seeing and perhaps purchasing a bronze can stop in at 114 N. Chicago St. during the center's normal business hours.
[By NILA SMITH]
---

Culver's dedicates Wednesday to aid tornado victims
This Wednesday, Dec. 11, the local Culver's restaurant will join with other Culver's stores around the state to participate in a day of giving to benefit recent tornado victims.
According to local store owner and manager Elaine Aue, 10 percent of the entire day's receipts will be donated to tornado victims in the Washington area.
In addition, the store is collecting items to assist families and volunteers during the cleanup and recovery. Aue said specifically they are hoping to collect daily hygiene products such as soap, shampoo and toothpaste for victims, along with nonperishable food items.
In addition, Aue said there is a need for hats and gloves for the volunteers who are helping with the cleanup efforts, and she is hopeful that folks will also bring in those types of donations on Wednesday.
After the collection of needed items, Aue will personally deliver them to collection centers in the Washington area.
---

Local authors Kathy Kesner and Irene Kueh release 4th book
Signing available Saturday at Lincoln Public Library
Lincoln residents Kathy Kesner and Irene Kueh have recently completed the fourth book in their "Land and Sea" series of children's books. This new title, "Learning the Opposites at the Library with Lane and Shelby," features the two dogs who captured the colors in "Finding the Rainbow" (book three in the series).
In the new book, children are introduced to the concept of opposites as they spend a day at the library with the two happy canine friends. Each opposite is presented in the form of a whimsical rhyme and accompanied by a full-color illustration. There is also a catchy refrain that repeats throughout the book.
A copy of the book, which is dedicated to the Lincoln Public Library District, was presented to library director Richard Sumrall recently.
On Saturday, Dec. 14, there will be a book signing in the Carnegie building of the Lincoln Public Library, 725 Pekin St., from 9:30 to 11:30 a.m. At that time, all four children's books in the series will be available and can be personalized by the authors.
In addition, books that Kueh has published may be purchased at the signing, and there will be an opportunity to enter a drawing for one of her titles.
The books are also carried by Prairie Years, 121 N. Kickapoo Street in Lincoln; Horsefeathers, 104 Gov. Oglesby St. in Elkhart; and are available through Amazon.
---

Festival of Trees huge success for Mount Pulaski Courthouse Foundation

MOUNT PULASKI — Christmas carols were playing while the sidewalks and steps were decked with candles on Saturday night for the Festival of Trees and open house at the historic Mount Pulaski Courthouse. A portrayer of Abraham Lincoln was present to greet everyone, and all shared in beautiful Christmas treats.

The courtroom was full when Renee Martin, a member of the board of the Mount Pulaski Courthouse Foundation, welcomed everyone. She remembered growing up with the courthouse as an important part of life in Mount Pulaski. She said she wanted her own children to grow up with it "in good shape, not tattered."

Auctioneer Mike Maske volunteered his time to auction the 25 decorated trees and the accent cabinet donated by Salt Creek Attic. Ms. Martin and Mr. Lincoln introduced each tree.

Most of the trees were decorated and donated by local businesses, but the Logan County Tourism Bureau decorated and donated one, too. Also, some local families decorated and donated trees. Some interesting ones: Farmers Bank tree with bows of $1 bills; Mount Pulaski Pharmacy tree with ornaments of gauze, pill bottles, etc.; and the tree provided by Hayes Garage and family, with colorful cancer ribbons in memory of Dick's wife, Shirley, who died recently.


[to top of second column]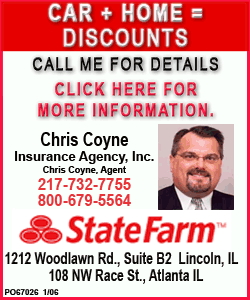 Maske was full of humor and always urged everyone to cheer people to raise their offers. The trees raised $4,445 and the accent cabinet went for $350, for a grand total of $4,795 for the courthouse foundation.
Before the trees were auctioned, Tom Martin, chairman of the foundation, thanked the committee, everyone who prepared a tree and all those who have supported the foundation since its founding in 2011. He reviewed the improvements to the building that have been accomplished. He said the foundation had been moving slowly because they need to work closely with the Illinois Historic Preservation Agency — to be "careful to do the work the right way so it does not need to be done over." He emphasized that a lot of what the organization has been doing is to "get the community on board" with taking care of and enjoying the historic courthouse. He pointed to the past two summer workweeks and street fests.
At the end of the evening, Martin thanked Maske and invited everyone to volunteer some time to care for the courthouse. "Come swing a hammer or a paintbrush. Just come in and we will find something for you to do," he said.
Martin ended his remarks with a surprise announcement. He reported that the Waldo and Rosalie Bertoni estate had willed a bequest of $250,000 to the Mount Pulaski Courthouse Foundation. Waldo died two years ago, and Rosalie died at the end of October. Both had been regular members of the Mount Pulaski 175th Anniversary Planning Committee during the 2010-2011 years. Waldo was born and raised in Mount Pulaski, and his wife, the former Rosalie Smith, was born and raised in Chestnut. They were both graduates of Mount Pulaski High School. They had returned from their initial retirement home in Falls Church, Va., to their final retirement home in Mount Pulaski in the summer of 2005.
The State Bank of Lincoln has informed the Mount Pulaski Courthouse Foundation that it should expect to receive the funds in about six months. Martin expressed his gratitude for the trust the Bertonis and the community had placed in this new foundation. This gift from the Bertoni estate "will change our perception of what we do and how we do it," he said.
Below is a list of all those who donated a tree, and second, those who purchased it. The foundation is very appreciative of all who helped make this a very successful fundraiser.
Johnson's Food Center — $50, by Jeanie Beccue

Illinois National Bank — $150, by Dean and Doris Cates

State Farm Insurance, Deron Powell — $70, by Barbara Stroud-Borth

Drs. Mason and Mason Dentistry — $110, by Phyllis Beccue

Country Financial Insurance — $60, by Doug and Kimberly Johnson

Johnson True Value Hardware — $50, by Jeanie Beccue

DPCM Insurance — $100, by DPCM Insurance

D'tails Dog Grooming — $70, by Kella Allspach

Mount Pulaski Library — $110, by Tom and Cheryl Martin

City of Mount Pulaski — $150, by Laura Lee

Farmers Bank — $100, by Joe Butler

Hayes Auto Supply — $150, by Barb Freer, Hayes Auto Supply

Cross Bros. Implement — $300, by Joe Butler

Botanica — $90, by Jeannie Beccue

Mount Pulaski Pharmacy — $350, by Dennis Graue

Pizza Man — $50, by Illinois National Bank, Dee Jason (The bank donated tree back to be re-auctioned, and it was purchased the second time by Mike Maske.)

Pizza Man — $100, by Mike Maske

Saddie's — $100, by Joe Butler

The Barn — $60, by Laura Lee

Martin Grain — $150, by Mary Pope

Barbara Stroud-Borth — $350, by Shelby Daigh

A. Lincoln Tourism board of Logan County — $230, by Allspach Farms

Stahl's Furniture — $500, by Tom and Cheryl Martin

Tena Stoudt Family — $175, by Shelby Daigh

Salt Creek Attic — $210, by Kim and Shaun Tyson

Mount Pulaski Grade School third-grade classes — $610, by Allspach Farms

Courthouse accent cabinet — $350, by Dennis Graue
Grand total raised: $4,795
---

Maple Club to host New Year's Eve party
The Maple Club, at 1458 Route 121, Lincoln, will celebrate New Year's Eve with an elegant meal and entertainment from the Debbie Ross Band. Debbie Ross is a Lincoln native and will be returning to Lincoln to play at the Maple Club.
Reservations are required and tickets are limited. Tickets are available at the Maple Club's business office, 120 S. McLean St.
For more information, call 217-735-1275.
---

LARC sponsors 5K for Kaylee
The Lincoln Area Running Club will host a 5K run/walk on Saturday, Dec. 14, at Kickapoo Creek Park.
The event begins at 2 p.m. and will include a 1.5-mile route and 5K run/walk. Virtual Runner will also be available.
All proceeds from the event will go to benefit the family of Kaylee Helton. Kaylee is a 14-year-old from Middletown and a student at Lincoln Community High School. She recently suffered a massive pulmonary embolism and was hospitalized in St. Louis with serious complications.
Everyone is encouraged to come out and lend their support to Kaylee and her family.
To participate, register online at runninglincoln.webs.com, runsignup.com, or do a Web search for "Kaylee Helton Benefit Run." Runners may also register at the park on the day of the race.
---

Community Action board meeting notice
The next regularly scheduled corporate board meeting of the Community Action Partnership is scheduled for Thursday, Dec. 19, at 7 p.m. The meeting will be at Community Action's corporate offices, 1800 Fifth St. in Lincoln.
---

Red Cross encourages eligible donors to give the gift of life
PEORIA — The holiday season is here, and with it comes the exchange of gifts among family and friends. For many hospital patients, one gift on their wish list can't be found at stores: a blood donation.
Blood donations could be the gift of life to people like Lauren McCrary, who was immediately hospitalized after being diagnosed with acute myeloid leukemia. She received more than 140 blood and platelet transfusions. Now in remission, she serves as the blood drive coordinator at the high school where she works.
"I can never repay the donors who helped save my life, but I can remind others that giving blood is truly the gift that means something," McCrary said. "The blood I received has helped me celebrate more holiday seasons with my family."
The American Red Cross encourages eligible donors to give what could be the most meaningful gift of the season to someone.
Upcoming blood donation opportunity in Logan County:
Wednesday, Dec. 18, noon to 5 p.m., at the Lincoln Sports Complex, 1400 Primm Road in Lincoln
How to donate blood
Simply call 1-800-RED CROSS (1-800-733-2767) or visit www.redcrossblood.org to make an appointment or for more information. All blood types are needed to ensure a reliable supply for patients. A blood donor card or driver's license or two other forms of identification are required at check-in. Individuals who are 17 years of age (16 with parental consent in some states), weigh at least 110 pounds and are in generally good health may be eligible to donate blood. High school students and other donors 18 years of age and younger also have to meet certain height and weight requirements.
---