Special feature from LDN's Worship Guide
Waiting for an arrival
By the Rev. Adam R. Quine, First Presbyterian Church

Send a link to a friend
[December 12, 2013] It won't be long before that wild-haired child dons the shepherd's cloak, which is two sizes too big, and forgets his lines, while the little girl who always says the darndest things at just right time storms off the stage, leaving the camel and the cow all by their lonesome. Though we know the story by heart (and perhaps, some of us have played the part of Mary or Joseph), it is always refreshing to hear it retold by those youngest among us. Their interpretations often leave us laughing, smiling and remembering the joy of the season.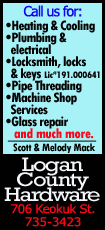 But before we enter into that joyful season when we will shout, "Joy to the world, the Lord has come," we must wait.

We must light candles to scatter the darkness.

We must prepare our corners of the world for what "advent" literally means: "arrival."

As we anticipate our cantatas and caroling celebrations, our waiting can easily turn into worry. Will that shepherd remember his line? What time should we have that cookie exchange? Are we exchanging gifts? Should we opt for a "white elephant"?

Before we get to the "reason for the season," we must first wait and prepare our hearts for what this arrival means. Before Christmas must come Advent, the season when we remember how God put on flesh and moved into the neighborhood.

It is a time for us to sit with our contrasting emotions: We are eager, yet frazzled; sentimental, yet indifferent. We often sense the deeper meaning of the season, but in the midst of our busy lives, feel like we are grasping in vain. This process can leave us drained and emotionally frustrated.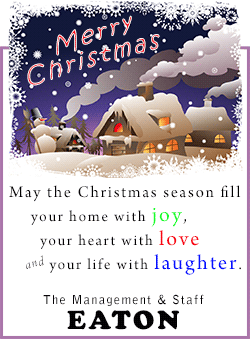 Advent invites us to stop, to listen and to be, amidst the hustle and bustle. Mother Teresa once noted that the first person to welcome Christ was John the Baptist, who leapt for joy at his recognition, though both of them were still within their mother's wombs. Advent invites us to see past superficial distractions that prevent us from joyfully recognizing the still, small voice of God that whispers ever so sweetly, "I am God with us. I am God with you."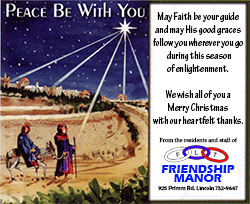 There is a time and place to worry, watching the shepherd drop his staff as your child is about to sing "O Little Town of Bethlehem," and there is time for the exchanging of gifts. But there is also time — in fact, four weeks of time — for us to mindfully contemplate Christ's birth taking place. Once we do, we will sense immediately that Advent marks something momentous: God's coming into our midst.
That, my friends, is reason enough for tears of joy.
Merry Christmas; but first, may your Advent be filled with contemplative holiness.
Peace.
[By the Rev. ADAM R. QUINE, First Presbyterian Church]