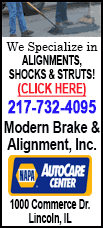 The Lincoln Home is decorated for the Christmas season. Holiday decorations were fairly simple before the Civil War, and other than German families, most families did not have a Christmas tree in their homes, but instead went to see a tree at their church. Although the Lincolns did not have a Christmas tree, they probably followed the fashion of draping the windows and mantels with evergreen garlands, cranberry ropes and holly. Poinsettias, just discovered in the 1850s, might have decorated their home, along with flowering plants.

The younger Lincoln boys made sure to have big brother Robert help them hang stockings on the sitting room fireplace for Santa to fill with firecrackers, books and carved wooden animals. Gifts that might have been given to other members of the family are also exhibited throughout the house.
Food was an important part of the season then as it is now, and many of the goodies are displayed throughout the house. A typical mid-1800s holiday menu included boned turkey, oysters, venison, chicken salad, bouillon, glazed fruit, fruitcake, ice cream, cake, candy, macaroon pyramids, preserves and hot coffee. Cookies and gingerbread were popular with the Lincoln boys.
In keeping with the simpler decorations of the times, the Lincoln neighborhood is decorated with wreaths and greenery.
Decorations will remain up through Jan. 2.
The Lincoln Home, operated by the National Park Service, is open for guided tours every day except Christmas Day and New Year's Day. Free tickets for the tours may be picked up at the Visitor Center, 426 S. Seventh St., open 8:30 a.m.-5 p.m., with the last tour going into the Lincoln Home at 4:30. Tickets are not needed to walk around the neighborhood.
[Text from Lincoln Home National Historic Site news release]
More than 20,000 National Park Service employees care for America's 401 national parks and work with communities across the nation to help preserve local history and create close-to-home recreational opportunities. For more information, visit www.nps.gov.