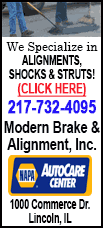 Nancy Saul of Lincoln, who joined the staff almost three years ago as a part-time administrative assistant, is the bureau's interim executive director.

Saul said that recent activities have centered on letting the community know that the bureau is still operating, as well as continuing the mission to "put heads in beds."

For example, the bureau participated in Main Street Lincoln's recent Christmas parade, with the help of local volunteers. The bureau's banner reminded attendees that "Your Winning Smile is Our No. 1 Attraction."

"We didn't think it would be amiss," Saul said, "to remind local people that continuing their tradition of friendliness and helpfulness to visitors goes a long way in promoting return visits to our area."

The bureau's parade unit also featured a "Polar-oid" camera with a flashing light as a means to distribute 2014 calendars to attendees along the parade route.

Free calendars are still available in the tourism office for those who missed the parade. Additional calendars will be distributed to Logan County nursing homes and senior housing units.
The former county-run tourism board also donated a decorated tree and gift certificates from seven Logan County restaurants for the Dec. 7 Christmas tree auction that raised $230 for repairs and maintenance at the Mount Pulaski Courthouse State Historic Site.
Another attraction, Abraham Lincoln's Geocaching Trail in Logan County has been up and running since fall, with caches in Lincoln, Atlanta, Mount Pulaski, Elkhart and Middletown. People who locate the caches during the electronic treasure hunt can redeem cards in the containers for souvenir postcards. More information about the international sport is available at www.geocaching.com.
Nearly 1,700 rack cards advertising the new trail have been mailed to convention and visitor bureaus throughout Illinois.
Saul said the tourism office has two GPS units to loan to people who would like to try geocaching. However the bureau needs help in setting up the units. She requested that any volunteers with expertise in that area call 217-732-8687.
Inquiries about tours for the 2014 tourist season have already begun.
"One exciting aspect of tours during the coming year will be the April 26 opening of the new Lincoln Heritage Museum at Lincoln College," Saul said. "The museum has already been named one of the top 30 college museums in the world, and that was before it was moved to its new, expanded location and all of the displays were updated with the latest technology."
The tourism office has sent hundreds of Logan County Visitors Guides to rest stops throughout Illinois and to Union Station in St. Louis and Chicago, as well as to people who contact the bureau for help in planning vacations.
The staff also checks with local motels on a regular basis to make sure they have an adequate supply of visitor guides and brochures with information about local eateries, shopping opportunities and local history.
Saul said any Logan County business that would like to have brochures to distribute is welcome to call the tourism office.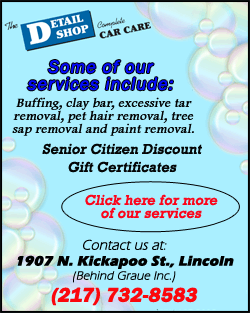 Repairs were recently completed on the World's Largest Covered Wagon to improve the appearance of the popular attraction and make it structurally sound.
"We see people stopping to take pictures at the covered wagon in all kinds of weather, at all hours of the day and evening," Saul said.
She and part-time administrative assistant Sandra Richardson of Lincoln have also been asking visitors at the office to complete a souvenir survey.
"Our stock of souvenirs is running low," Saul said, "and we would rather find out what people are interested in, than just guess at what they might want to purchase."
Richardson is in the process of refilling the rack of maps from other states. The maps are available in the entryway to the tourism bureau. Despite modern conveniences such as GPS units, the free maps continue to be very popular with travelers.
"We're trying to use this slower time to good advantage," Saul said, "so the office will be in good shape to hand over to the next director."
Richardson also updates the bureau's Facebook page with news of local happenings. Saul and Richardson invite those with upcoming events to send listings and JPG photos to the tourism bureau at admin@abe66.com, and they would welcome new Facebook friends.
In November, the tourism board approved grant requests for Christmas on Vinegar Hill, a square dance festival in Lincoln, the 1800s Craft Fair in conjunction with the Lincoln Art & Balloon Festival, and the 2014 Route 66 Association of Illinois Motor Tour, which will again overnight in Lincoln.
In approving the requests, the board specifically asked how each activity would draw overnight visitors to the community. Logan County organizations that are planning events that will draw overnight visitors are invited to inquire about the grants.
"Sandy and I have been guaranteed jobs at least until April 30, when the board plans to have a new director in place," Saul said. "Until that time, we're here to serve as best we can."
The Abraham Lincoln Tourism Bureau of Logan County is funded by local hotel-motel taxes and state grants. Since Dec. 1, the taxes have been administered by the city of Lincoln.
The new tourism board met Dec. 9 to approve bylaws and discuss staff. They also conferred about the upcoming Illinois Governor's Conference on Travel & Tourism, which will meet Feb. 3-5 in Chicago. Saul and several board members plan to attend.
For information about day-to-day tourism office activities, Saul said people can reach her at 217-732-8687 or info@abe66.com. For information about board activities and future plans, contact Andy Anderson, board president, at 217-737-9853 or a.anderson54@comcast.net.
The office of the Abraham Lincoln Tourism Bureau of Logan County is in the Information Station, 1555 Fifth St. Hours are 9 a.m. to 5 p.m. weekdays, except for some holidays.
[Text from file received from Abraham Lincoln Tourism Bureau of Logan County]