Approximately 40 guests arrived by bus from the University of Illinois Urbana-Champaign, including 32 students, and joined Dr. Ray, members of LCU's faculty and 20 students from LCU's China Institute for a 2:30 p.m. performance.

Christmas in the Chapel celebrates the Christmas season with beautiful stage settings, acting, music and original scripts that showcase the artistic talents and skills of the LCU Worship Ministry and Chorale.

The international guests and students were treated to this year's presentation of "Once Upon a Christmas Knight," an original story about a wealthy but headstrong descendant of Good King Wenceslas. At the show's end, the international group was brought onstage and acknowledged before the audience, then given a backstage tour that included photographs with cast members. A special dinner at LCU's Henderson Hall cafe completed the festivities.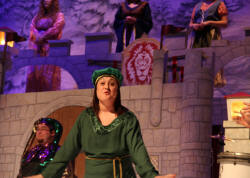 "We had a splendid time," said Dr. Aaron Bird, director of Axiom House, a residential ministry at UIUC for Christian international students. "The hospitality shown from President Ray, Jeff Colleen, Weilun Lee, Belinda Landry and Sue Jones was top-notch ... all positive; our students were so appreciative."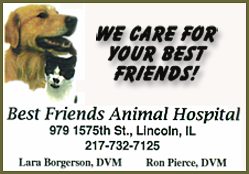 LCU's Chinese population appreciated the event as well, according to Weilun Lee, associate director of the China Institute. "Our students were very excited about the whole affair," Lee said. "Several of them spoke at the dinner and were so glad to be a part of it all. We never know what God will do by this visit."
One LCU China Institute student echoed that excitement and expressed gratitude for what God did for her through the event. "I was so thankful that God gave me the chance to see people of the same origin as I am while in a different country," the student said. "We gathered together in the love of Christ and could feel the warmth and support of each other. I hope such activity can continue in the future."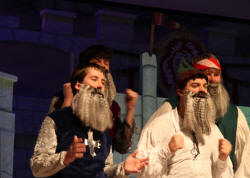 The international gathering at LCU's Christmas in the Chapel was the result of a monthslong effort by several individuals. Lee and Keith Snyder, LCU's associate vice president of development, worked from the LCU campus. Bird and fellow Axiom leader Gary Umphrey oversaw preparations for the UIUC international students and chaperones. Pulling it all together was Andy Baker, pastor of River Valley Church of Christ in Fisher, and members of his church's international outreach ministry.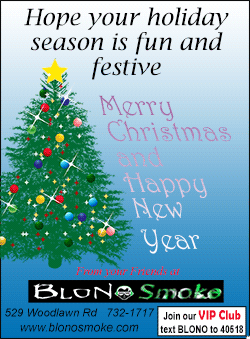 "River Valley has been involved with international students at UIUC for years by volunteering host families," Baker said. "This year we wanted to expand our involvement ... so we established an International Student Outreach fund to which our members could contribute."
Baker noted that a conversation last year with Ray about LCU's Chinese Institute prompted the idea to connect international students from both universities. Later, a more formal meeting established Christmas in the Chapel as the best venue to accomplish the connection.
"All that was left was to coordinate transportation and financing," Baker said. "It took a lot of emails and phones calls, but it was very gratifying to work with people who had the same vision."
Plans are already underway to begin preparations for next year.
"International students are a growing population on college campuses in the United States," Ray said. "It is thrilling to see students from our campus interact with guests from around the world. LCU is glad to participate in the education of global citizenry."
One of LCU's China Institute students was equally happy about the LCU's participation. "I am so proud to be a student of Lincoln Christian University," the student said following the event. "We have a big, open heart to embrace people around the world. In fact, we have great vision for the future and the world."
[Text from file received from Lincoln Christian University]
Established in Lincoln in 1944, LCU's mission is to equip Christians to serve and lead in the church, the workplace and the world. Today, Lincoln Christian University offers a variety of degree programs for undergraduate, graduate and seminary students. Classes are offered on campus, at extension sites and online. To learn more, visit www.lincolnchristian.edu.