With participants gathered on the steps of the courthouse, or inside if the weather is bad, the names will be read of those who have died in 2013 within the city of Mount Pulaski and its immediate vicinity. After each name is read, the old 1870s school bell on the south side of the courthouse yard will be tolled. The service will last about 20 minutes.

To review the list of names to be read, go to the town's website, www.mtpulaskiil.com, and click on "Obituaries." All corrections or additions should be called in to Tom Martin, 792-3267.

The New Year's Eve Remembrance Service was initiated on Dec. 31, 2010, to kick off the yearlong celebration of the 175th anniversary of the founding of Mount Pulaski.

The historic courthouse was once the Logan County seat (1848-1855) on the traveling Illinois 8th Judicial Circuit, where Abraham Lincoln, Judge David Davis, Steven A. Douglas, William "Billy" Herndon, Samuel H. Treat, Lionel P. Lacey, Samuel C. Parks, and William H. Young, among many others, practiced their craft by bringing the court of law to the people by horseback and horse and buggy. This structure later became a schoolhouse for grades one to 12 during the years 1857-1877 and again for one year in 1911-12.

[By PHIL BERTONI]
---

Nikki Hamilton named December ALMH Employee of the Month
Nikki Hamilton of Springfield has been named the December Employee of the Month at Abraham Lincoln Memorial Hospital. Hamilton works at ALMH as a unit secretary and nurse tech in acute care. Her great attitude garnered her recognition and nominations from several co-workers.
"She is one of the best team players on the floor," said her nominator. "She always has a smile and always a positive attitude. We were so lucky to get her on our floor. She deserves this honor."
Another nominator mentioned that Hamilton is always willing to jump in and help anyone out: "Nikki goes the extra mile for her co-workers and our patients! She works hard every second she is here and never complains about any task, small or large. Her positive attitude is contagious!"
Hamilton began her ALMH career in dietary and has now been at the hospital for seven years. As a unit secretary, her duties include updating charts, verifying orders, setting up appointments, answering phones and call lights, and much more. As a tech, Hamilton gives direct care to patients, which can include meeting their general needs, helping to keep their pain under control with non-medical techniques and sometimes just comforting them.
"I love working at ALMH, where I learn something new every day because every patient and every day is different," said Hamilton. "I love how dedicated everyone is to their job and our family environment. I am looking forward to being able to grow as a person and as an employee at ALMH."
Hamilton enjoys spending time with friends and families, watching movies, singing, and taking classes toward her nursing degree.
ALMH, at 200 Stahlhut Drive in Lincoln, is a 25-bed, critical-access hospital affiliated with Memorial Health System. ALMH employs over 310 in a variety of roles. For more information, visit www.almh.org.
---

Salvation Army adopted families share in Christmas
The Salvation Army Keest Center in Lincoln was the site of the annual Adopt-a-Family Christmas party on Thursday evening. Adopt-a-Family is a Salvation Army program that pairs families with sponsors who want to make sure the children have something under the Christmas tree.
This year almost 20 families took part in the program, up from nine families last year. This is the second year that the program has been part of the Lincoln Christmas season.
"Sponsors for the families come from three local groups," said Tony Shuff, Salvation Army director for Logan and Mason County. "We get partners from churches, businesses and families who want to help out."
This year the families enjoyed a visit with Santa, as well as cookies and hot chocolate.
[By CURT FOX]
---

'We Are Lincoln'
Putting words into action — Part 4
Last week Wednesday as the second meeting of the "We Are Lincoln" group began to wind down, Patrick Doolin said he would like to see a progress report at the January meeting that showed: "This is what we talked about, and this is what we did about it."
He noted that he wanted this movement to progress from talk to action, and in one month he wanted them to be able to check off what they have done.
Doolin's comments then segued into a discussion about smart goals. Moderator Michael Gowin said the group needed to set smart goals that are measurable, attainable, relevant and time-bound.
Gowin said the action to take place should be identified, and then the progress documented to show how it is moving along. The goals chosen should be reasonable and attainable goals. He said each goal should have a timeline of sorts that outlines when the goal should be achieved.
Patrick Doolin also commented that what the group is talking about is a master project that will never be completed; it will always be changing and evolving into another step.
Jeanette Harris said one project she would like to get involved in would be a collaboration of all public service agencies, where multiple agencies could meet and share resources and information. Aaron Cantrell said he would volunteer to work with her on that project.
April Doolin said she would post a comment on the Facebook page asking people to list their action item from tonight. She asked the group to be proactive in posting to the page, letting the public know what is being worked on and encouraging others to join in.
Another member of the group said there needed to be something that addressed the youth and young adults in the community. She said there are lots of young people wandering about aimlessly because there isn't much for them to do in Lincoln.
Patrick Doolin said this had come up at the last meeting, and it was Craig Lindvahl who said that no matter what town you live in, the kids of that town are going to say there is nothing there for them to do.
This moved the group into talking about education and retention. Andi Hake, director of the Lincoln/Logan Chamber of Commerce, said the chamber does have a college outreach program and scholarship programs. She said she didn't know how many other organizations in town have scholarship programs for the local colleges.
Robert Bagby talked about the Lincoln High School Foundation and said it has given out $72,000 in local scholarships. He said the high school partners with Lincoln College to give kids an opportunity to earn college credits while in high school. The high school also offers a vocational program and is working on a partnership with Heartland College to get vocational students enrolled there to finish their associate degree. He said LCHS also has its own alternative school and will soon graduate the 100th student from the alternative school.
Also on hand was next year's president of the Lincoln Jaycees. Tom Hackett said that while the Jaycees have been in Lincoln for 60 years, they are currently one of the lesser known organizations in town. However, he said one of his goals this coming year is to correct that and bring more attention to the organization.
He told the group that Jaycees is a youth-oriented program for young business people. He wants to increase involvement of those young professionals, and he wants to do more in the community to help local youth. He encouraged those in the room to offer comments and suggestions and to get involved with the Jaycees.
At the end of the night, Gowin had a list of projects that will be the first priorities of the We Are Lincoln group. He asked if the group could get together in a month and talk about the list and what has been accomplished. After a few moments of discussion, the group came up with a tentative date of Jan. 9 for the next meeting. The date and time will be confirmed on the Facebook page.
The Facebook page for We Are Lincoln can be found by pasting the following URL into your browser: https://www.facebook.com/wearelincolnillinois.
[By NILA SMITH]
Past related articles
'We Are Lincoln'
---

'We Are Lincoln'
Putting words into action — Part 3
When the "We Are Lincoln" group met last week, a large portion of the meeting was a continuation from their first meeting, in November. At that session, lists were compiled by those in attendance, naming projects that needed to be started or completed in Lincoln. The goal was to identify what is needed in order to make Lincoln a better place, and also how to draw attention to the good things that are already going on in the city.
Later in the evening, moderator Michael Gowin moved the discussion to identifying new issues that were not already on the pages on the wall.
Jeanette Harris said there was not enough information regarding services for those in bad situations. Harris spoke about those who are in poverty and also have other issues in their lives, such as difficulty finding work because they have a criminal background.
Harris reminded the group that in society, most of those who live in poverty are victims of generational poverty, where children are following in the footsteps of their parents and grandparents. She said there needed to be more done in the community to help break these generational cycles.
Patrick Doolin also updated the group on what is going on with the downtown revitalization programs. He told them that the steering committee had presented two recommendations to the city council for actions to be taken in 2014 that would start showing physical evidence of the revitalization.
He said that in addition to what has been recommended, there are other projects that other groups are trying to get going. He mentioned as a for-instance, an empty lot near the Lincoln Public Library that will be developed into additional downtown parking.
David Doolin said there are several things going on in the community that are not just a "snapshot in time"; they are ongoing, continual efforts. He named specifically the Together for Lincoln program that annually does work to improve the lives of those less fortunate or unable to maintain their homes due to health or age.
He said the We Are Lincoln group could be an aggregate for new ideas for existing movements, and that they could team together and help each other in making improvements in Lincoln.
Aaron Cantrell, who is involved with Together for Lincoln, said there is a new men's group forming at Jefferson Street Church as a spinoff of Together for Lincoln. He said the group is going to be starting soon with a new outreach that will offer assistance to widows and single-parent families.
Gowin then moved the topics along, asking members of the group to talk about why they were there.
Andi Hake of the Lincoln/Logan County Chamber of Commerce spoke up first, saying that she had missed the first We Are Lincoln meeting because she had to attend another meeting, but that she had been very excited to hear how many people had come to the initial session.
She said the work this group wants to do is something that in the big picture will make her job easier. As the executive director of the chamber of commerce, her role is to promote the community, bring new business into town and help the city grow. She said groups working together and making Lincoln a better place through projects such as the dog park make Lincoln more attractive to those looking to come here.
Another member of the audience said Lincoln was her husband's hometown. As a couple they had left Lincoln, but they returned 10 years ago to raise their family here. She said she wanted her kids to be proud of their hometown and to want to stay right here.
David Lanterman said he was part of the group because he wants to help improve Lincoln.
Harris spoke again. She explained that she is a single mom with kids, and she's working to receive her education at Lincoln Christian University. She said typically those who are poor and struggling don't often participate in meetings like this one. However, she said she had built up her courage and come to the meeting because she wanted to be a voice for those who are afraid to participate, and she wants the betterment of Lincoln to include the betterment of those people.
Blinn Bates said he felt that many of those who were in the room were there for the betterment of the city, and they had come from a desire to be a part of it. He commented that on a very cold night, his home was safe and warm, but he felt a need to be a part of this movement that would move the city forward in the future.
As the one-hour mark passed at the meeting, the question was asked, "Can we make a list of things we want to do?"
___
In the final segment of this series, the group discusses how to promote the We Are Lincoln group and the community as a whole.
[By NILA SMITH]
Past related articles
'We Are Lincoln'
---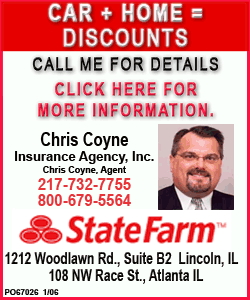 ---

'We Are Lincoln'
Group putting words into action — Part 2
Last Wednesday evening, the We Are Lincoln group met at Abraham Lincoln Memorial Hospital to continue discussions on what they can do to draw attention to the good in our community, and also to identify areas where the city needs improvement. The goal of the group is to work together with city government and other entities to help create a better community.
Michael Gowin served as the moderator for the meeting and led the group through a list of wants and needs that had been compiled in November at the first meeting.
The talks began with how to go about creating a single source of information for everyone in the community. The topic of building a one-stop-shop website where anyone could find out anything they wanted to know about Lincoln continued to come back into the discussion throughout the evening.
Gowin moved the discussion forward, asking if anyone had addressed the topic of job shadowing that appeared on one of the lists. No one commented.
Gowin moved on to the list that included downtown revitalization. It was brought up that there are revitalization projects in the works.
Gowin built on that, saying that there are many things happening that folks don't know about. He said it wasn't just about what was going on in projects, but also what is going on in area civic organizations, as well as churches and other social bodies.
Patrick Doolin commented that it might be a good first step for someone to "inventory" the local organizations, find out what they do and offer information about them. Andi Hake of the chamber of commerce said the job might be easier than one would expect because the Healthy Communities Partnership is already working on a similar directory.
Jeanette Harris is a newcomer to the Lincoln community. She talked about her former community in McLean County and how the United Way was working on a central directory of all social services in the county. She thought it would be great for the Logan County community to have something like this as well. She said she would be happy to help work on something like this for Logan County.
After her comments, it was noted that the Logan County United Way is working on a 211 phone project and recently had a meeting to inform the public on this project.
Gowin moved on to the page that mentioned cultivating the arts. He asked if anyone had talked about this or done anything with it.
Kathy Vinyard said there is already a visual arts group in Lincoln. The Logan County Arts group meets at the Lincoln Art Institute. Vinyard said they have monthly art shows, and they want to do more in the community to promote the arts.
It was also mentioned that there is a creative writing group in Lincoln.
Another item on the need list was for a dog park in Lincoln. David Lanterman said that he, Brittney McLaughlin and Angela Stoltzenburg have been discussing this. He said, however, what it came down to was not just a discussion about a dog park, but rather all the green spaces in Lincoln. He said the three had discussed how the green spaces are being used and how they could be used better.
He mentioned the APEX at City Center, the community garden spaces and more. He said he thought there needed to be an inventory of all the green spaces in the city and determine how they can be better used.
Lanterman said that in addition to the three who are currently working on this, perhaps the city and the park district needed to be in these discussions as well.
In regard to the APEX, he noted that while it has been started, it needs to be moving forward.
At the first meeting, it was mentioned that there needed to be a curbside recycling program in Lincoln. At the meeting Wednesday evening, Mitzi Rohlfs of the Joint Solid Waste Agency was on hand to review this proposal. That agency is the recycling program serving Lincoln and other locations in Logan County.
Rohlfs offered a little bit of background on why the city does not have curbside recycling at the moment. Prior to 2010, there was a curbside program with Area Disposal picking up recycling materials free of charge as part of their trash collection service in the city.
However, in 2010 the company determined that they could no longer offer the service for free and implemented a $5 monthly charge on recycling pickup. Rohlfs said more than 50 percent of the households dropped the service then, but they didn't stop recycling. The Joint Solid Waste Agency offers recycling in a variety of venues. There are large dumpsters on the city lot on North Kickapoo for paper and plastic. The agency partners with the Logan County Habitat for Humanity for electronics recycling, and glass for recycling is collected at the Logan County Fairgrounds from spring to fall, with the service stopping during the winter months.
Lanterman said he was the one who brought up the household recycling at the first meeting. He said that recycling at home was something that could be a family activity, and it would be educational for kids to get them started in the habit of recycling.
Rohlfs said she would support the change completely. Lincoln Mayor Keith Snyder said that one way to possibly bring this back would be to offer a waste hauler exclusive rights in the city and in offering that exclusivity require that recycling be a part of the program.
Lanterman said that another part of the problem is that homes are not required to subscribe to a waste service. He added that if they were required, and if the fee for recycling was included in the monthly rate, more households would participate in curbside recycling.
It was also brought up that there was a need for electronics recycling and glass recycling. Rohlfs explained that those programs are already in place. The second Saturday of every month there is an electronics recycling collection at the Habitat for Humanity warehouse, and glass for recycling is collected at the fairgrounds in season. She said she provides public notices to all three local media outlets the week prior to the Saturday events.
___
In Part 3 of this report, Gowin leads the group through bringing up new ideas that were not on the original list from the first meeting.
[By NILA SMITH]
Past related article
---

'We Are Lincoln'
Group moves forward with putting words into action — Part 1
Last Wednesday evening a group of about 25 Lincoln citizens met at Abraham Lincoln Memorial Hospital. The goal of the meeting was to find a starting point for putting words into actions.
The group is an evolution from the recent "Boomtown USA" meetings hosted by the Lincoln/Logan County Chamber of Commerce Young Professionals Network.
Michael Gowin served as the moderator with assistance from Patrick Doolin. Gowin told the group he was not the leader of the group, but had been asked to serve only as the moderator of all discussions. He said he wanted to start by talking about what has taken place since the last meeting.
At the beginning of the meeting, Gowin talked about "We Are Lincoln" versus Boomtown, saying that it was somewhat of a misinterpretation to connect the We Are Lincoln movement with Boomtown USA, though admittedly, the group has evolved from that to what it is now.
The first Boomtown meeting came in October at Lincoln Community High School and focused on creating a sense of entrepreneurship in local youth, finding ways to keep them in the community after college, and interacting with them in a productive way in the interim.
Guest speakers Craig Lindvahl and Jack Schultz spoke at the first meeting about the talent they have discovered in other areas by implementing a CEO program for high school-age students. They spoke on the "Creating Entrepreneurial Opportunities" program that was started in Effingham and how students there became involved in their own small-business projects. They also talked about some of the tremendous successes those students have realized after completing the program.
The CEO program is something the chamber is still very interested in pursuing, but it was what came after that first meeting that lit the fire for We Are Lincoln.
After that first meeting, the Young Professionals Network set a date for a Boomtown Roundtable meeting to occur at ALMH. At practically the same time, an article written by a former Lincolnite was published and broadcast through National Public Radio that painted Lincoln as a decaying city with drug issues and high crime.
Many local citizens were offended by the article, but they were also motivated. They were driven to ask themselves if that was the perception of the city to people outside the community, and if it was, how that could be addressed and changed.
The end result was that so many RSVP'd to the Boomtown Roundtable that the venue had to be changed to the Lincoln Park District Ballroom. When the meeting took place, the discussion quickly veered to the negative article and discussions of how to make the city a better place.
At that meeting, Doolin served as the moderator with assistance from Blinn Bates of the YPN, and Craig Lindvahl was on hand. Throughout the evening, members of the audience openly talked about what is needed in the city of Lincoln to make it more attractive to young professionals, people looking to move into Lincoln and those who visit.
A wide variety of ideas came out of that meeting. At the end of the night, Doolin told the group that talk was good, but what was needed was action. He offered them an opportunity to make lists on large pieces of paper outlining what needed to be done.
Last Wednesday evening, when the group met for the first time as We Are Lincoln, those same pieces of paper were brought out again, and the group was encouraged to talk about their lists and how to accomplish the goals on the lists.
Doolin talked about the CEO program and said that it was a project he intended to stay involved in, along with the chamber.
In the audience was Lincoln High School Superintendent Robert Bagby.
Doolin said there have been discussions with Bagby regarding the CEO program, and the wheels are in motion. He told the group that the CEO program won't come soon, though, because Lindvahl is limiting the number of programs he opens each year so as to maintain the integrity of the program. Opening a few each year allows Lindvahl to be certain that each new program gets plenty of attention from him and gets off to a good start.
Doolin concluded that Lindvahl knows there is interest here in Lincoln for the CEO program, and it will come within the next couple of years.
After Doolin's update, Gowin returned to the lists. He asked about the need for a single resource for information about Lincoln. David Doolin then spoke about this.
He told the group that preparing for a single source of information was going to be a large undertaking, but something that was needed. He said when searching Lincoln on the Internet, one can come up with several bits and pieces, but there is no one place that puts everything together to make a complete picture. He said for those who are not familiar with the area, having a single location for everything is very important.
He said he saw the single source as a "hub in the wheel" resource. He said the idea was to create a site that would bring searchers in, based on a broad search. Then, once they are at the site, they would have options of other places to go to see more specific information about the community.
Patrick Doolin commented on this from the last meeting, saying this single source was something people seemed to want: a source where they could track what is going on in the community and also learn about the various organizations and other points of interest.
This report will continue in Part 2, when the group moves on to other items on the first set of lists and talks what to do next to move certain projects forward.
[By NILA SMITH]
Past related articles
Boomtown round table brings many participants and ideas for a better Lincoln
---