"What Sweeter Music — A Festival of Carols," by composer Mark Hayes, was performed by 28 singers and 24 instrumentalists, directed by Claus Tanner and Beth Anderson, both former longtime instrumental and choir teachers. Anderson performed the keyboard accompaniment and directed the flute choir.
Here is what Lorenzo Publishing has to say:
(Copy)
"What Sweeter Music – A Festival of Carols" is a sumptuous feast of fifteen Christmas carols plus several original songs from the pen of one of this generation's master composers, Mark Hayes.
The joyous "Opening Medley" sets the stage for the many exceptional moments to come, from a powerful setting of the "Magnificat" for soprano solo to the charming "Cradle Medley." Sensitive underscoring continues the musical flow between movements as male and female narrators share the beloved Christmas story.
Mark's keyboard accompaniment is a sheer delight and offers a wonderful complement to the voices. He has also provided two orchestrations to serve choirs of all sizes and needs.
Some of the selections were "Angels We Have Heard on High," "I Saw Three Ships," "Thou Didst Leave Thy Throne," "Hark! the Herald Angels Sing" and "The First Nowell." Of course, "Silent Night," "Joy to the World" and "O Come, All Ye Faithful" were also in the program.
Soloists were Jennifer Wernsing in "Song of Mary" and Heather Fielden in "Away in a Manger."
In the choir were Jennifer Wernsing, Rosemary Fuiten, Carol Van Rheeden, Becky Volle, Heather Fielden, Jennifer Fielden, Jean Lucas, Rosalie Tanner, Deb Poynter, Sarah Devine, Sarah Kline, Janet Maxheimer, Joan Theobald, Eleanor Clements, Eleanor Stahl, Joyce Maxheimer, Jane Bryson, Robin Benson, Karen Wernsing, Harry Bleavins, Harold Drake, Rigoberto Ernst, Jamie Ernst, Michael Tanner, Mark Weber, Larry Moffitt and Darrell Wernsing.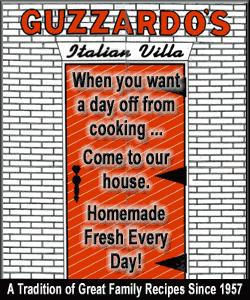 Instrumentalists were Emily Tomlin, Clarissa Lee, Ali Kay, Samantha Wetter, Jerry Theobald, Sue Kuhlmyer, David Helm, Beth Anderson, Justin Myers, Blake Marten, Carol Marten, Liz Belyer, Harry Hild, Dale Koerner and Becky Kunken.
In the flute choir were Sara Devine, Clarissa Lee, Kirsten Parr, Ali Kay, Sara Waller, Katie Holtsclaw, Emily Tomlin, Samantha Wetter and Mattie Endres.
Narrators were Rebecca Drake and Pastor Mark Weber.
The sound system was set up and monitored by Jonathan Wernsing.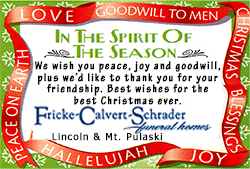 Pastors Rachel Stockel of Mount Pulaski United Methodist and Mark Weber of Mount Pulaski First Christian worked together to produce the event.
A collection was taken to help offset the expenses.
[By PHIL BERTONI]