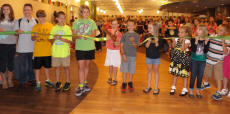 Students from each grade at Chester-East Lincoln were given the honor of doing the ribbon-cut on the school's remodeling projects.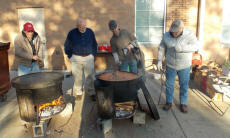 Left to right are Dennis Shull, Tom Seggelke, Dean Kukuck and George Henrichsmeyer. A 30-year tradition since the beginnings of the Harvest of Talents, large vats of vegetable beef soup are cooked over a sweet wood fire.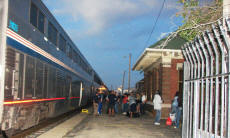 Several Amtrak passengers were forced into a long layover in Lincoln. South of the city there was a problem with the bridge over Salt Creek, and it was deemed unsafe for rail traffic.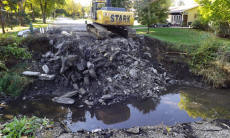 It has been a long time coming, but it has finally happened. The bridge on Oglesby Street is gone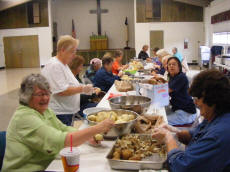 It takes a whole slew of tater peelers to get ready for the annual St. John UCC Germanfest.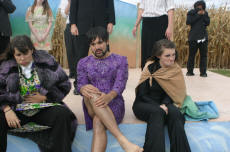 A scene from the Lincoln College production of "The Tempest": Trincula (Lauren), Stephano (yes, Bobby in a dress) and Caliban (Kendall) are unhappy about receiving their just deserts for their conniving.