All Logan County Democrats are welcome and encouraged to attend this special meeting. The meetings are not closed to the public.

For more information, call Rebecca Drake, Logan County Democrat chair, at 217-796-3519.
---

Safe Rides available for New Year's Eve
There's a safer alternative to driving for anyone who has too much to drink during while celebrating the New Year's holiday. On Dec. 31, Safe Ride will be available in Lincoln to those who need it. Safe Ride is a free ride home sponsored by the Healthy Communities Partnership.
"New Year's is oftentimes celebrating with alcohol. The Healthy Communities Partnership offers Safe Rides to help keep the streets safer for everyone," said Angela Stoltzenburg, community partnerships manager. "Our hope is that the community will remember the service is available and that bartenders will suggest it when necessary."
To receive a free ride home within the city limits on New Year's Eve, call the cab company, A Green Cab of Lincoln, at 732-TAXI (8294).
Healthy Communities Partnership is a collaborative organization comprised of community agencies and private individuals striving to create the healthiest community in America. The partnership is supported by the Abraham Lincoln Healthcare Foundation. For more information or for updates, like Healthy Communities Partnership on Facebook or call 217-605-5008.
---

Mount Pulaski Courthouse to host 4th annual New Year's Eve Service of Remembrance
MOUNT PULASKI — On Dec. 31 at 7 p.m., there will be a Service of Remembrance at the Mount Pulaski Courthouse.
With participants gathered on the steps of the courthouse, or inside if the weather is bad, the names will be read of those who have died in 2013 within the city of Mount Pulaski and its immediate vicinity. After each name is read, the old 1870s school bell on the south side of the courthouse yard will be tolled. The service will last about 20 minutes.
To review the list of names to be read, go to the town's website, www.mtpulaskiil.com, and click on "Obituaries." All corrections or additions should be called in to Tom Martin, 792-3267.
The New Year's Eve Remembrance Service was initiated on Dec. 31, 2010, to kick off the yearlong celebration of the 175th anniversary of the founding of Mount Pulaski.
The historic courthouse was once the Logan County seat (1848-1855) on the traveling Illinois 8th Judicial Circuit, where Abraham Lincoln, Judge David Davis, Steven A. Douglas, William "Billy" Herndon, Samuel H. Treat, Lionel P. Lacey, Samuel C. Parks, and William H. Young, among many others, practiced their craft by bringing the court of law to the people by horseback and horse and buggy. This structure later became a schoolhouse for grades one to 12 during the years 1857-1877 and again for one year in 1911-12.
[By PHIL BERTONI]
---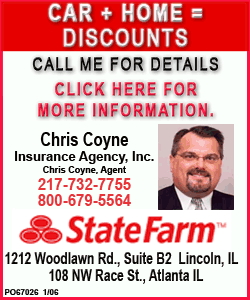 ---

Nikki Hamilton named December ALMH Employee of the Month
Nikki Hamilton of Springfield has been named the December Employee of the Month at Abraham Lincoln Memorial Hospital. Hamilton works at ALMH as a unit secretary and nurse tech in acute care. Her great attitude garnered her recognition and nominations from several co-workers.
"She is one of the best team players on the floor," said her nominator. "She always has a smile and always a positive attitude. We were so lucky to get her on our floor. She deserves this honor."
Another nominator mentioned that Hamilton is always willing to jump in and help anyone out: "Nikki goes the extra mile for her co-workers and our patients! She works hard every second she is here and never complains about any task, small or large. Her positive attitude is contagious!"
Hamilton began her ALMH career in dietary and has now been at the hospital for seven years. As a unit secretary, her duties include updating charts, verifying orders, setting up appointments, answering phones and call lights, and much more. As a tech, Hamilton gives direct care to patients, which can include meeting their general needs, helping to keep their pain under control with non-medical techniques and sometimes just comforting them.
"I love working at ALMH, where I learn something new every day because every patient and every day is different," said Hamilton. "I love how dedicated everyone is to their job and our family environment. I am looking forward to being able to grow as a person and as an employee at ALMH."
Hamilton enjoys spending time with friends and families, watching movies, singing, and taking classes toward her nursing degree.
ALMH, at 200 Stahlhut Drive in Lincoln, is a 25-bed, critical-access hospital affiliated with Memorial Health System. ALMH employs over 310 in a variety of roles. For more information, visit www.almh.org.
---