Flu facts
From the Logan County Department of Public Health

Send a link to a friend
[January 23, 2013] If you have been diagnosed with the flu, it is important to stay home and follow your health care provider's recommendations. Talk to your health care provider about prescription and over-the-counter medications that can ease flu symptoms and help you feel better faster.
There are also ways to treat the flu and its symptoms without medications:
Get plenty of rest.

Drink clear fluids like water, broth or sports drinks to prevent becoming dehydrated.

Place a cool, damp washcloth on your forehead, arms and legs to reduce discomfort associated with a fever.

Use a humidifier in your room to make breathing easier.

Gargle warm salt water to soothe a sore throat.

Cover up with a warm blanket to calm chills.
The Logan County Department of Public Health has a limited supply of flu vaccines still available. The hours for vaccines at the health department are 7:30 a.m. until 4 p.m. Monday through Friday. No appointment is required. The influenza vaccine is also available on the HOPE Mobile during its regularly scheduled stops.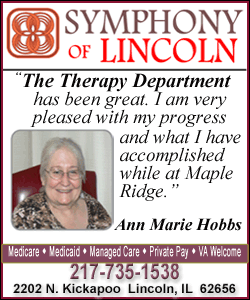 The cost of the seasonal flu shot is $25 for adults, $16.75 for children 6 months through 18 years of age who have no health insurance or health insurance that doesn't cover vaccines, and free to those with a Medicaid or Medicare card.
For more information on the seasonal influenza vaccine, call the Logan County Department of Public Health at 217-735-2317.
For more information, visit www.flu.gov and www.lcdph.org.
[Text from file received from the Logan County Department of Public Health]