---
Lincoln Christian Church would like to invite women to a six week ladies bible study on Monday nights at 7:00 p.m. They will be reading the book: "The Story". The Story is a book full of excerpts from God's Story, the Bible, and thoughtfully placed in chronological order. Each week they will discuss questions from the following week's reading. Chantell Mills will also give strategies that will help you to understand God's Story more fully. This session is great for someone who has never studied the Bible before and will rekindle the flame for God's Story for those who have known this Story for many years. Sessions will start Monday, January 28 and run thru Monday, March 11th. You may contact Chantell for more details at 217-314-9101 or chantellmills@gmail.com.
---
Our KIDS' Closet at Open Arms Christian Fellowship, 311 Broadway is open the first Saturday of every month from 9 AM – 12 noon providing FREE Kids clothes to the community. On Saturday, February 2 we are specifically having kids' winter clothes, coats and shoes free on a first come first serve basis. For more information, contact the church office at 217-732-4800 or go to our website at www.oacflincoln.com.
---
St. John's Lutheran Church in Hartsburg will be having a Pancake and Sausage Breakfast after Church services on February 10, 2013. Join us at 9:00 a.m. for Church and stay and have pancakes and sausage. Everyone is Welcome! 10:30 a.m. to 12 noon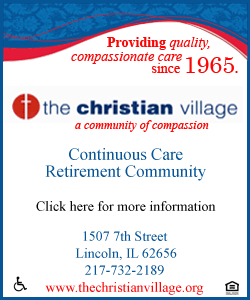 ---
OACF Valentine's Banquet
Are you looking for a Romantic Fun-filled night to celebrate Valentine's Day with your sweetheart? We have a night specially planned for you!! Join us for our 2013 Valentine's Banquet at the Elks Club on Sunday, February 10 from 6:00 – 10:00 PM. Dinner will be served at 6:00 PM. This unforgettable night will consist of a buffet style meal including Roast Boneless Pork Loin with Honey Mustard Glaze, Pulled Chicken BBQ, Party Potatoes, Whole Baby Carrots, Tossed Salad, and Assorted Cakes! Decorations and Dinner music will provide the perfect atmosphere for you and your sweetheart! Immediately following the dinner will be game time! You will laugh, laugh and laugh some more! Then you can sweep your sweetheart off their feet again as you step on the dance floor. Fast dance, slow dance, old moves, new moves…moves you didn't even know you have. Each couple will receive a picture. Tickets are only $15.00 apiece. If you want to purchase tickets or for more information, call Open Arms Christian Fellowship at 217-732-4800. The deadline is Sunday, February 3.