(Copy)

CONSOLIDATED REPUBLICAN PRIMARY ELECTION NOTICE

NOTICE IS HEREBY GIVEN THAT ON FEBRUARY 26, 2013, IN THE CITY OF LINCOLN, STATE OF ILLINOIS, A CONSOLIDATED REPUBLICAN PRIMARY ELECTION WILL BE HELD FOR THE FOLLOWING OFFICES:

MAYOR OF THE CITY OF LINCOLN

THE COLOR OF BALLOTS TO BE USED BY THE RESPECTIVE PRECINCTS AT THE GENERAL PRIMARY ELECTION WILL BE
WHITE

THE POLLING PLACE FOR SAID GENERAL ELECTION WILL BE OPEN CONTINUOUSLY FROM 6:00 A.M. TO 7:00 P.M. ON TUESDAY, FEBRUARY 26, 2013.

/s/ Sally J. Litterly, Logan County Clerk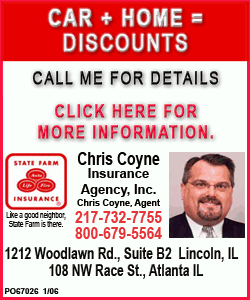 THE FOLLOWING IS THE CONSOLIDATED POLLING PLACE FOR ALL PRECINCTS IN THE CITY OF LINCOLN, ILLINOIS:
EAST LINCOLN 1, 2, 3, 4, 5, 6 AND WEST LINCOLN 1, 2, 3, 4, 5, 6, 7
LINCOLN CHRISTIAN CHURCH YOUTH CENTER, DELAVAN & HAMILTON STREETS, LINCOLN, IL.
All voters registered in the City of Lincoln, Illinois will vote at one polling place for this Consolidated Republican Primary Election only.