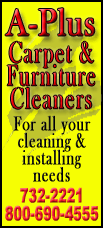 Much of what he talked about was information that had been gleaned from workshops, meetings and surveys taken in September last year, which showed that almost everyone is concerned about the lack of parking in the downtown area.

It is an issue that has to be addressed in one way or another if Lincoln wants to draw more people into the downtown area on a regular basis.

As part of a PowerPoint presentation, Colgan introduced some new ideas for public parking in the downtown region.

In a follow-up conversation with Lisa Kramer of Prairie Engineers on Wednesday morning, she wanted to caution readers that this is not set in stone at this point. While the ideas may appear to be practical solutions, a land-use study that is being conducted and not yet complete will shed more light on where and how additional parking can be created.
That study may find that all the suggestions given Tuesday night are reasonable and practical, or it may lead the steering committee in a different direction. Regardless, it did serve to show the community that there are options available if they think creatively.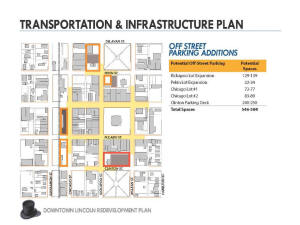 Starting at the north end of the downtown region, Colgan pointed out the public area across the street from Latham Park on North Kickapoo. Currently there is public parking there, but it is limited. The suggestion is to relocate one existing business, eliminate a city-owned building in that block and convert the entire length of the block to a public parking lot. This would create between 129 and 139 parking spaces.
Moving on to the corner of Pekin and Kickapoo on the southeast corner, Colgan said turning the area that is currently green space into parking would add another 22 to 24 spaces. This is a project the city has already been talking about doing. The green space is city-owned property and connects to the Pekin Street lot adjacent to the library.
In what was referred to as the rail downtown area, there is potential for two public lots on South Chicago Street between Broadway and Clinton streets, south of the Amtrak station. Lot one between Broadway and Pulaski Street would add up to 77 spaces, and lot two between Pulaski and Clinton would add up to 89 spaces. Kramer confirmed on Wednesday that this suggestion would also involve the relocation of a couple of businesses in the area. She also said that it would not disrupt the flow of traffic in that region. As proposed, there would still be plenty of room for pass-through driving lanes.
On Clinton Street there is an area a half-block deep and a full block long between Guzzardo's and Scully Park, where plans to improve parking include building a "deck" or parking garage. Currently the city has a lot in the center of that space. The proposal would include once again relocating a business and also acquiring a property on the east side of the lot that is currently privately owned and closed to the public. While it wasn't mentioned how many levels would be included in the deck, the estimates of gained parking are approximately 240 to 250 spaces.
Once the land-use study is completed, if it maintains these are feasible areas and the plans can be implemented as presented, this would add a total of approximately 584 parking spaces for downtown visitors.
Kramer commented on the relocation of businesses saying; "Hopefully people will keep in mind that components of the planning are long range, and also that the City has no intentions of forcing anyone out of a location they want to be in."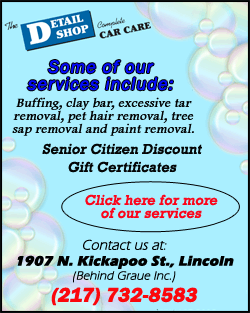 Another project Colgan outlined is one that has been discussed at past meetings as well: creating a better atmosphere. Many successful communities incorporate into their downtown areas outdoor spaces that draw people into the area for the relaxed and attractive atmosphere they present.
Looking specifically at the courthouse downtown region, Colgan said that Kickapoo Street has been identified as the "main street" into Lincoln. This later came up during discussion, and it was noted there are several arteries into the heart of the city, but from a traffic-flow standpoint, Kickapoo is the most direct and is also a street with a good number of businesses along it.
These factors weighed into creating a larger outdoor space on Kickapoo between Broadway and Pulaski.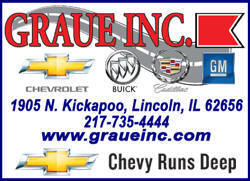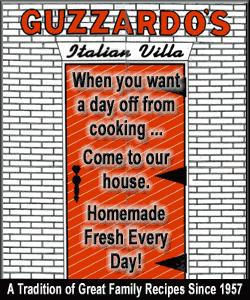 Colgan presented an aerial view of the courthouse square with an overlay of suggested modifications.
Included in the changes was a widening of the sidewalk on Kickapoo. Colgan said this would include changing the parking from angle to parallel and creating an 18- to 20-foot-wide sidewalk.
The wider walk would open the door for outdoor dining areas, larger landscaping displays and even more downtown activities such as farmers markets. Putting this on Kickapoo, with that street being considered as the "main street," would make it a "marquee block," Colgan said, that would make a real "Wow" statement to people coming into town.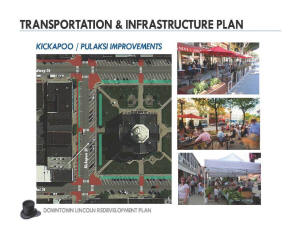 This illustration also showed some proposed changes that would make the downtown area safer for pedestrian traffic all around the square. The proposal is to do out-sets at corners and redirect the flow of foot traffic. Colgan pointed out that the out-sets would narrow the walking distance in traffic and also eliminate crossing the streets at angles, making it easier and safer for walkers to get from one side or corner to the other.
These same out-sets would also be incorporated into the middle of each block around the square, again shortening the space where walkers are actually in the line of traffic.
A third point that Colgan discussed was how to bring people to the downtown area once they arrive in Lincoln. He noted that finding the courthouse square can be difficult for visitors not familiar with the area.
He said in order to bring visitors to the downtown, they need some direction. This part of the plan includes offering decorative signage along some of the main arteries to guide people along the way.
From the audience it was suggested that these signs would help, but they need to be placed in the right locations. Colgan agreed, saying signage would go up at the outskirts, particularly on Route 10 and 121, indicating "this is the way." He said additional signs would need to be placed approaching downtown to let people know they were still on the right track.
Other suggestions that were made Tuesday night included capitalizing even more on the Abraham Lincoln heritage in the downtown area in order to draw more tourism, and looking at the Route 66 aspects of the community. Colgan noted that Route 66, as it is mapped through the city of Lincoln currently, bypasses the downtown area, but the fact is there was a Route 66 pathway through the downtown area at one time, and it could be re-established and still be historically correct.
Currently, Route 66 comes into Lincoln past The Mill, turns on Fifth Street, goes north on Logan, west on Keokuk, then north again on Kickapoo. The route could be changed to turn east on Broadway then north on Kickapoo.
No project this size can come before city and county officials and the general public without the subject of money coming into play. At the tail end of the meeting, Colgan, Forgy and Kramer interacted with the audience as the topic turned to matching funds and TIF districts.
The third and final segment of this series will address what was said and how ideas are being developed.
[By NILA SMITH]
Note: The steering committee for the proposed plan continues to encourage public participation. They would like to hear your thoughts on the proposed plans on how to improve Lincoln's downtown.
Send us your thoughts:
Yes, I like ____. No, I don't like this part: ____. I have another idea: ____.
(Email: ldneditor@lincolndailynews.com)
Want to know more? Another meeting is planned in about a month. The date is not set yet.
Part 1 of this series: An overview of the project
Past related articles