COMEDY GOES LONG
Not all of the storytelling ads were dramatic, though.
Samsung's two-minute ad showed Seth Rogen ("The Guilt Trip") and Paul Rudd ("Role Models") getting called in to do a "Next Big Thing" ad for Samsung. But they're agitated once they realize that they're sharing the spotlight. LeBron James, an NBA basketball player for the Miami Heat, makes a cameo, appearing on the screen of a tablet.
The ad won over some fans in the ad world.
"I could watch the Samsung ad over and over again," said David Berkowitz, vice president at digital marketing agency 360i. "It's as good as any Seth Rogen movie."
Budweiser, a long-time Super Bowl advertiser, also told a continuing story in two of its ads. One showed rival 49ers and Ravens fans each creating a voodoo doll for the other team with the help of R&B legend Stevie Wonder. In the other ad, fans go to great lengths to curse a rival fan's "lucky chair."
"It's only weird if it doesn't work," the words in the ad read.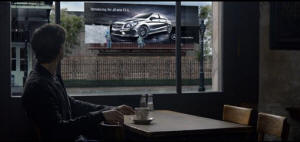 Mercedes-Benz's 90-second ad had a Faustian plot.
A devilish Willem Dafoe ("Spider-Man") shows a man everything that comes with a Mercedes-Benz CLX: A date with supermodel Kate Upton, dancing with Usher, driving around with beautiful girls, getting on the cover of magazines including Vanity Fair and GQ, getting to drive on a racetrack.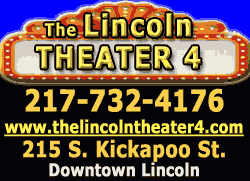 The man almost signs his soul away for the car. But then he sees a billboard that says the car starts at $29,900, and doesn't sign.
NOT EVERY AD TELLS A STORY
Although many advertisers tried to pull people in with lengthy story lines, there were a few that stuck with short, quirky spots with no particular plot.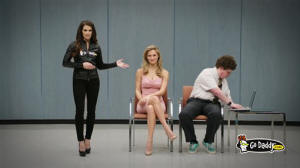 GoDaddy.com's ad was one of them. It showed a close up, extended kiss between supermodel Bar Refaeli and a nerdy guy wearing glasses to illustrate GoDaddy's combo of "sexy" and "smart."
Some viewers thought the ad was too explicit for the Super Bowl.
"I don't care who wins the game. I just don't want to see that commercial again, ever," said Stephen G. Smith, 63, an editor at The Washington Times in Washington, D.C.
Stephanie Malone from DeKalb, Ill., agreed: "GoDaddy should be ashamed."
Striking a less controversial note, Best Buy's 30-second ad in the first quarter starred Amy Poehler, of NBC's "Parks and Recreation," asking a Best Buy employee endless questions about electronics.
"Will this one read '50 Shades of Grey' to me in a sexy voice?" Poehler asks about an e-book reader. Then, when the staffer says no she asks, "Will you?"
M&M's spot showed its red spokescharacter singing Meatloaf's "I Would Do Anything For Love," and wooing beautiful women. But the M&M stopped short when the women try to eat him.
And Oreo's ad featured a showdown in a library between people fighting over whether the cookie or the cream is the best part of the cookie. The punch-line? The fight escalates into thrown chairs and other destruction, but because the fight is in a library, everyone still has to whisper.
The ad directed users to follow Oreo on Instagram photo-sharing site, where they could continue the "cookie vs. cream" debate. Meanwhile, Oreo was quick to capitalize on the blackout that hit the game for about 30 minutes in the third quarter. It tweeted a picture of an Oreo in the half-dark with the words: "You can still dunk in the dark."