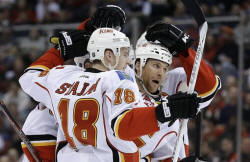 Iginla nets 1st goal, Flames beat Red Wings 4-1
Send a link to a friend
[February 06, 2013] DETROIT (AP) -- Jarome Iginla scored his first goal of the season and Dennis Wideman had a goal and an assist to lead the Calgary Flames past the Detroit Red Wings 4-1 on Tuesday night.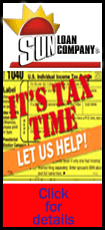 Curtis Glencross and Mark Giordano also scored for Calgary. Mike Cammalleri had two assists and Miikka Kiprusoff made 19 saves before being replaced by Leland Irving to start the third period because of a lower-body injury. Irving stopped six shots.
Johan Franzen scored for Detroit and Jimmy Howard made 19 saves. Howard also stopped Iginla on a penalty shot.
Wideman extended Calgary's lead to 3-1 with 24 seconds left in the second period. He beat Howard with a wrist shot from just inside the blue line after Matt Stajan beat Pavel Datsyuk on a faceoff. It was Wideman's second goal this season.
Giordano added a power-play goal late in the third period.
Franzen put Detroit on the board on a power-play goal with 7:23 remaining in the second period. He beat Kiprussoff high to the glove side with a backhand shot from the bottom of the left circle for his third goal.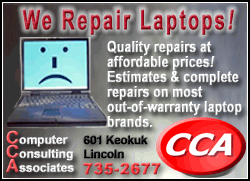 Howard foiled Iginla on a penalty shot with 6:48 left in the second period after Jonathan Ericsson interfered with Iginla on a breakaway chance.
Datsyuk hit the goal post on a rebound almost a minute into the second period during a power play.
Calgary led 2-0 after the first.
Iginla opened the scoring 3:24 into the game when he put in a rebound during a goal-mouth scramble for his 517th NHL goal. Glencross added a 5-on-3 power-play goal with 9:35 left in the first when he tapped a pass from Cammalleri into the open side of the net. It was Glencross' fourth goal.
NOTES: It was Calgary forward Jiri Hudler's first game against his former team after signing a four-year, $16 million free-agent contract with the Flames over the summer. Hudler spent seven seasons in Detroit. ... Detroit defenseman Ian White returned after missing five games due to a cut on his left leg. ... According to a report published in the Detroit News, Datsyuk is suing a suburban Detroit man for allegedly using his name and likeness on hockey memorabilia without permission. ... Detroit center Darren Helm, who has been limited to one game due to a sore back, is expected to see a back specialist. ... Tuesday was the 33rd anniversary of the 1980 NHL All-Star game at Joe Louis Arena.
Copyright 2013 The Associated Press. All rights reserved. This material may not be published, broadcast, rewritten or redistributed.