The event begins with a reception at 6:30 p.m. at the North Greens Golf Course in Atlanta, followed by a discussion with the artist at 7 p.m.

Childs has produced and directed television for more than 25 years, working on such shows as "As the World Turns" for CBS, "Another World" for NBC and "The City," and "Loving," "One Life to Live," "All My Children" and segments of "Spin City" for ABC. He also has directed shows for Turner Broadcasting, Lifetime and Sony's Nick at Nite.

He has won two Emmy Awards for his television directing and countless nominations for both producing and directing in television.

Childs founded the New York off-Broadway theater company Primary Stages in 1984 and since then has produced over 100 new plays, many of them world premieres. He is a graduate of Carnegie Mellon University, with a bachelor's degree in acting and a master's in directing. He has acted and directed all over the United States and Great Britain and has taught and lectured on the subjects of television and theater at leading theater schools throughout the country. He also has made three trips to Russia as a guest of the Federation of Russian Theatre Workers.
---

Electronics recycling Saturday at Habitat
Habitat for Humanity of Logan County will have its monthly electronics recycling collection on Saturday, Feb. 9, at the Habitat for Humanity warehouse, 915 Woodlawn Road, from 9 a.m. to noon. The collection is free of charge to the public.
The following items will be accepted:
Entertainment equipment, including TVs, radios, stereo and game systems, game controls, VCR and DVD players, and cameras.

Computer equipment, including laptop and desktop personal computers, hard drives, monitors, keyboards, printers, scanners, cords and cables, and CD-ROM, DVD, Zip and tape drives.

Small business equipment, including phones, copiers, typewriters, fax machines and calculators.

Small household and countertop appliances will also be accepted, as well as aluminum, copper, brass and stainless steel items.
Electronics are not to be left at the site and are not collected outside of the hours of the collection.
The electronics recycling program that began in March 2012 collected over 156,757 pounds of electronic equipment through the end of the year, with more than 80,000 pounds of the total being TVs and computer monitors.
Additional information on the electronics recycling is available through Habitat for Humanity of Logan County by contacting the office at 217-732-6412 or visiting www.habitatlogan.org.
---

HSLC chili and soup luncheon planned for Feb. 16
The Humane Society of Logan County will host its annual chili and vegetable soup luncheon on Saturday, Feb. 16, from 11 a.m. until 2 p.m. at Friendship Manor, 925 Primm Road.
Proceeds from the event benefit the organization's programs.
Tickets are $7 for chili or vegetable soup, homemade dessert, and beverage. A hot dog meal will be available for $3. Carryouts will be available.
The public is invited to come and support the work of the organization and learn about the exciting happenings at the shelter that aids abused, neglected and abandoned animals of Logan County.
---

Lincoln College and Pekin High jazz groups to present joint concert Feb. 23
Feb. 23 will see the inception of an idea Professor Scott Woger of Lincoln College has had for a long time.
Woger, director of jazz studies at Lincoln College, has created a four-year bachelor's degree program in jazz studies at the college. One of the initiatives of the program is to partner the Lincoln College Jazz Ensemble with area high school jazz bands. In the first concert of this series, the college jazz ensemble will take the stage with the high school jazz band from Pekin on Feb. 23 in the Meyer Theater in the Johnston Center for Performing Arts on the LC campus. Pekin High School has had a renowned jazz program for many years. Each jazz ensemble will perform a set of four to five tunes.
Woger wants this concert to lead to more visits to the Lincoln College campus by central Illinois high school jazz bands. Eventually, he hopes to have a jazz festival on campus.
Woger is excited about the prospects of the newly created bachelor's degree program, one of two now offered by Lincoln College. In the past, when only a two-year degree was possible, he lost his most promising musicians to schools offering four-year jazz degree programs. Now, the students can remain at Lincoln College for their entire bachelor's degree. And as Woger pointed out, "a bachelor's degree is absolutely necessary to find employment, and the demand for musicians is a growing field." One exciting prospect of this program is some terrific jazz concerts for the public.
The first concert begins at 7 p.m. on Feb. 23 in the Johnston Center and is free and open to the public.
Woger may be reached on the Lincoln College campus at 217-732-3155, ext. 281, or by email to swoger@lincolncollege.edu.
---

Logan County Art Association presents 'It's All About Love!'
"It's All About Love," a new exhibit presented by the Logan County Art Association, opens Thursday, Feb. 14, with a 5-8 p.m. reception at the Lincoln Art Institute, 112 S. McLean St.
Featured artists are Georgie Borchardt, Lee Hahn, Wilbert Hill, Jason Hoffman, Bonnie Mayo, Moses Pinkerton, Kerry Rolewicz, Christopher A. Tice and Randy Washam.
Beautiful, unique cuff bracelets created using antique spoon handles made by Tice will be for sale during the opening event, and Washam will take "sweetheart portraits" for only $20. All proceeds go to the Logan County Art Association.
There is no admission charge, although donations are welcome. Light refreshments will be served.
Everyone is welcome, so plan to bring the family and enjoy the opening reception. The show runs through March 15, so if you can't join the Valentine's Day opening, the artists hope you can come another time during the show.
For further details about either the reception or exhibit, contact Georgie Borchardt at 217-819-6801 or logancountyaa@gmail.com.
---

Republican city primary notices
Lincoln Daily News received the following election notices from Sally J. Litterly, Logan County clerk:
(Copy)
CONSOLIDATED REPUBLICAN PRIMARY ELECTION NOTICE
NOTICE IS HEREBY GIVEN THAT ON FEBRUARY 26, 2013, IN THE CITY OF LINCOLN, STATE OF ILLINOIS, A CONSOLIDATED REPUBLICAN PRIMARY ELECTION WILL BE HELD FOR THE FOLLOWING OFFICES:
MAYOR OF THE CITY OF LINCOLN
THE COLOR OF BALLOTS TO BE USED BY THE RESPECTIVE PRECINCTS AT THE GENERAL PRIMARY ELECTION WILL BE
WHITE
THE POLLING PLACE FOR SAID GENERAL ELECTION WILL BE OPEN CONTINUOUSLY FROM 6:00 A.M. TO 7:00 P.M. ON TUESDAY, FEBRUARY 26, 2013.
/s/ Sally J. Litterly, Logan County Clerk
THE FOLLOWING IS THE CONSOLIDATED POLLING PLACE FOR ALL PRECINCTS IN THE CITY OF LINCOLN, ILLINOIS:
EAST LINCOLN 1, 2, 3, 4, 5, 6 AND WEST LINCOLN 1, 2, 3, 4, 5, 6, 7
LINCOLN CHRISTIAN CHURCH YOUTH CENTER, DELAVAN & HAMILTON STREETS, LINCOLN, IL.
All voters registered in the City of Lincoln, Illinois will vote at one polling place for this Consolidated Republican Primary Election only.
___
(Copy)
N O T I C E
VOTER REGISTRATION AND GRACE PERIOD REGISTRATION AND VOTING
FOR REPUBLICAN CONSOLIDATED PRIMARY ELECTION
FOR THE CITY OF LINCOLN
ON FEBRUARY 26, 2013
The last day to register to vote or to update voter registration information prior to the February 26, 2013 Republican Consolidated Primary Election for the City of Lincoln is January 29, 2013. Voter registration is being conducted at the Logan County Clerk's Office at the Logan County Courthouse, 601 Broadway Street, Lincoln, IL Monday through Friday from 8:30 a.m. to 4:30 p.m. Appointed Logan County Deputy Registrars may also register voters through that date. Beyond that date, a voter must register and vote by Grace Period Registration in the Office of the County Clerk.
Pursuant to Article 4 of the Illinois Election Code, Grace Period Voter Registration will be offered from Wednesday, January 30, 2013 through Friday, February 22, 2013 in the Office of the County Clerk. Grace Period Registration allows a resident to register to vote and or change their name or address beyond the close of registration. Individuals registered during grace period voting may only vote at the time of their registration in the Office of the County Clerk and are not eligible to cast a ballot at their polling place on Election Day. The Office of the County Clerk is open from 8:30 a.m. to 4:30 p.m. Monday through Friday.
For more information, please call our Elections Department at (217) 732-4148.
/s/ Sally J. Litterly
Logan County Clerk
---

Mount Pulaski Rotary guest speaker Feb. 11: Illinois Treasurer Dan Rutherford
MOUNT PULASKI -- Mount Pulaski's Rotary Club is sponsoring a speaking engagement by Illinois State Treasurer Dan Rutherford at Buff's Restaurant, on the west side of the square, at noon on Monday, Feb. 11. Rutherford will discuss the plight of Illinois finances. A question-and-answer period will follow his presentation.
Also, Rutherford will be accompanied by his I-Cash team, who will illustrate how to access the Illinois Treasury account for private assets that have gone unclaimed. Rutherford says 1 in 8 Illinois residents have an asset that can be claimed through I-Cash. The state treasurer's office has collected more than $1.6 billion in unclaimed property that belongs to millions of Illinois residents. This unclaimed property includes everything from forgotten bank accounts to entire estates that have never reached their rightful owners. The I-Cash team will stay afterward to assist any and all who wish to have them go online with their portable laptop computers and check for unclaimed assets.
Attendees will be asked to run their own tab for lunch or may simply order a beverage, dessert, etc. A RSVP is requested so that enough tables and chairs may be set up.
Mount Pulaski Rotary Club contacts:
Phil Bertoni, publicity chair:
217-341-8967 cell or 792-5442 residence

Doug Johnson, treasurer-secretary,
Johnson's TrueValue Hardware Store,
217-792-5911
---

Lincoln Writer's Club will meet Feb. 12
Lincoln Writer's Club will meet Tuesday, Feb. 12, at 6:30 p.m. in the Alumni Room of the student center at Lincoln College.
Suggested writing topics: a 150-word "Life-Story"; a silly story about yourself; preserving food from your garden.
All are welcome. For more information, call 732-2723.
---

Historic Logan County courthouses to observe Abraham Lincoln's birthday Feb. 9
Postville Courthouse and Mount Pulaski Courthouse volunteers have planned grand celebrations Saturday, Feb. 9, for Abraham Lincoln's birthday. The events include refreshments, speakers and tours.
Mr. Lincoln was a lawyer on the Illinois 8th Judicial Circuit, including court sessions at Postville and Mount Pulaski, before becoming president of the United States. The original Postville Courthouse was purchased by Henry Ford in 1929 and moved to Dearborn, Mich. The courthouse that stands on the Fifth Street site today is a replica that was built in 1953 as part of the city's centennial celebration. The Mount Pulaski Courthouse, the county seat from 1848 to 1855, is an original courthouse building where Mr. Lincoln practiced law.
Mount Pulaski's celebration on Feb. 9 will run from 10 a.m. to 4 p.m. The featured speaker will be Brian "Fox" Ellis, a local favorite, who will portray William Herndon during an 11 a.m. presentation. Herndon and Lincoln were law partners. The free public program will be in the second-floor courtroom where Lincoln, Judge David Davis, Stephen A. Douglas, Leonard Swett, Herndon and other lawyers of the mid-1800s 8th Judicial Circuit practiced law. From 1 to 3:30 p.m. there will be activities in a children's area with craft supplies for making cards, bookmarks and pictures, along with an Abraham Lincoln scavenger hunt. Complimentary Mary Todd Lincoln cake will be provided throughout the day.
The celebration at Postville Courthouse will be from noon to 5 p.m. The annual celebration will include tours, refreshments, Abraham Lincoln interpreter Gary Simpkins and presentations by the Civil War Ladies. Dorothy Salinger and friends will present a program on clothing of that era at 1 p.m. and 3 p.m.
The Abraham Lincoln Tourism Bureau of Logan County encourages visiting both sites as they celebrate one of the most important people in our heritage, Abraham Lincoln. For more information, call 217-732-8687.
---

Atlanta Public Library: Exciting times, growth in services
ATLANTA -- Cruising through Atlanta, Ill., on Old Route 66, you will come to an unusual eight-sided building at the corner of SW Arch (Route 66) and SE Race streets. This architectural gem is the Atlanta Public Library, a historic building that was constructed in 1908 and is now listed on the National Register of Historic Places. Only one other example like this exists, the public library in El Paso, Ill.
Walk inside the building and you find the usual shelves of books, magazines and newspapers common to libraries. But dig a little deeper, and a person will find a growing list of exciting programs that are available to the community -- programs designed to encompass activities for preschoolers to senior citizens.
Cathy Maciariello was recently appointed director of community programs for the library in Atlanta and has been ramping up the program menu from a modest beginning in 2011 to a wide variety of offerings today, some of them unique to the library district, such as the Behind the Scenes programs.
One of the success stories is the children's programming, which began with an outdoor summer reading program on the library lawn. Other offerings during the year are a homework and reading lab, kids' crafts, a summer creative writing class, and preschool reading gatherings.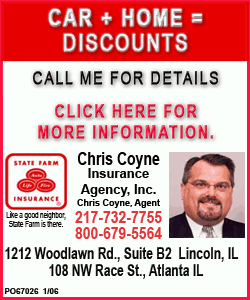 One measure of success is the number of area children participating, from an initial 12-15 to a count of almost 30 kids at a recent event.

The dramatic increase in participating children has created a happy problem for the library. Currently, one section of the octagonal building is dedicated to children's reading material and events. The small area is now at the maximum capacity, and more space is rapidly becoming a necessity.

Toward that end, plans are being made to convert the basement of the library into a new area for children's books and activities. The basement has at least double the space of the current area. After the relocation of the children's area to the basement, the upstairs space will be converted into an adult fiction area and reading room.

Initial plans are being developed to upgrade the infrastructure of the basement with a new ceiling, lighting, heating and a dehumidifier before the children's books and activities are relocated there.

As with all remodeling, the new children's area will require funding to proceed with these ambitious plans. Toward that end, the Atlanta Library will have a fundraiser on Saturday, Feb. 16, called "Bowling for Books."

Bowling for Books will take place at the Red Wing Bowl, just across the railroad tracks from the library. Twenty-four teams of four bowlers each will compete for prizes, with bowling times at 3:30, 6:30 and 9 p.m. In addition to bowling, a Chinese auction will take place for items donated by area businesses.

The prime sponsor for Bowling for Books is Mattingly Automotive, with additional help from Kitty Cat Crafts. So far, response has been very positive, with many teams already signed up.

The library hopes to raise at least $4,000 to begin the basement renovation process.

"The momentum of community involvement in the library is increasing," says Maciariello. "The fundraiser is providing an exciting way for members of the Atlanta community to participate in their library's improvement."

Sign-up forms for Bowling for Books are available at the library and on the library website.

Maciariello sees the library as a magnet for area residents to come together and participate in fascinating events, as well as use the traditional library services.

In addition to the Feb. 16 fundraiser, another important date for the library is rapidly approaching. Randy Brooks, president of the Atlanta Public Library District, announced that a referendum will appear on the April ballot, requesting an increase in the library district's assessment.

The assessment has not been changed in decades.

"We can't do 2013 work at the library with 1950s money," said Brooks.

He stressed that when the assessment was last changed, all the library had to offer was books. Now, in the digital age, libraries are called upon to offer many more services. In addition to checking out physical books, library patrons are requesting access to digital reading material that they can download to their iPads, Kindles and Nooks.

Money from an increased assessment will go directly into updating the services and programs the library can offer its patrons, as well as maintaining and updating the library's physical structure, a historic building that needs lots of care.

Brooks said: "I can't stress enough how important a modern library is to a thriving community like Atlanta, especially with the increase in tourists coming to town for the Route 66 experience. A modern library enriches the community."

Brooks and Maciariello are excited about the future of their town and the Atlanta Public Library, and their enthusiasm is shared by members of the Atlanta community.

For a complete list of the Atlanta Public Library programs and special events such as Bowling for Books, go to the library website or call the library.

[By CURT FOX]

Atlanta Public Library contact information
---

Logan Co. Animal Rescue hosting fundraiser lunch

Logan County Animal Rescue will host a fundraiser lunch on Saturday, Feb. 9, at Friendship Manor.

The midday meal will consist of chicken and noodles, mashed potatoes, green beans, lettuce salad, roll, a drink, and dessert. Serving will begin at 11 a.m. and run through 2 p.m.

The Logan County Animal Rescue is a not-for-profit 501(c)(3) organization that works to preserve the life of animals in need. Animals are taken in on a temporary basis. They may be reclaimed by their owners, or they may have to be taken to a no-kill shelter, hopefully to be adopted.

To purchase tickets in advance for the Feb. 9 fundraiser, or to learn more about Logan County Animal Rescue, call 217-735-2015.

For more information, visit www.logancountyanimalrescue.com.
---

Area Red Cross seeking hero nominations for 8th annual Heroes Breakfast

SPRINGFIELD -- The Illinois Capital Area Chapter of the American Red Cross is seeking hero nominations from the public for the eighth annual Red Cross Heroes Breakfast fundraiser on April 19 at the Crowne Plaza. Presented by the Bank of Springfield, this inspiring event honors a group of everyday local heroes for performing an extraordinary act or giving a lifetime of service to the community.

Proceeds benefit local disaster relief by the Red Cross.

The Red Cross is seeking nominations for nine hero categories that will be honored at this year's breakfast:

, sponsored by St. John's Children's Hospital: A person under 18 who has acted in a heroic fashion during a time of crisis or committed themselves to better their community/the people in it.

Education

, sponsored by Horace Mann: A K-12 or college teacher who has made an extraordinary difference in the life of a child or group of children.

Military hero

, sponsored by Hanson Professional Services: A local member of the U.S. armed forces who has shown dedication to serving our country or made the ultimate sacrifice in defending it.

Public safety hero

, sponsored by the American Red Cross: A person in an emergency service field, such as police, fire department or EMT, who has gone above and beyond the call of duty to save or protect another.

Senior hero

, sponsored by Concordia Village: A person over the age of 62 who has acted in a heroic fashion during a time of crisis or committed themselves to better their community or the people in it.

Community hero

, sponsored by Greene Dodge: Someone who has shown heroism in some unexpected or unusual way during a time of crisis in their community or has shown sacrificial commitment to meeting the needs and challenges of their community.

Workplace hero, sponsored by Express Employment Professionals: Someone who has acted in a heroic fashion during a time of crisis in their workplace or has shown strong commitment to helping others within or through their place of work.

Health care hero

, sponsored by Springfield Clinic: A member of the medical or health care profession who has displayed extraordinary and sacrificial commitment to saving or improving lives or treating illnesses.

Civic hero

, sponsored by Bunn: A person in a paid public service field, such as government, nonprofit or social services, who has gone above and beyond to help or protect someone or worked toward positively affecting their community.

Nominees must either live or work in Sangamon, Christian, Logan, Menard, Macoupin, Montgomery, Sangamon or Shelby County. Local heroic acts must have taken place within the last 18 months to be eligible, unless the nomination is for a lifetime of service. An individual or group of individuals may be nominated and can be entered into multiple hero categories.

People in the community can fill out and submit the online hero nomination form by visiting www.il-redcross.org. Nominations are due by Friday, Feb. 22.
---

Celebrating Abraham Lincoln's birthday in Mount Pulaski

Brian 'Fox' Ellis to portray William Herndon, Lincoln's law partner

MOUNT PULASKI -- On Saturday, Feb. 9, at 11 a.m., William Herndon, Abraham Lincoln's law partner, will be portrayed in Mount Pulaski by acclaimed storyteller, author and educator Brian "Fox" Ellis, from Peoria. This is a rare opportunity to enjoy a unique look at Abraham Lincoln through the eyes of his law partner.

Everyone is invited to attend this remarkable portrayal in the Mount Pulaski Courthouse courtroom, where Abraham Lincoln, Judge David Davis, Stephen A. Douglas, Leonard Swett, William Herndon and other lawyers who traveled by horse and buggy in the mid-1800s Illinois 8th Judicial Circuit heard cases in the Logan County seat of Mount Pulaski (1848-1855), an Illinois Historic Site since 1936.

Complimentary servings of Mary Todd Lincoln's cake will be provided throughout the day, 10 a.m. to 4 p.m.

In the afternoon from 1 to 3:30, there will be multiple activities for children. Craft supplies will be available for making cards, bookmarks and pictures for Lincoln's Birthday or Valentine's Day. There will also be an Abraham Lincoln scavenger hunt.

The previous day, Feb. 8, two other historic individuals associated with Abraham Lincoln will be portrayed by Ellis at the Mount Pulaski schools. For students of the Mount Pulaski Grade School and Zion Lutheran School, Mr. Ellis will portray Austin Gulihur, one of Lincoln's boyhood friends. Fourth-graders will begin the morning program with a presentation of Lincoln's Gettysburg Address. In the afternoon, for the Mount Pulaski High School, Ellis will portray American poet Walt Whitman, who was a contemporary of Lincoln and wrote poems in praise of him soon after the president's assassination.

The funding for these events has come from the Tomlinson Trust, the Abraham Lincoln Tourism Bureau of Logan County and the Mount Pulaski Courthouse Foundation. Mary Todd Lincoln's cake will be donated by Hilltop Catering of Mount Pulaski.
---

Absentee and early voting for Lincoln Republican primary

Lincoln Daily News received the following notice from Sally J. Litterly, Logan County clerk:

(Copy)

PUBLIC NOTICE

ABSENTEE AND EARLY VOTING
FOR THE LINCOLN CITY CONSOLIDATED REPUBLICAN PRIMARY ELECTION
FEBRUARY 26, 2013

Do you want to avoid lines on Election Day? Registered voters who desire to cast a ballot at the Office of the County Clerk rather than their polling place, may now vote in person in the Office of the County Clerk. The office is located on the 2nd floor of the Logan County Courthouse, 601 Broadway St., Lincoln, Illinois. In person absentee voting continues through February 25, 2013.

Registered voters may also make application by mail to vote absentee. Students and out of county workers can conveniently obtain an Application to Vote Absentee by contacting the Office of the County Clerk, or access the form on the Clerk's website at http://www.co.logan.il.us/county_clerk/. Mail applications will be received by the County Clerk until February 21, 2013. No ballots may be sent by mail after that date as provided by law. No excuse is needed to vote by absentee by mail or in person.

Early Voting (similar to Absentee) will also be conducted in the Office of the County Clerk February 11 through February 23, 2013. Early voting allows registered voters to cast their ballot prior to Election Day by voting at the pre-designated site of the Office of the Logan County Clerk. Early voters must be registered and present a valid picture ID showing their current voter registration address.

Office hours are Monday through Friday 8:30 a.m. – 4:30 p.m.

Any questions concerning voting may be directed to the Office of the County Clerk Elections Department at (217)732-4148.
---

Polar Plungers across Illinois will be freezin' for a reason Feb. 22-March 17

NORMAL -- It's not every day that people are willing to "go jump in a lake" -- particularly in the winter -- let alone do so with thousands of other people, including members of the law enforcement community. But that's exactly what will happen on various weekends in February and March as part of the annual Law Enforcement Torch Run Polar Plunge to benefit Special Olympics Illinois presented by GEICO.

Any adventurous soul is invited to join law enforcement officers, as well as media and business and civic leaders from their community, by donning bathing suits, costumes or any clothing of choice (just no wetsuits!) to jump in a lake. Each plunger must collect a minimum of $75 in donations that will be used to support Special Olympics programs in Illinois.

The event has grown from one location in 1999 to 20 locations across the state this year. The Polar Plunge series will kick off with a Super Plunge -- where participants raise a minimum of $2,500 and plunge into Lake Michigan once every hour for 24 hours -- on Feb. 22-23 at Northwestern University's North Beach in Evanston.

The Logan County plunge will take place on Sunday, March 17, at 2 p.m. at Lincoln Lakes. Please note this is a change in both day of the week and time. Anyone wishing to know more about the local plunge can click on the "Polar Plunge" button on the Top Stories page of LDN or contact Joanie Keyes of Special Olympics Illinois at 217-428-9255.

Individuals and teams can register for the plunge on the Special Olympics Illinois website at http://www.plungeillinois.com/ or by contacting Keyes at the number above.

Plungers are encouraged to form teams to spread the fun. Each team member must raise the minimum of $75 in donations, and all team members' individual fundraising totals will be merged to form a combined team total. Teams are placed into divisions based on size and are awarded prizes for the most money raised.

All plungers will receive gifts, compete for prizes, and enjoy food and camaraderie with other chilly participants. The more money a plunger raises, the more chances he or she will have to win a four-night trip for two adults to Cancun, Mexico, with accommodations at Riu Peninsula, courtesy of Apple Vacations. For every $500 a plunger raises, he or she will get an entry into the drawing for this grand prize.

The Illinois Law Enforcement Torch Run is the single largest year-round fundraising vehicle benefiting Special Olympics Illinois. The annual intrastate relay and its various fundraising projects have two goals: to raise money and increase public awareness for the athletes of Special Olympics Illinois. Each year, more than 3,000 officers in Illinois run more than 1,500 miles carrying the "Flame of Hope" through the streets of their hometowns and deliver it to the State Summer Games in Normal in June.
---