Voter registration and grace period registration for Republican primary

Send a link to a friend
[January 28, 2013] Lincoln Daily News received the following notice from Sally J. Litterly, Logan County clerk:
(Copy)

N O T I C E

VOTER REGISTRATION AND GRACE PERIOD REGISTRATION AND VOTING
FOR REPUBLICAN CONSOLIDATED PRIMARY ELECTION
FOR THE CITY OF LINCOLN
ON FEBRUARY 26, 2013

The last day to register to vote or to update voter registration information prior to the February 26, 2013 Republican Consolidated Primary Election for the City of Lincoln is January 29, 2013. Voter registration is being conducted at the Logan County Clerk's Office at the Logan County Courthouse, 601 Broadway Street, Lincoln, IL Monday through Friday from 8:30 a.m. to 4:30 p.m. Appointed Logan County Deputy Registrars may also register voters through that date. Beyond that date, a voter must register and vote by Grace Period Registration in the Office of the County Clerk.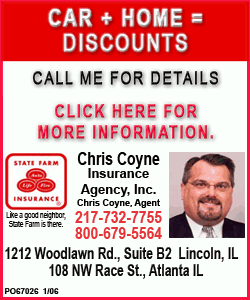 Pursuant to Article 4 of the Illinois Election Code, Grace Period Voter Registration will be offered from Wednesday, January 30, 2013 through Friday, February 22, 2013 in the Office of the County Clerk. Grace Period Registration allows a resident to register to vote and or change their name or address beyond the close of registration. Individuals registered during grace period voting may only vote at the time of their registration in the Office of the County Clerk and are not eligible to cast a ballot at their polling place on Election Day. The Office of the County Clerk is open from 8:30 a.m. to 4:30 p.m. Monday through Friday.
For more information, please call our Elections Department at (217) 732-4148.
/s/ Sally J. Litterly
Logan County Clerk