Logan County Art Association presents 'It's All About Love!'

Send a link to a friend
[January 30, 2013] "It's All About Love," a new exhibit presented by the Logan County Art Association, opens Thursday, Feb. 14, with a 5-8 p.m. reception at the Lincoln Art Institute, 112 S. McLean St.
Featured artists are Georgie Borchardt, Lee Hahn, Wilbert Hill, Jason Hoffman, Bonnie Mayo, Moses Pinkerton, Kerry Rolewicz, Christopher A. Tice and Randy Washam.

Beautiful, unique cuff bracelets created using antique spoon handles made by Tice will be for sale during the opening event, and Washam will take "sweetheart portraits" for only $20. All proceeds go to the Logan County Art Association.

There is no admission charge, although donations are welcome. Light refreshments will be served.

Everyone is welcome, so plan to bring the family and enjoy the opening reception. The show runs through March 15, so if you can't join the Valentine's Day opening, the artists hope you can come another time during the show.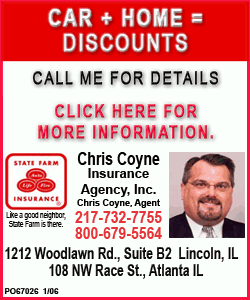 For further details about either the reception or exhibit, contact Georgie Borchardt at 217-819-6801 or logancountyaa@gmail.com.