Flu facts
From the Logan County Department of Public Health

Send a link to a friend
[February 05, 2013] After being diagnosed with the flu, your health care provider may give you a prescription for an antiviral. Antiviral medications are prescription pills, liquids or inhalers used to prevent or treat flu viruses. If you get the flu, antiviral medications can make your illness milder and make you feel better faster. They may also prevent serious complications from the flu. Antiviral medications will work best when they are started within the first two days of getting sick.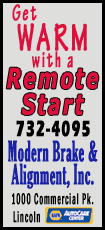 If you are exposed to the flu, antiviral medication can prevent you from becoming sick.

The Logan County Department of Public Health has a limited supply of flu vaccines still available. The hours for vaccines at the health department are 7:30 a.m. until 4 p.m. Monday through Friday. No appointment is required. The influenza vaccine is also available on the HOPE Mobile during its regularly scheduled stops.

The cost of the seasonal flu shot is $25 for adults, $16.75 for children 6 months through 18 years of age who have no health insurance or health insurance that doesn't cover vaccines, and free to those with a Medicaid or Medicare card.

For more information on the seasonal influenza vaccine, call the Logan County Department of Public Health at 217-735-2317.
For more information, visit www.flu.gov and www.lcdph.org.
[Text from file received from the Logan County Department of Public Health]