The Mount Pulaski girls basketball team won their Class 1A regional Thursday night at Jacksonville Routt by defeating Springfield Lutheran 69-44. This is the first regional championship for the Lady Toppers since 1990.
Also making history was Jessica Awe. In the third quarter with 3:00 minutes left, she stood at the top of the key, swished a 3 and the MP crowd erupted! We had all just witnessed her becoming the leading scorer in Mount Pulaski girls basketball history.
Her name will soon be placed at the top of the scoring banner in the Mount Pulaski gym. What a tremendous accomplishment in her career! This young woman is all about team, though, and really does not want the attention on herself.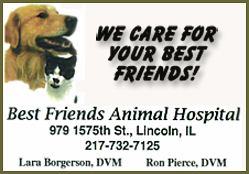 So back to the MP team once again, it was another great outing by coach Eric Leever's squad. Andrea Dickerson led the attack with 22 points, followed closely by Awe with 21 points. Erika Leever tallied 13 points while Whitney Nichols tossed in nine points. Kendra Willoughby's four points completed the scoring for the now 26-4 Lady Toppers.
The Lady Toppers advance to the sectional tournament, which will be hosted by Mount Pulaski.
[By TEENA LOWERY]