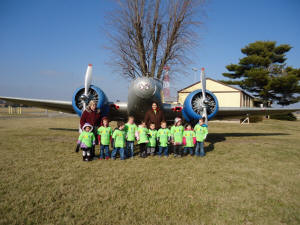 Youngsters walk through aviation history at Heritage In Flight Museum

Send a link to a friend
[February 09, 2013] When two Head Start groups visited the Heritage In Flight Museum on Tuesday, the children saw things they had never imagined. It was a walk through aviation history, seeing equipment, uniforms, gadgets, flags, aircraft, vehicles and much more.
Museum members JoAnne Marlin and Rick Naugle served as tour guides for the day.

The youth enjoyed museum displays in three adjacent locations on the Logan County Airport grounds. While viewing the primary displays, the young students walked the wooden floorboards of a historic barracks structure that was brought from Camp Ellis to the airport following World War II.

The museum features numerous model airplanes throughout. Some sit on counters, but the kids noticed the ones displayed hanging from the ceilings as well.

"They just loved all the airplanes really, from the ceiling, any of them," Marlin said.

Some kids were quick to say, "I've flown in an airplane," and then held up so many fingers for the number of times.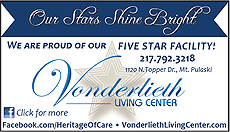 The kids enjoyed seeing additional items such as artistically re-created, painted aircraft cowlings, authentic vintage vehicles and motorized equipment, and pilot uniforms that are housed in the adjacent hangar.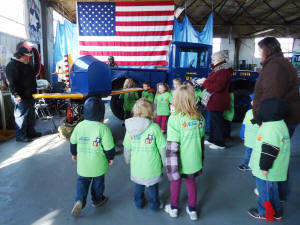 And, of course a kid's favorite in the hangar is a real-life scale model of an airplane that they can sit in and actually control. The simulator was made fully functional by mechanic Rick Naugle. Its control inputs make the plane move the same as a real aircraft.
(See archived photos from the 2012 Lincoln Art & Balloon Festival.)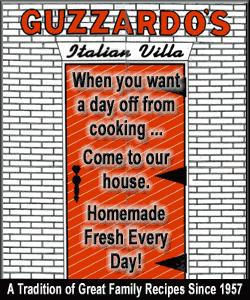 The children also got the sense of the size of fighter jets and other gigantic aircraft like the C-45 in their close-up to those that are part of the line of vehicles and aircraft located just across the taxiway from the museum.
But being kids, what really caught their attention?
"We had to laugh. Remember these kids are 3-, 4-, 5-year-olds," Marlin said. "Well, they sure have good eyes, as they spotted and counted how many ladybugs were in the display cases."
[LDN]
Heritage In Flight Museum is located adjacent to the Route 66 Mother Road on Lincoln's northeast side.
Its outdoor static displays have descriptive markers and are open for viewing 24/7, 365 days a year.
To schedule a tour, call 217-732-3333 and leave a message.
If you visit the Heritage In Flight Museum website, http://www.heritageinflight.org/, you will find pictures in the gallery and more information.