Mount Pulaski Courthouse celebrates Abe on Saturday

Send a link to a friend
[February 08, 2013] MOUNT PULASKI -- Mount Pulaski Courthouse is celebrating Abraham Lincoln's birthday with an exciting and professionally well-researched presentation by re-enactor, storyteller, author and conservationist Brian "Fox" Ellis. He will appear as Lincoln's law partner William "Billy" Herndon in the Mount Pulaski courtroom on Saturday at 11 a.m.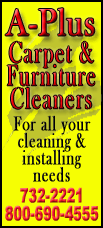 Ellis will also appear at the Mount Pulaski Grade School on Friday morning, portraying a childhood friend of Lincoln's, and at the Mount Pulaski High School in the afternoon, portraying poet Walt Whitman.

At the courthouse on Saturday, complimentary refreshments will be provided from 10 a.m. to 4 p.m., including a serving of the famous Mary Todd Lincoln almond cake -- researched, baked and donated by Mike Richner and his Hilltop Catering Service. Also in the courthouse on Saturday, there will be children activities from 1 to 3:30 p.m.: a scavenger hunt of interesting courthouse items; games; and crafts, including making Lincoln stovepipe hats, valentines and drawing on special "Magic Scratch" paper, which renders different unsuspected colors.

Ellis is nationally known for his "most effective first-person stories," says Michael E. Quine, past director of the Illinois River Road National Scenic Byway and the Great Rivers director for the Nature Conservancy. Ellis has traveled far and wide gathering research for his personalities, once traveling to Italy to research St. Francis of Assisi in the priest's hometown.
He performs for schools, colleges, professors, doctors, lawyers and basically any group who might connect with one of his historical characters. John James Audubon, Edgar Allan Poe, Charles Darwin and a Mississippi riverboat pilot who knew Samuel Clemens are a few of his characters.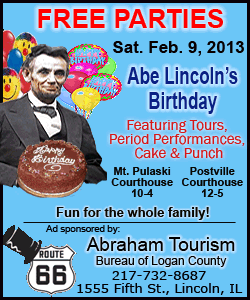 Ellis is a professional storyteller, environmental educator, museum consultant and "riverlorian" for the Spirit of Peoria riverboat.
His love for nature, fishing and Midwest farm ponds grew from many adventures with his father, such as portrayed in his book, "The Web at Dragonfly Pond." After listening to kids at camp whine about mosquitoes, he started telling this story in order to convey on a visceral level how all things in nature are important and how we humans are actively engaged in the web of life, even being food for mosquitoes.
[Text from news release received from Phil Bertoni]