"I came in looking like Pam Anderson," he joked backstage, where the offending boots had been traded for tasteful black leather.
Marc Jacobs postponed his Monday night show until Thursday, citing delivery problems, but for the most part Fashion Week went on with the show. IMG Fashion said organizers remained in contact with city officials, including the mayor's office, about potential weather problems but had planned for an extra layer of tenting for the venue and more heat at Lincoln Center, along with crews to help with snow and ice.
Zac Posen said he would present his collection as usual on Sunday but he worried that out-of-town editors and retailers might not be able to make it. Other designers were considering Plan B -- adding an Internet stream -- to accommodate guests who couldn't make it to their shows.
Still, plenty of fashion fans wouldn't let a little snow get in the way. Baltimore college student Carmen Green arrived in a red cocktail dress and black high-heel booties.
"In this outfit, the blizzard did not deter me," she said. She did allow that she only had to cross the street from her hotel and would change into combat boots for the train ride home.
Alyssa Montemurro, 22, works for a website that covers models. She was wearing four-inch heels and left the boots at home. Why?
"I am 5-foot-3 on a good day," she said, "and when you're interviewing models backstage it's best to be somewhere near their face level."
The celebrity stylist Phillip Bloch offered a blizzard pro tip.
"You either come in warm and comfortable clothes and boots or you come in neon -- or sequins would be a good one -- so they see you in the drift," he said.
Mercedes-Benz Fashion Week wraps up Feb. 14, when the industry moves on to London, Milan and Paris.
JASON WU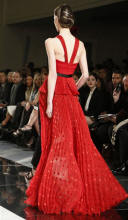 Wu's collection was all woman. Not girlie. Not mannish. That was by design.
"I wanted to bring back the woman to the runway," he said backstage before his show at a former Park Avenue church.
The clothes were full of strength, with exaggerated shoulders and some military touches, but chiffon pleats floated down the runway. Two outfits were long -- as in floor-length -- pleated, peplum tops over tuxedo pants, the perfect yin and yang.
Red that offset the mostly black-and-white combinations was the va-va-voom. Use of the color both here and on Michelle Obama's inaugural gown last month was not a coincidence. Wu started on the collection in October and the gown -- for which he received plenty of congratulations and accolades -- was designed in November.
"Certainly red was on my mind. ... I felt it was right for right now," he said.
Wu moved his show from a raw downtown space last season to the very uptown and polished venue where Oscar de la Renta used to stage his shows. It seemed to better suit his look.
RAG & BONE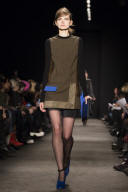 Outside, there was sleet, snow and slush. But inside at the Rag & Bone show, one could find at least a temporary solution to the winter storm: Hot mulled wine to ease the chill, and some fun, colorful clothes.
Designers Marcus Wainwright and David Neville were interested in pops of bright color -- like mineral green and grape -- and in a more overtly masculine style. "We referenced men's silhouettes a lot more than usual this time," Wainwright said.
On the other hand, the collection was full of flirty quilted miniskirts, too, giving it a feminine accent along with the structured jackets and coats. A grape-colored crochet mini was a typically fun look, as was an orange bomber skirt paired with a long coat, also in grape. A mohair coat -- in grape again -- was paired with a jodhpur pant in black wool and looked just yummy enough for a walk in the cold.