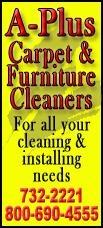 This time there were fur mittens -- oversized like boxer mitts -- at Alexander Wang and Altuzarra. What were the odds? And how does the ball start rolling on items such as oversized fur mittens, harnesses or sleeveless coats?
It's safe to say designers don't take a meeting together to decide what direction to go in.
"The honest answer is some of it is plain and simple coincidence," said Cindi Leive, editor in chief of Glamour magazine. "These designers are creating hundreds of looks over the course of a season. It would be more unusual if there were no overlap."
Still, she said, there also are fashion cycles and sociological factors to consider as catwalk collections are prepared.
Take fur -- both real and fake. Leive said Sunday it has been on every runway so far on this fourth of eight days of fashion week.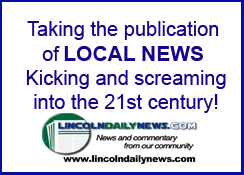 After the recession, no one was touching fur, she said, but it has slowly made a comeback as people feel a little more comfortable about spending money. The interpretation this go-around has been impactful, with an emphasis on oversized unexpected fur touches such as hoods, handbags and boots, but they're not as expensive as a full-length coat.
It's important for fashion insiders to be aware of what's happening in other parts of culture, including politics and art, said Marie Claire executive editor Nina Garcia earlier in the week as she prepared to judge aspiring designers at "Project Runway."
"Successful designers soak it all in," she said.
Fashion week continues in New York through Thursday, when the influential Marc Jacobs closes out things. Runway previews then move on to London, Milan and Paris.
DVF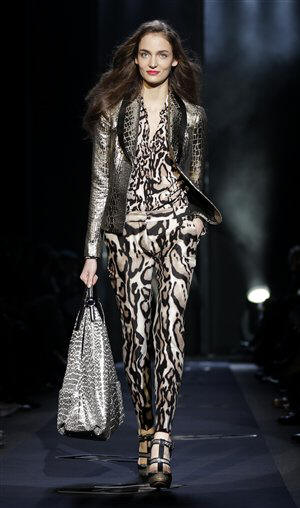 Diane von Furstenberg's "Glam Rock" collection included wrap dresses, long her calling card, jumpsuits and metallic jackets. It also included high-shine silver leather skinny pants.
"The idea is not that it's clothes for a party, but it's clothes. It's life that's a party -- and that was my inspiration," she said in a backstage interview.
She isn't afraid of prints and color, and there were animal prints, angel wings and birds in a sunset palette dotted by rose gold and silver.
Her fall collection had a much less aggressive tone than most of the others. Remember, von Furstenberg is courting the party girl, who'd have places to wear maxi dresses and gold snakeskin jackets. It's chiffon one minute, leather the next.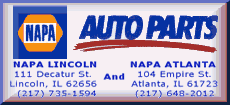 "Wrapped in a swirl of twisted chain-link, she steps into the night, lights flashing. With an effortless glamour, she winks at herself and smiles at her shadow," von Furstenberg said in her notes.
DKNY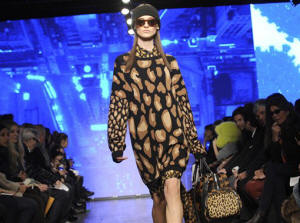 Donna Karan's DKNY label features a lot of lipstick red and hot pink looks for fall.
Yes, there were tough-girl looks, including a long quilted bomber jacket and a long silk-and-jersey dress with sheer panels in black. But it was the brights, and especially the animal-print brights, that lit up the runway
There was a "heartthrob red" quilted crop top worn over a flowing, long silk dress and a tailored, peak-lapel blazer in "pop pink" over a button-down shirtdress. The animal prints showed off a long tunic-length sweater silhouette.
Colorblocking was freshest when Karan used sophisticated camel, crisp white and downtown black on a paneled parka, and when she mixed gray herringbone, white and black on a flirty dress with a slim bodice, full skirt and soft shoulders.
TRACY REESE
There were animal prints all over Tracy Reese's fall collection.
A cheetah-print coat opened the show, paired with a black lace shirt and a charcoal pant. The collection also included a cheetah tunic covering a cheetah skirt, a zebra-print trench over a crepe floral dress and an "animal jacquard" coat in tan and black worn over a sequined sweater.
"There are so many cool ways to use animal prints," Reese said backstage. "Subtle and not so subtle. Even in the beading."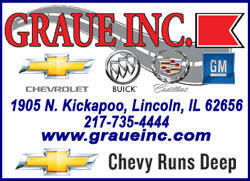 Reese said she hoped women would become bolder about mixing prints -- like pairing an animal print with a floral. "Most women like to wear only one print at a time. But I like to mix them, and I wanted to open up the conversation a bit."
Her collection also included a floral-printed neoprene frock in pink, orange and black and a sleek black knee-length number with huge red flowers on it, its dainty shape contrasting nicely with the boldness of the print.
VICTORIA BECKHAM
The opening look at Victoria Beckham's show was a windowpane plaid coat. She also incorporated more sweaters and knits into her collection, with a nod to mod with some geometric, colorblocked shift dresses.