[February 13, 2013]

Send a link to a friend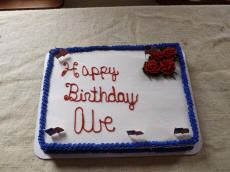 Saturday morning the celebration of the 204th birthday of Abraham Lincoln continued in Lincoln at the Postville Courthouse.
Abraham Lincoln was very well known to the Lincoln Community as a surveyor and a lawyer. He was admired and respected by many of the Lincoln founders -- so much so that they chose to name their city after him, even before he was president.
Today that love for our 16th president continues as the community proudly announces on a regular basis that Abraham Lincoln was a very important part of our history.
Therefore, it was only fitting that Postville host a wonderful celebration.
Pictures by Nila Smith