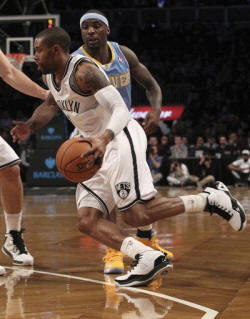 Johnson and Nets beat Nuggets 119-108
Send a link to a friend
[February 14, 2013] NEW YORK (AP) -- Joe Johnson scored 26 points, including five 3-pointers, C.J Watson added 25 points and five 3s, and the Brooklyn Nets came away with a 119-108 victory over the Denver Nuggets on Wednesday night.
All-Star center Brook Lopez had 23 points and eight rebounds and Kris Humphries chipped in 14 points for Brooklyn.
The 119 points were a season high for the Nets. They also tied a season-high with 16 3-pointers.
Brooklyn is now 2-1 in games played without star point guard Deron Williams, who has sat out the last two games due to sore ankles.
Ty Lawson led the Nuggets with 26 points and hit all of his five 3-point attempts. Denver has lost three in a row after winning a season-high seven straight games.
Jordan Hamilton had 15 points and JaVale McGee added 14 points for the Nuggets. Andre Miller scored eight points and had 10 assists.

Brooklyn almost blew a 20-point lead it built in the third quarter. Corey Brewer's layup made it 101-96 after Miller stole the ball from Lopez.
Brooklyn then went on a 14-3 run started by a 3-pointer from Watson that made it 104-96. McGee then answered with a put back slam dunk to make it 104-98.
Watson hit a free throw that made it 105-95 and added a floater off the glass that made it 107-98. After Miller missed a jumper, Tyshawn Taylor hit a 3 that made it 110-98. McGee was then fouled and made one of two from the free throw line.
The teams traded baskets in the first half. Denver shot 23 for 41 (56.1 percent) from the field and hit 4 of 5 behind the 3-point line while the Nets made 20 of 40 from the field (50 percent) while hitting 9-of-14 3-point attempts.
NOTES: Denver Broncos cornerback Champ Bailey was at the game. ... The Nuggets gave up 17 3-pointer to the Los Angeles Lakers back on November 30. ... Brooklyn hit 16 3s at Houston on January 26.
Copyright 2013 The Associated Press. All rights reserved. This material may not be published, broadcast, rewritten or redistributed.