There were sleek minimalist shapes and some oversized, slouchy ones. For every bouncy miniskirt there was a ladylike pencil, and broad-shouldered military coats were offset by gently molded oversized ones.
What shoppers can take away from New York is the idea that the runway is a tool to present fanciful options, not to be used to dictate a specific look.
"This season is going to help the person out there who is trying to get dressed in the morning. You can wear anything, just do it with conviction and confidence," said Linda Wells, editor-in-chief of Allure magazine.
Marc Jacobs and fellow heavy hitters Ralph Lauren and Calvin Klein by Francisco Costa closed out Fashion Week. Jacobs courted glamorous screen sirens who wore beaded PJs by day and lame gowns by night, lit in sepia for half the show in a cavernous armory.
Jacobs' collection is never for a shrinking violet, and the models owned their 1940s looks.
Lauren had a strong woman in mind with a mix of military looks and regal gowns, all with a hint of the Russian Revolution, while Costa had some razor-sharp menswear details.
"The trend, really, was the strength of women," Wells said.
Largely absent this season were the bohemian and disco-era 1960s and '70s that seemed to have a permanent place on the runways, said Jennifer Wheeler, vice president of designer apparel for Nordstrom.
Instead, she saw those inspirations replaced with looser, sometimes exaggerated, silhouettes from the '80s and the restrained minimalism of the '90s. "But these looks didn't look dated," she said, "because there have been so many changes in fabrics and techniques."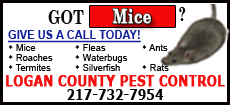 She particularly liked the mixed-media message that might be the next generation of Mondrian-style colorblocking: Instead of chunks of primary colors, a dress or coat might be patchworks of pony hair, snake skin, leather or ostrich feathers, she explained.
Wheeler also noted the sophisticated palette -- gray, navy, camel and moss green -- all mixed with black.
The dominance of black allows shoppers to make investments into "building blocks" of their closet that for fall can be worn for a long time, swapping out a shoe or bag as seasons evolve, said Lottie Oakley, who served as American Express' fashion ambassador, watching shows to cull trends for consumers.
"It's not so passe to wear clothes from last season. It used to be that it did matter if what you were wearing was from a few years ago, but now, if it's a statement piece, you can keep it going for a long time," said Oakley.
The hardest part for the serious shopper isn't keeping things for too long, she added, it's waiting for them to move into stores. "The overall topic I kept hearing about was how to buy now and wear now."
For the most part, though, customers will have to wait. Retailers, stylists and editors next take off for London, then Milan and Paris to see if this individualist streak lasts.
RALPH LAUREN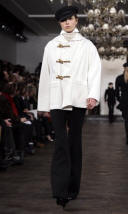 Lauren didn't just have a muse for fall. He had a heroine.
His models seemed as if they stepped out of the pages of a gripping Russian novel. The story? A woman who through strength finds herself and, in the final chapter, discovers love.
"I was inspired by the spirit of a romantic revolutionary -- a timeless heroine, independent and bold, a woman who revels in her individuality and personal style," Lauren told The Associated Press in an email.
Perhaps her story begins in a cold, seaside town, with a wardrobe that includes a cashmere cable-knit turtleneck with a flared leather miniskirt or balloon-leg pants tucked into her boots. She also has a nautical-striped sweater and sailor-style pants in black double-face wool.

And she has heavy black wool coats with strong shoulders and fitted waists. Did the officer's coat with the gold hardware, crest and embroidered stripes belong to her or her lover?
CALVIN KLEIN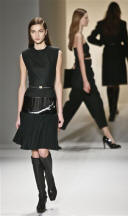 Costa said the collection was loosely based on the 1960s Russian film "Ivan's Childhood," set during World War II. It was about the coming together of masculine military looks and feminine softness.
It's a "modern uniform," Costa said in his notes.
Geometric shapes are familiar ground for Costa, but the more refined tailoring and menswear-driven fabrics are a shift for the designer who recently has experimented more with raw edges and looser shapes. These clothes couldn't have been sharper.