Both films were shot by regular people who happened to be witnessing an uprising. They're by amateur photographers who had the foresight to record everything -- long before such a practice became the norm with the advent of the iPhone and YouTube -- from the mundane moments of their daily lives to scenes of violence, upheaval, death and eventually some sort of victory.
They're very different films from very different directors on very different topics. "5 Broken Cameras" is a collaboration between Palestinian farmer Emad Burnat and Israeli director Guy Davidi featuring years of footage Burnat shot in his occupied village of Bil'in, a place that became a sort of symbol for nonviolent resistance. Each of the five cameras was destroyed in the midst of protests or gunfire; one still has a bullet lodged in the lens. But it also includes daily events in the life of this husband and father of four; he actually bought the first camera in 2005 for the reason so many parents do, to record the first smiles and steps of his youngest son, Gibreel.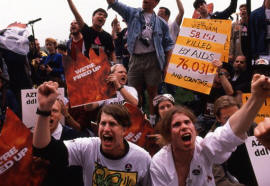 "Plague" is a collection of archival footage from the late 1980s and early '90s, as members of the New York-based AIDS Coalition to Unleash Power (ACT UP) fought to find a cure for the disease as it quickly spread and claimed millions of lives. Director David France, who was in the middle of many of these boisterous planning meetings and theatrical demonstrations, culled through thousands of hours of footage from about two dozen different sources.
Burnat of "5 Broken Cameras" said he'd always intended to make a movie, but initially figured it would be something private to show to family and friends. He felt it was his responsibility to depict the fight for territory through his own eyes.
"Many films were made about Palestine and the subject but the story was being told by people who live outside. They didn't feel this feeling, this relation between the person and the land and how to live, how to survive in this situation under occupation," Burnat said.
He watched his brothers get arrested and friends get shot by Israeli military, and even though he knew it was dangerous to venture into it all with his camera, "this is the situation, this is our life, our daily life," Burnat said. "At the same time, I was thinking for my kids, the future of my kids, to make this for them. My goal is to show the world and to spread the film and to change people, to change the situation. So this was important for me."
Burnat sought out Davidi, who shaped the film and wrote the narration, because he knew him as an Israeli peace activist. Together, the two aimed to craft a documentary with no political slant or judgment.
Davidi spent a year and a half editing from 900 hours of footage that Burnat and a few others had shot before bringing in French editor Veronique Lagoarde-Segot to help fine-tune the narrative. He said the naturalistic, intimate look of "5 Broken Cameras" isn't as effortless as it may appear.