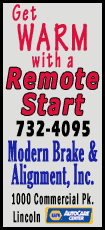 A news release from the Cleburne County Sheriff's Office says that McCready, 37, was found dead Sunday afternoon with what appears to be a single, self-inflicted wound.
Deputies were sent to a home around 4 p.m. and found her body on the front porch. An autopsy is pending.
Coroner Waren Olmstead said he didn't have further information on who was taking care of her two sons.
She arrived in Nashville in 1994 with tapes of her karaoke vocals and earned a recording contract with BNA Records.
In 1996, her "Guys Do It All the Time" hit No. 1 and its dig at male chauvinism endeared her to females. Her other hits included "Ten Thousand Angels," also in 1996, and her album by that title sold 2 million copies.
However, personal problems plagued her beginning in 2004 and included a custody battle with her mother over one of her sons.
McCready took her older son, Zander, from her mother and the boy's legal guardian, Gayle Inge, in late 2011. She fled to Arkansas without permission over what she called child abuse fears. Authorities eventually found McCready hiding in a residence without permission and took the boy into custody.
She and her boyfriend David Wilson had a son, Zayne, in April of 2012. The older son has a different father.
In May 2010, she was hospitalized briefly after police responded to an overdose call at a home in North Fort Myers, Fla., owned by her mother. This followed a stint on "Celebrity Rehab With Dr. Drew," where she declared herself clean from drugs.