Woger, director of jazz studies at Lincoln College, has created a four-year bachelor's degree program in jazz studies at the college. One of the initiatives of the program is to partner the Lincoln College Jazz Ensemble with area high school jazz bands. In the first concert of this series, the college jazz ensemble will take the stage with the high school jazz band from Pekin on Feb. 23 in the Meyer Theater in the Johnston Center for Performing Arts on the LC campus. Pekin High School has had a renowned jazz program for many years. Each jazz ensemble will perform a set of four to five tunes.

Woger wants this concert to lead to more visits to the Lincoln College campus by central Illinois high school jazz bands. Eventually, he hopes to have a jazz festival on campus.

Woger is excited about the prospects of the newly created bachelor's degree program, one of two now offered by Lincoln College. In the past, when only a two-year degree was possible, he lost his most promising musicians to schools offering four-year jazz degree programs. Now, the students can remain at Lincoln College for their entire bachelor's degree. And as Woger pointed out, "a bachelor's degree is absolutely necessary to find employment, and the demand for musicians is a growing field." One exciting prospect of this program is some terrific jazz concerts for the public.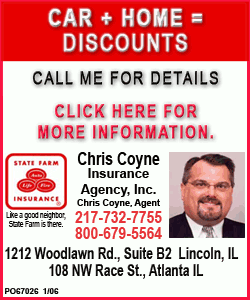 The first concert begins at 7 p.m. on Feb. 23 in the Johnston Center and is free and open to the public.
Woger may be reached on the Lincoln College campus at 217-732-3155, ext. 281, or by email to swoger@lincolncollege.edu.