It's an all-you-can-eat meal. The cost is $6 for adults, $3 for children ages 4-12, and youngsters 3 and under eat free.
---
Lincoln Writer's Club will meet March 12
Lincoln Writer's Club will meet Tuesday, March 12, at 6:30 p.m. in the Alumni Room of the Lincoln College student center.
Suggested writing topics: story about Easter; nicknames; to be 13 again; or springtime.
All are welcome. For more information, call 732-2723.
---
Preview model of Abraham Lincoln statue to be on display at Feb. 25 committee meeting
The Abraham Lincoln Statue Committee will have an 18-inch model of the proposed statue on display at a special meeting on Monday, Feb. 25, at 7 p.m. The meeting will take place at the Logan County Genealogical & Historical Society center, 114 N. Chicago St. Special invitations have been sent to officials of all the towns in Logan County, members of the county board and the media to attend the meeting.
David Seagraves, artist for the statue, will be present. Seagraves was the artist who produced the Civil War soldier statue that was dedicated in 2011.
The new statue is intended to commemorate a speech given by Abraham Lincoln on Oct. 16, 1858, during his run for the Senate. The speech took place on the Logan County Courthouse square and drew a crowd of 5,000. The town of Lincoln was just five years old and its population was swelled far beyond its permanent residents that day.
The model statue will be on display at the LCGHS center throughout the fundraising campaign for the statue production. A copy of the print of a painting of the Lincoln speech will also be on display during the same period.
Members of the statue committee are available to speak to groups around the county. Committee members can be reached through LCGHS. Call 217-732-3200 to leave a message.
Donations for the project may be made to LCGHS. Individuals who donate $100 or more to the project will receive an unframed, numbered copy of the print. The prints are being donated to the statue committee by Main Street Lincoln.
---
Lincoln Jaycees Lawnmower Clinic
Have the Lincoln Jaycees get your mower ready for the upcoming season. Bring in your push mower (no riding mowers) and the Jaycees will change the oil, change the spark plug, sharpen the blade, clean the mower deck and check the air filter.
Mowers may be dropped off from 9 a.m. to noon on Saturday, March 9, at the Lincoln Jaycees Center, 325 S. Chicago St. Mowers may be picked up the same day from 3 to 5 p.m.
The cost is $30 at drop-off. (Save $5 if you prepay online at lincolnjaycees.com.) All profits help fund upcoming Lincoln Jaycees community projects.
___
The Lincoln Jaycees are a not-for-profit organization serving Lincoln and the surrounding communities. The organization gives young people ages 18-40 the tools they need to build the bridges of success for themselves in the areas of business development, management skills, individual training, community service and international connections. Membership meetings are the third Friday of each month, 7:30 p.m., at the Lincoln Jaycees Center, 325 S. Chicago St., and are open to everyone.
---
Team Bosom Buddies selling Avanti's Gondola sandwiches
Team Bosom Buddies, a Relay For Life team, is at it again. The team is selling Avanti's Gondola sandwiches.
For information on how you can get your hands on one of these popular sandwiches, contact team captain Bob Hashman at 217-671-1993. All orders have to be placed by March 10.
---
Community Action board meeting notice
The next regularly scheduled corporate board meeting of the Community Action Partnership is scheduled for Thursday, Feb. 28, at 7 p.m. The meeting will be at Community Action's corporate offices, 1800 Fifth St. in Lincoln.
For transportation to the meeting, contact the resource specialist at your county office:
DeWitt County:
Anita Russell, 217-935-2455

Logan County:
Cyndi Campbell, 217-732-2159

Mason/Fulton County:
Anna Richardson, 309-543-6988

Piatt County:
Wendy Dotson, 217-762-2421
---
Final scrapbooking workshop at the Atlanta Public Library Feb. 23
ATLANTA -- Want to explore creative ways to preserve your memories? The last of three scrapbooking workshops at the Atlanta Public Library will be offered on Feb. 23. Novice and experienced scrapbookers are invited to work with Cindy Schempp on "Power Layout and Organization." The workshop will take place at the library from 10 a.m. to noon.
The charge for the session is $5. Participants may sign up by contacting the library at 217-648-2112. All materials will be provided.
---
Lincoln College and Pekin High jazz groups to present joint concert Feb. 23
Feb. 23 will see the inception of an idea Professor Scott Woger of Lincoln College has had for a long time.
Woger, director of jazz studies at Lincoln College, has created a four-year bachelor's degree program in jazz studies at the college. One of the initiatives of the program is to partner the Lincoln College Jazz Ensemble with area high school jazz bands. In the first concert of this series, the college jazz ensemble will take the stage with the high school jazz band from Pekin on Feb. 23 in the Meyer Theater in the Johnston Center for Performing Arts on the LC campus. Pekin High School has had a renowned jazz program for many years. Each jazz ensemble will perform a set of four to five tunes.
Woger wants this concert to lead to more visits to the Lincoln College campus by central Illinois high school jazz bands. Eventually, he hopes to have a jazz festival on campus.
Woger is excited about the prospects of the newly created bachelor's degree program, one of two now offered by Lincoln College. In the past, when only a two-year degree was possible, he lost his most promising musicians to schools offering four-year jazz degree programs. Now, the students can remain at Lincoln College for their entire bachelor's degree. And as Woger pointed out, "a bachelor's degree is absolutely necessary to find employment, and the demand for musicians is a growing field." One exciting prospect of this program is some terrific jazz concerts for the public.
The first concert begins at 7 p.m. on Feb. 23 in the Johnston Center and is free and open to the public.
Woger may be reached on the Lincoln College campus at 217-732-3155, ext. 281, or by email to swoger@lincolncollege.edu.
---
Republican city primary notices
Lincoln Daily News received the following election notices from Sally J. Litterly, Logan County clerk:
(Copy)
CONSOLIDATED REPUBLICAN PRIMARY ELECTION NOTICE
NOTICE IS HEREBY GIVEN THAT ON FEBRUARY 26, 2013, IN THE CITY OF LINCOLN, STATE OF ILLINOIS, A CONSOLIDATED REPUBLICAN PRIMARY ELECTION WILL BE HELD FOR THE FOLLOWING OFFICES:
MAYOR OF THE CITY OF LINCOLN
THE COLOR OF BALLOTS TO BE USED BY THE RESPECTIVE PRECINCTS AT THE GENERAL PRIMARY ELECTION WILL BE
WHITE
THE POLLING PLACE FOR SAID GENERAL ELECTION WILL BE OPEN CONTINUOUSLY FROM 6:00 A.M. TO 7:00 P.M. ON TUESDAY, FEBRUARY 26, 2013.
/s/ Sally J. Litterly, Logan County Clerk
THE FOLLOWING IS THE CONSOLIDATED POLLING PLACE FOR ALL PRECINCTS IN THE CITY OF LINCOLN, ILLINOIS:
EAST LINCOLN 1, 2, 3, 4, 5, 6 AND WEST LINCOLN 1, 2, 3, 4, 5, 6, 7
LINCOLN CHRISTIAN CHURCH YOUTH CENTER, DELAVAN & HAMILTON STREETS, LINCOLN, IL.
All voters registered in the City of Lincoln, Illinois will vote at one polling place for this Consolidated Republican Primary Election only.
___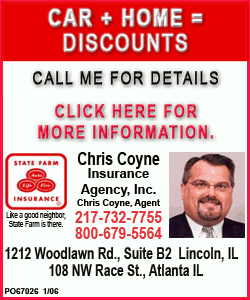 (Copy)

N O T I C E

VOTER REGISTRATION AND GRACE PERIOD REGISTRATION AND VOTING
FOR REPUBLICAN CONSOLIDATED PRIMARY ELECTION
FOR THE CITY OF LINCOLN
ON FEBRUARY 26, 2013

The last day to register to vote or to update voter registration information prior to the February 26, 2013 Republican Consolidated Primary Election for the City of Lincoln is January 29, 2013. Voter registration is being conducted at the Logan County Clerk's Office at the Logan County Courthouse, 601 Broadway Street, Lincoln, IL Monday through Friday from 8:30 a.m. to 4:30 p.m. Appointed Logan County Deputy Registrars may also register voters through that date. Beyond that date, a voter must register and vote by Grace Period Registration in the Office of the County Clerk.

Pursuant to Article 4 of the Illinois Election Code, Grace Period Voter Registration will be offered from Wednesday, January 30, 2013 through Friday, February 22, 2013 in the Office of the County Clerk. Grace Period Registration allows a resident to register to vote and or change their name or address beyond the close of registration. Individuals registered during grace period voting may only vote at the time of their registration in the Office of the County Clerk and are not eligible to cast a ballot at their polling place on Election Day. The Office of the County Clerk is open from 8:30 a.m. to 4:30 p.m. Monday through Friday.

For more information, please call our Elections Department at (217) 732-4148.

/s/ Sally J. Litterly
Logan County Clerk
---
Area Red Cross seeking hero nominations for 8th annual Heroes Breakfast

SPRINGFIELD -- The Illinois Capital Area Chapter of the American Red Cross is seeking hero nominations from the public for the eighth annual Red Cross Heroes Breakfast fundraiser on April 19 at the Crowne Plaza. Presented by the Bank of Springfield, this inspiring event honors a group of everyday local heroes for performing an extraordinary act or giving a lifetime of service to the community.

Proceeds benefit local disaster relief by the Red Cross.

The Red Cross is seeking nominations for nine hero categories that will be honored at this year's breakfast:

, sponsored by St. John's Children's Hospital: A person under 18 who has acted in a heroic fashion during a time of crisis or committed themselves to better their community/the people in it.

Education

, sponsored by Horace Mann: A K-12 or college teacher who has made an extraordinary difference in the life of a child or group of children.

Military hero

, sponsored by Hanson Professional Services: A local member of the U.S. armed forces who has shown dedication to serving our country or made the ultimate sacrifice in defending it.

Public safety hero

, sponsored by the American Red Cross: A person in an emergency service field, such as police, fire department or EMT, who has gone above and beyond the call of duty to save or protect another.

Senior hero

, sponsored by Concordia Village: A person over the age of 62 who has acted in a heroic fashion during a time of crisis or committed themselves to better their community or the people in it.

Community hero

, sponsored by Greene Dodge: Someone who has shown heroism in some unexpected or unusual way during a time of crisis in their community or has shown sacrificial commitment to meeting the needs and challenges of their community.

Workplace hero, sponsored by Express Employment Professionals: Someone who has acted in a heroic fashion during a time of crisis in their workplace or has shown strong commitment to helping others within or through their place of work.

Health care hero

, sponsored by Springfield Clinic: A member of the medical or health care profession who has displayed extraordinary and sacrificial commitment to saving or improving lives or treating illnesses.

Civic hero

, sponsored by Bunn: A person in a paid public service field, such as government, nonprofit or social services, who has gone above and beyond to help or protect someone or worked toward positively affecting their community.

Nominees must either live or work in Sangamon, Christian, Logan, Menard, Macoupin, Montgomery, Sangamon or Shelby County. Local heroic acts must have taken place within the last 18 months to be eligible, unless the nomination is for a lifetime of service. An individual or group of individuals may be nominated and can be entered into multiple hero categories.

People in the community can fill out and submit the online hero nomination form by visiting www.il-redcross.org. Nominations are due by Friday, Feb. 22.
---
Absentee and early voting for Lincoln Republican primary

Lincoln Daily News received the following notice from Sally J. Litterly, Logan County clerk:

(Copy)

PUBLIC NOTICE

ABSENTEE AND EARLY VOTING
FOR THE LINCOLN CITY CONSOLIDATED REPUBLICAN PRIMARY ELECTION
FEBRUARY 26, 2013

Do you want to avoid lines on Election Day? Registered voters who desire to cast a ballot at the Office of the County Clerk rather than their polling place, may now vote in person in the Office of the County Clerk. The office is located on the 2nd floor of the Logan County Courthouse, 601 Broadway St., Lincoln, Illinois. In person absentee voting continues through February 25, 2013.

Registered voters may also make application by mail to vote absentee. Students and out of county workers can conveniently obtain an Application to Vote Absentee by contacting the Office of the County Clerk, or access the form on the Clerk's website at http://www.co.logan.il.us/county_clerk/. Mail applications will be received by the County Clerk until February 21, 2013. No ballots may be sent by mail after that date as provided by law. No excuse is needed to vote by absentee by mail or in person.

Early Voting (similar to Absentee) will also be conducted in the Office of the County Clerk February 11 through February 23, 2013. Early voting allows registered voters to cast their ballot prior to Election Day by voting at the pre-designated site of the Office of the Logan County Clerk. Early voters must be registered and present a valid picture ID showing their current voter registration address.

Office hours are Monday through Friday 8:30 a.m. – 4:30 p.m.

Any questions concerning voting may be directed to the Office of the County Clerk Elections Department at (217)732-4148.
---
Polar Plungers across Illinois will be freezin' for a reason Feb. 22-March 17

NORMAL -- It's not every day that people are willing to "go jump in a lake" -- particularly in the winter -- let alone do so with thousands of other people, including members of the law enforcement community. But that's exactly what will happen on various weekends in February and March as part of the annual Law Enforcement Torch Run Polar Plunge to benefit Special Olympics Illinois presented by GEICO.

Any adventurous soul is invited to join law enforcement officers, as well as media and business and civic leaders from their community, by donning bathing suits, costumes or any clothing of choice (just no wetsuits!) to jump in a lake. Each plunger must collect a minimum of $75 in donations that will be used to support Special Olympics programs in Illinois.

The event has grown from one location in 1999 to 20 locations across the state this year. The Polar Plunge series will kick off with a Super Plunge -- where participants raise a minimum of $2,500 and plunge into Lake Michigan once every hour for 24 hours -- on Feb. 22-23 at Northwestern University's North Beach in Evanston.

The Logan County plunge will take place on Sunday, March 17, at 2 p.m. at Lincoln Lakes. Please note this is a change in both day of the week and time. Anyone wishing to know more about the local plunge can click on the "Polar Plunge" button on the Top Stories page of LDN or contact Joanie Keyes of Special Olympics Illinois at 217-428-9255.

Individuals and teams can register for the plunge on the Special Olympics Illinois website at http://www.plungeillinois.com/ or by contacting Keyes at the number above.

Plungers are encouraged to form teams to spread the fun. Each team member must raise the minimum of $75 in donations, and all team members' individual fundraising totals will be merged to form a combined team total. Teams are placed into divisions based on size and are awarded prizes for the most money raised.

All plungers will receive gifts, compete for prizes, and enjoy food and camaraderie with other chilly participants. The more money a plunger raises, the more chances he or she will have to win a four-night trip for two adults to Cancun, Mexico, with accommodations at Riu Peninsula, courtesy of Apple Vacations. For every $500 a plunger raises, he or she will get an entry into the drawing for this grand prize.

The Illinois Law Enforcement Torch Run is the single largest year-round fundraising vehicle benefiting Special Olympics Illinois. The annual intrastate relay and its various fundraising projects have two goals: to raise money and increase public awareness for the athletes of Special Olympics Illinois. Each year, more than 3,000 officers in Illinois run more than 1,500 miles carrying the "Flame of Hope" through the streets of their hometowns and deliver it to the State Summer Games in Normal in June.
---