For your convenience, call Alexis to sign up toll-free at 1-866-GIVE-BLD (1-866-448-3253), ext. 5158, or schedule an appointment online using sponsor code 60057 at www.bloodcenterimpact.org. Walk-ins are also welcome and truly appreciated.

Central Illinois Community Blood Center, a not-for-profit organization, is the provider of lifesaving blood for 14 hospitals throughout central Illinois, including Abraham Lincoln Memorial Hospital in Lincoln and Memorial Medical Center and St. Johnís Hospital in Springfield. CICBC is a division of the Mississippi Valley Regional Blood Center, which collects over 180,000 units of blood annually and serves a total of 87 hospitals in Illinois, Iowa, Missouri and Wisconsin.
---

Middletown Presbyterian Church hosting a soup buffet
MIDDLETOWN -- Middletown Presbyterian Church will host a soup buffet on Sunday, March 3, from 10:30 a.m. to 1 p.m. On the menu will be vegetable beef soup, chili, homemade chicken noodle soup, cheesy broccoli soup, relish tray, pie or cake, and drinks.
It's an all-you-can-eat meal. The cost is $6 for adults, $3 for children ages 4-12, and youngsters 3 and under eat free.
---

Lincoln Writer's Club will meet March 12
Lincoln Writer's Club will meet Tuesday, March 12, at 6:30 p.m. in the Alumni Room of the Lincoln College student center.
Suggested writing topics: story about Easter; nicknames; to be 13 again; or springtime.
All are welcome. For more information, call 732-2723.
---

Lincoln Jaycees Lawnmower Clinic
Have the Lincoln Jaycees get your mower ready for the upcoming season. Bring in your push mower (no riding mowers) and the Jaycees will change the oil, change the spark plug, sharpen the blade, clean the mower deck and check the air filter.
Mowers may be dropped off from 9 a.m. to noon on Saturday, March 9, at the Lincoln Jaycees Center, 325 S. Chicago St. Mowers may be picked up the same day from 3 to 5 p.m.
The cost is $30 at drop-off. (Save $5 if you prepay online at lincolnjaycees.com.) All profits help fund upcoming Lincoln Jaycees community projects.
___
The Lincoln Jaycees are a not-for-profit organization serving Lincoln and the surrounding communities. The organization gives young people ages 18-40 the tools they need to build the bridges of success for themselves in the areas of business development, management skills, individual training, community service and international connections. Membership meetings are the third Friday of each month, 7:30 p.m., at the Lincoln Jaycees Center, 325 S. Chicago St., and are open to everyone.
---

Team Bosom Buddies selling Avanti's Gondola sandwiches
Team Bosom Buddies, a Relay For Life team, is at it again. The team is selling Avanti's Gondola sandwiches.
For information on how you can get your hands on one of these popular sandwiches, contact team captain Bob Hashman at 217-671-1993. All orders have to be placed by March 10.
---

Community Action board meeting notice
The next regularly scheduled corporate board meeting of the Community Action Partnership is scheduled for Thursday, Feb. 28, at 7 p.m. The meeting will be at Community Action's corporate offices, 1800 Fifth St. in Lincoln.
For transportation to the meeting, contact the resource specialist at your county office:
DeWitt County:
Anita Russell, 217-935-2455

Logan County:
Cyndi Campbell, 217-732-2159

Mason/Fulton County:
Anna Richardson, 309-543-6988

Piatt County:
Wendy Dotson, 217-762-2421
---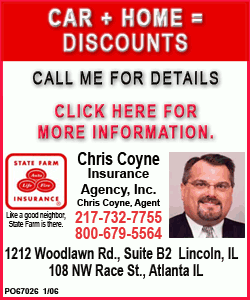 ---

Republican city primary

Lincoln Daily News received the following election notice from Sally J. Litterly, Logan County clerk:

(Copy)

CONSOLIDATED REPUBLICAN PRIMARY ELECTION NOTICE

NOTICE IS HEREBY GIVEN THAT ON FEBRUARY 26, 2013, IN THE CITY OF LINCOLN, STATE OF ILLINOIS, A CONSOLIDATED REPUBLICAN PRIMARY ELECTION WILL BE HELD FOR THE FOLLOWING OFFICES:

MAYOR OF THE CITY OF LINCOLN

THE COLOR OF BALLOTS TO BE USED BY THE RESPECTIVE PRECINCTS AT THE GENERAL PRIMARY ELECTION WILL BE
WHITE

THE POLLING PLACE FOR SAID GENERAL ELECTION WILL BE OPEN CONTINUOUSLY FROM 6:00 A.M. TO 7:00 P.M. ON TUESDAY, FEBRUARY 26, 2013.

/s/ Sally J. Litterly, Logan County Clerk

THE FOLLOWING IS THE CONSOLIDATED POLLING PLACE FOR ALL PRECINCTS IN THE CITY OF LINCOLN, ILLINOIS:

EAST LINCOLN 1, 2, 3, 4, 5, 6 AND WEST LINCOLN 1, 2, 3, 4, 5, 6, 7

LINCOLN CHRISTIAN CHURCH YOUTH CENTER, DELAVAN & HAMILTON STREETS, LINCOLN, IL.

All voters registered in the City of Lincoln, Illinois will vote at one polling place for this Consolidated Republican Primary Election only.
---

Polar Plungers across Illinois will be freezin' for a reason Feb. 22-March 17

NORMAL -- It's not every day that people are willing to "go jump in a lake" -- particularly in the winter -- let alone do so with thousands of other people, including members of the law enforcement community. But that's exactly what will happen on various weekends in February and March as part of the annual Law Enforcement Torch Run Polar Plunge to benefit Special Olympics Illinois presented by GEICO.

Any adventurous soul is invited to join law enforcement officers, as well as media and business and civic leaders from their community, by donning bathing suits, costumes or any clothing of choice (just no wetsuits!) to jump in a lake. Each plunger must collect a minimum of $75 in donations that will be used to support Special Olympics programs in Illinois.

The event has grown from one location in 1999 to 20 locations across the state this year. The Polar Plunge series will kick off with a Super Plunge -- where participants raise a minimum of $2,500 and plunge into Lake Michigan once every hour for 24 hours -- on Feb. 22-23 at Northwestern University's North Beach in Evanston.

The Logan County plunge will take place on Sunday, March 17, at 2 p.m. at Lincoln Lakes. Please note this is a change in both day of the week and time. Anyone wishing to know more about the local plunge can click on the "Polar Plunge" button on the Top Stories page of LDN or contact Joanie Keyes of Special Olympics Illinois at 217-428-9255.

Individuals and teams can register for the plunge on the Special Olympics Illinois website at http://www.plungeillinois.com/ or by contacting Keyes at the number above.

Plungers are encouraged to form teams to spread the fun. Each team member must raise the minimum of $75 in donations, and all team members' individual fundraising totals will be merged to form a combined team total. Teams are placed into divisions based on size and are awarded prizes for the most money raised.

All plungers will receive gifts, compete for prizes, and enjoy food and camaraderie with other chilly participants. The more money a plunger raises, the more chances he or she will have to win a four-night trip for two adults to Cancun, Mexico, with accommodations at Riu Peninsula, courtesy of Apple Vacations. For every $500 a plunger raises, he or she will get an entry into the drawing for this grand prize.

The Illinois Law Enforcement Torch Run is the single largest year-round fundraising vehicle benefiting Special Olympics Illinois. The annual intrastate relay and its various fundraising projects have two goals: to raise money and increase public awareness for the athletes of Special Olympics Illinois. Each year, more than 3,000 officers in Illinois run more than 1,500 miles carrying the "Flame of Hope" through the streets of their hometowns and deliver it to the State Summer Games in Normal in June.
---