Patricia Bailey
[February 26, 2013] WAYNESVILLE -- Patricia A. Bailey, 75, of Waynesville, died Sunday, Feb. 24, 2013, at her home.
(Below is a copy of the obituary from the funeral home.)
___
Waynesville- Patricia A. Bailey, 75, of Waynesville passed away on Sunday, February 24, 2013 at her home.

Funeral Services for Mrs. Bailey will be held on Thursday, February, 28, 2013 at 10:30 a.m. at the Quiram Peasley Funeral Home in Atlanta with Pastor Terry Bailey.

Visitation will be held from 5:00 p.m. until 7:00 p.m. on Wednesday, February 27, 2013 at the Quiram Peasley Funeral Home in Atlanta.
Burial will be in the Atlanta Cemetery.
Patricia A. Berkley was born on April 11,1937 in Bloomington, the daughter of Claude and Irene Bowen Berkley. She married Larry Bailey on January 28, 1988 in Clinton. He survives.
Also surviving are her children: Kevin (Marcy) Leach of Bloomington and Stacy (David) McCaddon of Normal; her step-children whom she raised: Sandy (Stan) Blanchard, Gary (Maryanna) Leach, Phil Leach, Karen (Rich) Napier, Steve Whitworth, Brett Whitworth and Scott Whitworth; step-children: Jim (Natalie) Bailey, Randy (Cindy) Bailey, Tammie (Gene) Masching, Crystal (Chris Dunap) Ballard, and Dorie (Randy) Purdue; sixteen grandchildren and many step-grandchildren and step-great-grandchildren.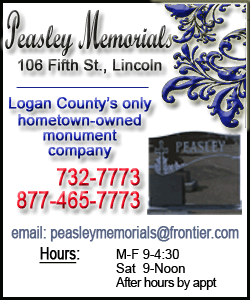 Pat worked as a waitress at the Dixie Truckers Home for 20 years and the Country Aire Restaurant for 13 years.
She was a member of the McLean Christian Church.
Memorials may be made to Waynesville United Methodist Church, Waynesville Fire Department or the Waynesville American Legion.