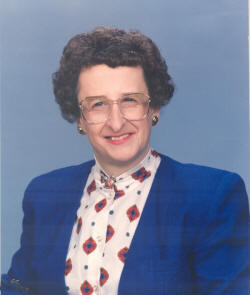 Alberta Reiterman
[February 27, 2013] MOUNT PULASKI -- Alberta Edna Reiterman, 70, of Mount Pulaski, died Tuesday, Feb. 26, 2013, at 7:40 a.m. in Cornland.
(Below is a copy of the obituary from the funeral home.)
___
Mt. Pulaski: Alberta Edna Reiterman, 70, of Mt. Pulaski passed away at 7:40 A.M. Tuesday February 26, 2013 in Cornland.
Alberta was born on October 12, 1942, the daughter of Eugene Albert and Edna Anna Hanes Reiterman. She graduated from Mt. Pulaski High School and from Illinois State University with a Bachelor of Science degree in education. She taught second grade at Jefferson School in Lincoln for over 35 years. Alberta was very active in the Mt. Pulaski Christian Church and has been teaching Sunday School for over 20 years.
Retirement did not stop Alberta as she volunteered at the Mt. Pulaski Grade School and for a few years was in charge of the After School Program at the Mt. Pulaski United Methodist Church.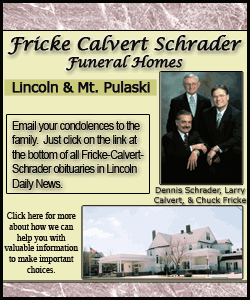 Alberta was active in several organizations at the time of her death. She was the treasurer of the DeWitt/Logan County Retired Teachers Association, Altruistic, Chairman of Mu Chapter of Alpha Delta Kappa of Illinois International Honorary Sorority for Women Educators, Secretary and Past President of the Mt. Pulaski Women's Club.
Alberta leaves behind her twin brother Albert (Paulette) Reiterman of Latham and many cousins and friends.
Services will be at 11:00 A.M. Saturday March 2, 2013 at Fricke-Calvert-Schrader Funeral Home with Mark Weber officiating. Visitation will be from 9:00-11:00 A.M. prior to services at the funeral home. Burial will be at Lake Bank Cemetery, rural Mt. Pulaski. Memorials may be made to the Mt. Pulaski Christian Church or Mt. Pulaski Grade School.