Habitat for Humanity of Logan County applicant orientation program scheduled for Sunday

Send a link to a friend
[February 28, 2012] Do you think the idea of homeownership is just a dream for you or your family? If so, you should attend a Sunday afternoon orientation sponsored by Habitat for Humanity of Logan County to learn how you may qualify to participate in a program leading to homeownership. Eligibility is based upon one year of residency within the county, need, income and a willingness to partner with the organization.
Habitat for Humanity's goal is to provide decent and affordable housing to those unable to secure it through more traditional means. Nearly one-quarter of the world's population, including 10 million Americans, lack adequate housing.

Families and individuals chosen for Habitat for Humanity homes do not receive a handout, but a hand up. Habitat homes are financed with affordable no-interest loans. Mortgage payments are made locally to Habitat for Humanity of Logan County, which in turn uses these funds to build or rehabilitate other houses within the county.

Families must have the financial ability to make monthly mortgage payments. In addition to a monetary down payment, families must provide 350 hours and individuals must provide 250 hours of "sweat equity" into the completion of their home and the homes of others.

Interested families and individuals should attend the Habitat for Humanity orientation on Sunday from 1:30 to 3:30 p.m. at the Logan County Housing Authority, 1028 N. College.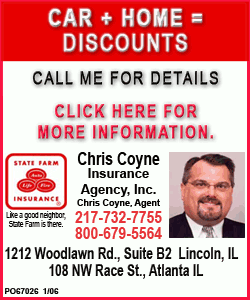 For more information on Habitat for Humanity of Logan County, call 217-732-6412 or visit www.habitatlogan.org. Habitat for Humanity is not only building homes and lives, but a sense of community as well.