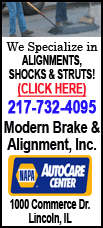 The parade's spectacular 42 floral floats brightened an otherwise cloudy New Year's morning and boosted the spirits of a chilled crowd estimated at some 700,000 spectators lining the 5-mile route.
"The only way that you're going to experience the Rose Parade is to be here in person," said Los Angeles resident Gineen Alcantara-Nakama, who camped out Monday night to save front row sidewalk spots.
"Growing up, I watched it on television, but it's not the same -- the smell, the atmosphere, smelling the flowers as they come down the street. And the energy. It's like being with family all night long."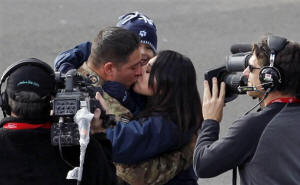 Spectators rose to a standing ovation when Army Sgt. First Class Eric Pazz, who was riding on the Natural Balance Pet Foods float along with other service members, got off the float and walked over to his surprised wife Miriam and 4-year-old son Eric Jr., who came running out of the stands into the arms of his 32-year-old father.
Miriam Pazz had been told she had won a contest to attend the parade and did not know her husband, who is deployed in Afghanistan, would be there. A native of Clio, Mich., Pazz is a highly decorated soldier who has also served in Iraq. The family, who currently lives in Germany, climbed aboard the float for the rest of the route.
Cheers also went up for a Chesapeake, Va., couple who tied the knot aboard Farmers Insurance "Love Float."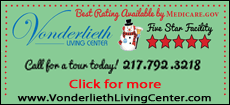 Gerald Sapienza and Nicole Angelillo were high school classmates who reconnected 10 years later and won the parade wedding over three other couples in a nationwide contest. They received a trip to Pasadena, a wedding gown, tuxedo, rings, marriage license fees, Rose Bowl game tickets and hair and makeup for the bride.
The parade's theme this year was "Oh the Places You'll Go!" named in honor of the Dr. Seuss book. It served as a fitting slogan for grand marshal British primatologist Jane Goodall, who has spent much of her life in Tanzania studying chimpanzees.
Goodall chose conservation as her message for the parade
"My dream for this New Year's Day is for everyone to think of the places we can all go if we work together to make our world a better place," said Goodall, 78.