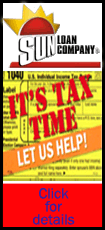 San Diego Fire-Rescue Department spokesman Maurice Luque says one of the 14 people onboard suffered a minor back injury Monday.
The marrying couple told KGTV (http://bit.ly/WqHlaV) the gust caught the balloon just after they exchanged their vows, causing it to sway over the Rancho Penasquitos neighborhood.
The landing on a hillside fence behind the house was filmed by a member of the wedding party. Video showed the blue-and-yellow balloon draped over trees near the house afterward.
The couple continued to their reception.
___
Information from: KGTV-TV, http://www.10news.com/index.html