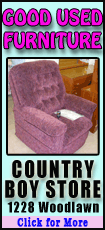 The homeowner bought the 5-foot-tall statue in 1996 for $1,700 and had it displayed in the front yard for many years.
Sheriff's Sgt. Bob Ray says the theft occurred in the overnight hours, and it would have taken at least two people to carry away the bear.
Investigators are confident the public will help them quickly solve the crime. Authorities have yet to receive any tips, but Ray says "you can't hide that bear."
Copyright 2013 The Associated Press. All rights reserved. This material may not be published, broadcast, rewritten or redistributed.