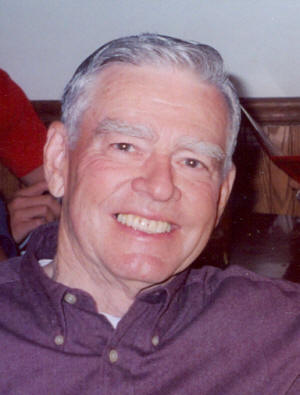 Robert 'Oly' Olson
[January 09, 2013] BROADWELL -- Robert F. "Oly" Olson, 82, died Wednesday, Jan. 9, 2013, at approximately 4:40 a.m. at St. Joseph's Home in Springfield.
(Below is a copy of the obituary from the funeral home.)
___
Broadwell – Robert F. "Oly" Olson, 82, passed away at approximately 4:40 AM on Wednesday, January 9, 2013 at St. Joseph's Home, Springfield Illinois.
Bob was born on June 8, 1930 in Lincoln, Illinois, to Alfred and Mildred (Amberg) Olson. Surviving is one sister, Mary Ann (Verne) Garrison of St. Louis, Missouri, and one brother, David (Lois) Olson of Elkhart, Illinois.
Raised in Broadwell, Bob attended Elkhart Community High School. A veteran of the Korean War, Bob served in the Army Corp of Engineers from 1951 to 1953. He obtained his basic training at Ft. Riley, Kansas and was stationed in Alaska.
Upon Bob's return from the Army, he worked as a carpenter, as well as operated a service station in Elkhart, Illinois. Bob attended the University of Illinois through his junior year. After his years at the U of I, Bob managed an office for the USDA in Belleville, Illinois. In 1960, an opportunity to return to farming in Logan County (Broadwell, Illinois) presented itself, and Bob began his career in "the best job" he could ever want. Bob established a Farm Management Service and managed farms for absentee landowners. In addition to farming and farm management, Bob was one of the founders of the Elkhart Community Bank. He served on the Board of Directors for the Elkhart and Illini Banks.
In 1986, Bob was appointed to fill a vacancy as Representative in the Illinois General Assembly. Following his appointment he served in the General Assembly for nine years. Bob's territory consisted of all of Logan, Dewitt, Menard and Mason Counties, and portions of Sangamon, Tazewell, Piatt and McLean counties. Bob did not consider himself a politician, but a friend doing a job for his constituents. Bob retired from the General Assembly in 1994.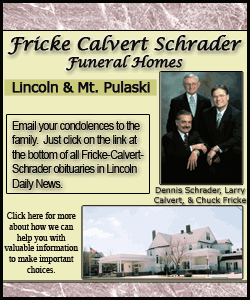 Bob married Norma (Shorty) Jean Van Fossen on December 12, 1957. She survives. Together, they have five children Robert (Dee) Olson of Springfield, Illinois, Nancy (Kevin) Courtwright of Broadwell, Illinois, Susan (Bryan) Johnston of Mahomet, Illinois, James (Ann) Olson of Broadwell, Illinois, and Sandra Tiffany of Lincoln, Illinois. They have twelve grandchildren: Madeline Olson, Kasey and Kylie (Fricke) Courtwright, Jason and Leslie (Pfeifer) Johnston, Abby, Jake and Betsy Olson, and Elaine, Sam, Will and Adrienne Tiffany, and three great grandchildren: Lexi Chambers, Kallie Courtwright, and Nolan Pfeifer. Bob's greatest treasures were his wife Shorty, and his children, grandchildren, and great grandchildren. In 1985, Bob and his siblings established a three-day family reunion each Labor Day weekend which continues today with over 70 family members in attendance.
Bob loved his homestead in Broadwell; considering it to be better than any other location to live. Bob was an avid gardener of native Illinois prairie plants. He enjoyed reading about history and loved to travel the United States. Bob was an avid collector of antiques.
Bob was a member of Immanuel Lutheran Church, Elkhart Legion Post 616, Lincoln Elks 914 and the 40 & 8 Club.
Services for Bob will be at 1:30 P.M. on Saturday, January 12, 2013 at Immanuel Lutheran Church in Lincoln Illinois, with Rev. Thomas R. Kamprath conducting services. A visitation will be held from 4-7 P.M. Friday, January 11, at Fricke Calvert Schrader Funeral Home in Lincoln. A burial will follow the church service at Elkhart Cemetery in Elkhart with military rites accorded by the Elkhart Legion Post #616. Memorials may be made to Immanuel Lutheran Church in Lincoln or St. Joseph's Home in Springfield.