Harvest will host 10th anniversary Spring for Tea

Send a link to a friend
[January 13, 2013] Plans are well under way for Spring for Tea -- the "premiere event" of the Harvest of Talents for World Hunger at Lincoln Christian Church. So reports Marcia Bidwell, who chairs the event and comments that this marks the 10th anniversary of the much-anticipated spring event of the Harvest Ministry.
Ticket sales will begin on Feb. 1 and the anniversary tea will be on Saturday, April 20, in the Fellowship Center of Lincoln Christian Church. Doors to the event open at 10:45 a.m., and tea will be served at 11:30 a.m.

The tea features a number of elegantly appointed tea tables complete with china, silver, crystal and offering a variety of themes and décor. Women of all ages will serve as hostesses for the tables, attending graciously to the needs of their guests.

The tea menu will feature favorite food selections from previous teas as well as some that are new this year. Background music ambience will be provided by a string quartet. Food and conversation will prevail as guests are served traditional tea fare accompanied by cups of a special hot tea served from a variety of delicate teapots.

As tea guests arrive, they will be greeted and escorted to their tables by the Harvest men in black. Before partaking of tea, the guests will enjoy a promenade of all of the tables as they await the appointed time of serving.

A special 10th anniversary program will be presented following the serving of tea. A number of door prizes, provided by local businesses and individuals, will be awarded.

Tickets are sold in advance in the church office. Bidwell reports that there is limited seating and that the tickets sell out quickly. Tickets may be purchased beginning Feb. 1 by visiting the church office or calling Vera Thomas at 732-7618.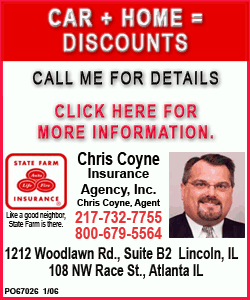 The April tea will be the first 2013 event of the Harvest of Talents Ministry, which this year will be celebrating its 30th anniversary. The Harvest of Talents for World Hunger is a unique ministry of the Lincoln church. Partnering with International Disaster Emergency Service, the annual Lincoln event has raised $1,718,145.23 through the 29th Harvest, every penny of which has gone to feeding programs, orphanages and missions throughout the world, providing physical and spiritual food to those in need.
The 30th annual Harvest of Talents for World Hunger will be on the fourth Saturday in October in the Fellowship Center of Lincoln Christian Church. Anyone seeking information about the event may call the church office at 217-732-7618.