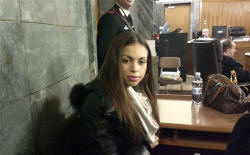 Woman at center of Berlusconi trial in court
Send a link to a friend
[January 14, 2013] MILAN (AP) -- The Moroccan woman at the center of former Premier Silvio Berlusconi's sex-for-hire trial was in court Monday to testify as a witness for the first time while defense lawyers sought to shut down the trial because of Italy's election campaign.
Karima el-Mahroug was ordered by the court to appear after failing to show on two previous dates, reportedly because she was in Mexico on vacation. She has been called as a defense witness.
Berlusconi is accused of paying for sex with el-Mahroug, better known as Ruby, when she was 17, and then trying to cover it up. Both deny sexual contact.
El-Mahroug is the last witness due to testify, meaning that a verdict could come before the Feb. 24-25 elections in which Berlusconi is heading a center-right coalition.
But Berlusconi's defense lawyer, Niccolo Ghedini, filed a motion to suspend the proceeding, citing the demands of the election campaign.
The prosecution opposed the request, arguing that Berlusconi is not the formal head of his party and that he has infrequently shown up for trail anyway, as is his right.
The judges were deliberating. A decision on the motion was expected later Monday.
El-Mahroug looked relaxed, chatting with her lawyer. She wore a dark parka with fur trim and carried a fashionable Louis Vuitton handbag.
[Associated Press; By COLLEEN BARRY]
Copyright 2013 The Associated Press. All rights reserved. This material may not be published, broadcast, rewritten or redistributed.