The theme of the 2013 Relay For Life of Logan County is "Logan's Hero's -- Past, Present, Future."

In 2012 Logan County had 42 teams with 380 participants who raised over $81,235, which also included 1,081 luminarias that lined the Lincoln Center walkway in remembrance of those who had fought cancer and also for those who walked as survivors.

This year, the 16th Relay For Life in Logan County, organizers hope to surpass those totals and set new records too. As we celebrate another birthday, especially in the lives of our survivors, we strive to eliminate this dreaded disease for all humanity.

Co-leaders Nicole Tripplett Lee, Amy Weidhuner and Tabitha Weidhuner invite new leaders, new teams and especially those who have led in the past to join the campaign. Special recognition will be given to the teams that have already signed up for 2013.

To sign up before Monday, call Carol Motley, 732-8032.

The American Cancer Society combines an unyielding passion with nearly a century of experience to save lives and end suffering from cancer, with nearly 100,000 volunteers in Illinois and millions elsewhere in this fight.
---

Absentee and early voting for Lincoln Republican primary
Lincoln Daily News received the following notice from Sally J. Litterly, Logan County clerk:
(Copy)
PUBLIC NOTICE
ABSENTEE AND EARLY VOTING
FOR THE LINCOLN CITY CONSOLIDATED REPUBLICAN PRIMARY ELECTION
FEBRUARY 26, 2013
Do you want to avoid lines on Election Day? Registered voters who desire to cast a ballot at the Office of the County Clerk rather than their polling place, may now vote in person in the Office of the County Clerk. The office is located on the 2nd floor of the Logan County Courthouse, 601 Broadway St., Lincoln, Illinois. In person absentee voting continues through February 25, 2013.
Registered voters may also make application by mail to vote absentee. Students and out of county workers can conveniently obtain an Application to Vote Absentee by contacting the Office of the County Clerk, or access the form on the Clerk's website at http://www.co.logan.il.us/county_clerk/. Mail applications will be received by the County Clerk until February 21, 2013. No ballots may be sent by mail after that date as provided by law. No excuse is needed to vote by absentee by mail or in person.
Early Voting (similar to Absentee) will also be conducted in the Office of the County Clerk February 11 through February 23, 2013. Early voting allows registered voters to cast their ballot prior to Election Day by voting at the pre-designated site of the Office of the Logan County Clerk. Early voters must be registered and present a valid picture ID showing their current voter registration address.
Office hours are Monday through Friday 8:30 a.m. – 4:30 p.m.
Any questions concerning voting may be directed to the Office of the County Clerk Elections Department at (217)732-4148.
---

Polar Plungers across Illinois will be freezin' for a reason Feb. 22-March 17
NORMAL -- It's not every day that people are willing to "go jump in a lake" -- particularly in the winter -- let alone do so with thousands of other people, including members of the law enforcement community. But that's exactly what will happen on various weekends in February and March as part of the annual Law Enforcement Torch Run Polar Plunge to benefit Special Olympics Illinois presented by GEICO.
Any adventurous soul is invited to join law enforcement officers, as well as media and business and civic leaders from their community, by donning bathing suits, costumes or any clothing of choice (just no wetsuits!) to jump in a lake. Each plunger must collect a minimum of $75 in donations that will be used to support Special Olympics programs in Illinois.
The event has grown from one location in 1999 to 20 locations across the state this year. The Polar Plunge series will kick off with a Super Plunge -- where participants raise a minimum of $2,500 and plunge into Lake Michigan once every hour for 24 hours -- on Feb. 22-23 at Northwestern University's North Beach in Evanston.
The Logan County plunge will take place on Sunday, March 17, at 2 p.m. at Lincoln Lakes. Please note this is a change in both day of the week and time. Anyone wishing to know more about the local plunge can click on the "Polar Plunge" button on the Top Stories page of LDN or contact Joanie Keyes of Special Olympics Illinois at 217-428-9255.
Individuals and teams can register for the plunge on the Special Olympics Illinois website at http://www.plungeillinois.com/ or by contacting Keyes at the number above.
Plungers are encouraged to form teams to spread the fun. Each team member must raise the minimum of $75 in donations, and all team members' individual fundraising totals will be merged to form a combined team total. Teams are placed into divisions based on size and are awarded prizes for the most money raised.
All plungers will receive gifts, compete for prizes, and enjoy food and camaraderie with other chilly participants. The more money a plunger raises, the more chances he or she will have to win a four-night trip for two adults to Cancun, Mexico, with accommodations at Riu Peninsula, courtesy of Apple Vacations. For every $500 a plunger raises, he or she will get an entry into the drawing for this grand prize.
The Illinois Law Enforcement Torch Run is the single largest year-round fundraising vehicle benefiting Special Olympics Illinois. The annual intrastate relay and its various fundraising projects have two goals: to raise money and increase public awareness for the athletes of Special Olympics Illinois. Each year, more than 3,000 officers in Illinois run more than 1,500 miles carrying the "Flame of Hope" through the streets of their hometowns and deliver it to the State Summer Games in Normal in June.
---

Lincoln Christian Church family event Jan. 26
Lincoln Christian Church will host a free family event on Saturday, Jan. 26, at 3 p.m. featuring an illusionist, Andrew Anderson, from Charleston. Anderson captivates the audience and invites them to participate, all the while teaching the gospel.
The program is for children, their family and friends. Children must be accompanied by an adult.
The event is free to the public and sponsored by the church's family ministry.
---

Harvest will host 10th anniversary Spring for Tea
Plans are well under way for Spring for Tea -- the "premiere event" of the Harvest of Talents for World Hunger at Lincoln Christian Church. So reports Marcia Bidwell, who chairs the event and comments that this marks the 10th anniversary of the much-anticipated spring event of the Harvest Ministry.
Ticket sales will begin on Feb. 1 and the anniversary tea will be on Saturday, April 20, in the Fellowship Center of Lincoln Christian Church. Doors to the event open at 10:45 a.m., and tea will be served at 11:30 a.m.
The tea features a number of elegantly appointed tea tables complete with china, silver, crystal and offering a variety of themes and décor. Women of all ages will serve as hostesses for the tables, attending graciously to the needs of their guests.
The tea menu will feature favorite food selections from previous teas as well as some that are new this year. Background music ambience will be provided by a string quartet. Food and conversation will prevail as guests are served traditional tea fare accompanied by cups of a special hot tea served from a variety of delicate teapots.
As tea guests arrive, they will be greeted and escorted to their tables by the Harvest men in black. Before partaking of tea, the guests will enjoy a promenade of all of the tables as they await the appointed time of serving.
A special 10th anniversary program will be presented following the serving of tea. A number of door prizes, provided by local businesses and individuals, will be awarded.
Tickets are sold in advance in the church office. Bidwell reports that there is limited seating and that the tickets sell out quickly. Tickets may be purchased beginning Feb. 1 by visiting the church office or calling Vera Thomas at 732-7618.
The April tea will be the first 2013 event of the Harvest of Talents Ministry, which this year will be celebrating its 30th anniversary. The Harvest of Talents for World Hunger is a unique ministry of the Lincoln church. Partnering with International Disaster Emergency Service, the annual Lincoln event has raised $1,718,145.23 through the 29th Harvest, every penny of which has gone to feeding programs, orphanages and missions throughout the world, providing physical and spiritual food to those in need.
The 30th annual Harvest of Talents for World Hunger will be on the fourth Saturday in October in the Fellowship Center of Lincoln Christian Church. Anyone seeking information about the event may call the church office at 217-732-7618.
---

Local emergency assistance board to meet Jan. 29

The Logan County Emergency Food and Shelter Program board will have its annual meeting Jan. 29 at 1:30 p.m. at Community Action Partnership of Central Illinois, 1800 Fifth St. in Lincoln. The program is also known as EFSP.

The Emergency Food and Shelter National Board Program was created in 1983 to supplement the work of local social service organizations within the United States, both private and governmental, to help people in need of emergency assistance. This collaborative effort between the private and public sectors has provided over $3.6 billion in federal funds during its 28-year history.

Representatives of agencies in Logan County that are interested in learning more about the program are encouraged to contact Cyndi Campbell, resource specialist at Community Action Partnership, 217-732-2159, ext. 225.
---

Public meeting Jan. 29 to discuss downtown revitalization and redevelopment planning
There will be a public informational meeting on Tuesday, Jan. 29, from 5 to 6:30 p.m., in the Pegram Room of the Lincoln Public Library. The meeting will be an open house format, with a short presentation to be given at 5:30 p.m.
The purpose of the public meeting is to present the preliminary Downtown Redevelopment Plan to residents, local business owners and community leaders. The plan focuses on the downtown business environment, including a land-use plan, and an economic development and business plan.
All residents are encouraged to attend this public informational meeting.
The planning team is also in the process of developing a Downtown Revitalization Plan which makes recommendations on specific physical improvements to downtown Lincoln, including streetscape improvements, a conceptual plan for the public parks and courthouse square, parking and traffic plans, historical façade improvements, and a historical preservation plan.
Information about the Downtown Revitalization Plan will presented at a second public informational meeting at a later date. An announcement regarding the second informational meeting will be provided in the local news media and on the project website: http://explorelogancounty.com/
DowntownLincolnStudy.
---

Atlanta Public Library's writing group continues in January
ATLANTA -- Following its popular memoir workshop with Terri Ryburn in November, the Atlanta Public Library continues its adult creative writing program in January with "Yes, You Can Write!" With the goal of keeping its writers group together and adding new people, the library will offer five Thursday evening sessions at the library on a variety of topics that will appeal to fiction and nonfiction interests alike.
The workshop is designed for people who enjoy writing already, those who have always wanted to try their hand at it or even people who think they can't write at all! Come and be surprised by what you can do. Participants will explore a wide range of writing techniques, share their stories with others and enjoy the support of their fellow writers.
"Yes, You Can Write!" is recommended for age 18 and older. Sessions take place from 6:30 to 8 p.m. at the library. Scheduled topics are "Finding Your Inspiration," Jan. 17; "Setting the Landscape," Feb. 21; "All About Character," March 21; "The Tricks of Dialogue," April 25; and "The Basics of Plot," May 9.
While people may come to as many sessions as they like, the library recommends signing up for all five sessions in order to help create a nurturing and safe environment in which people feel free to experiment and share their work.
There is a small fee for the workshop. For more information, contact the library at 217-648-2112 or visit the website, http://www.apldinfo.org/.
---

Rita Wells: January Employee of the Month at Abraham Lincoln Memorial Hospital
Rita Wells of Lincoln has been named the January Employee of the Month at Abraham Lincoln Memorial Hospital. She works as an accounting and payroll technologist.
"Rita makes ALMH a great place to work by her attitude, cooperation and willingness to go the extra mile," said co-worker Les Richert, who nominated Wells for the honor. "She is always ready to assist with solving problems and providing needed information. Regardless of the nature and complexity of the issue, she always makes you feel like you are the most important task at hand and is focused on your answer. She is always friendly, helpful, empathetic and professional. She makes many other people's jobs easier because she does hers so well."
Wells was born in Hopedale but has lived in Lincoln for 10 years and has been employed by Abraham Lincoln Memorial Hospital for 18 years. She enjoys her work at ALMH because of her co-workers.
"I think ALMH has the best group of people," she said. "They are fun to work with, and they all truly care about their jobs and the people they serve. I couldn't find a nicer place to work."
She also enjoys the variety she sees in her accounting work. "Every day brings something new," she said. "There is always a project going on that has a deadline. I enjoy the fast pace and busy work environment."
ALMH is a 25-bed critical-access hospital located at 200 Stahlhut Drive in Lincoln and affiliated with Memorial Health System. ALMH employs 315 in a variety of roles. For more information about ALMH, visit www.almh.org.
---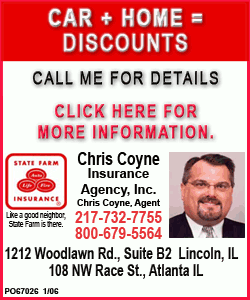 ---

LAMS rehearsals for spring concert begin Feb. 5

The chorale of the Lincoln Area Music Society will soon begin rehearsals for the spring concert with the orchestra. The first rehearsal will be on Tuesday, Feb. 5, at 7 p.m. at St. John Church of Christ.

The group will be under the direction of Tim Searby and will be accompanied by Kay Dobson.

The combined concert will be at the Lincoln Community High School auditorium on Saturday, April 13, at 7 p.m. and Sunday, April 14, at 2 p.m.

The chorale will do arrangements of show tunes, classical, sacred, patriotic music and a hilarious arrangement about Beethoven.

Everyone from high school on up is welcome to join the chorale.

For more information, contact Tim Searby at tsearby@heritageofcare.com.
---

Blood drive Thursday at Elkhart Christian Church

ELKHART -- To help ensure an adequate blood supply for the region, Elkhart Christian Church, 113 S. Gillett, is hosting a blood drive on the Central Illinois Community Blood Center donor bus on Thursday, Jan. 17, from 3 to 6 p.m.

For your convenience, call Lucille to sign up at 947-2702 or schedule an appointment online using sponsor code 60017 at www.bloodcenterimpact.org. Walk-ins are also welcome and truly appreciated.

Central Illinois Community Blood Center, a not-for-profit organization, is the provider of lifesaving blood for 14 hospitals throughout central Illinois, including Abraham Lincoln Memorial Hospital in Lincoln and Memorial Medical Center and St. John's Hospital in Springfield. CICBC is a division of the Mississippi Valley Regional Blood Center, which collects over 180,000 units of blood annually and serves 87 hospitals in Illinois, Iowa, Missouri and Wisconsin.
---

Jo Small Hilliard named administrator at Christian Village

Jo Small Hilliard has been named the new administrator at The Christian Village. She returns to the senior living community after a 19-year absence. She began as the activity director, leaving to join the ministry at Jefferson Street Christian Church as office manager in 1994.

Hilliard returned to Christian Homes Inc. in 2004 to work in human resources in the corporate office. She quickly took on additional roles in project management and policy coordination. She most recently served as administrator at the Vonderlieth Living Center in Mount Pulaski.

Originally from Tuscola, Hilliard is a graduate of Lincoln Christian University and comes from several generations of preachers. She served overseas as a missionary in Hong Kong and a teacher of English in mainland China. She lives in Mount Pulaski with her husband of 19 years, Jack Hilliard, and their two children, Miranda and John.

"I felt the Lord's guidance in accepting the position of administrator at The Christian Village," she said. "I look forward to the training I'll receive as well as the opportunity to reach out to the churches and community supporters.

"The Christian Village has a fine tradition of providing not only quality nursing care to residents, but also care for the soul, heart and mind. My goal is to continue in this strong tradition and, along with my co-workers, strive to improve our mission to the community."
---

Logan County Natural Hazard Mitigation Planning Committee will meet Thursday

Steps to prevent injuries and deaths while maintaining vital services for Logan County residents when floods and severe storms hit will be discussed when the Logan County Natural Hazard Mitigation Planning Committee meets on Thursday, Jan. 17, at 4 p.m. at the Public Safety Complex, 911 Pekin St. in Lincoln. Meetings of the committee are open to the public.

This committee began work in August to prepare a plan that will identify projects and activities to protect Logan County residents and property from storms and other natural disasters. This plan, unlike all other emergency plans, is aimed at identifying projects and activities that can be taken before these disasters occur.

"Other emergency plans are directed at responding after a storm or natural disaster hits. This is the first time in Logan County that we are looking at actions that can reduce or eliminate damages caused by specific types of storms and other natural disasters," said Dan Fulscher, director of the Logan County Emergency Management Agency.

Atlanta, Broadwell, Elkhart, Emden, Hartsburg, Lincoln and Mount Pulaski are participating in this planning process.

Building storm shelters, resolving drainage problems, and retrofitting water supplies and other critical facilities to better withstand natural disasters are a few examples of the kinds of projects that might be included in the plan. Developing public information materials and conducting drainage studies are examples of other activities that might also be included in the Natural Hazard Mitigation Plan.

"Developing a plan that is approved by the Federal Emergency Management Agency will help all the participating jurisdictions become eligible for state and federal grant money," added Terry Storer, committee chairman.
---

Logan County Genealogical & Historical Society program schedule, Jan.-March

The Logan County Genealogical & Historical Society has scheduled the following programs for the first quarter of the year:
Jan. 21 -- "History Comes Alive in Logan County!" presented by Anne Moseley, assistant director of the Lincoln Heritage Museum at Lincoln College. Ms. Moseley will explain a nationally recognized certification program for historic interpretation, the benefits of incorporating interpreters into tourism and educational events, and describe training that is under development at the museum and will be available to community members.

Feb. 18 -- Black History Month will be recognized with a program involving historic Allen Chapel, which has experienced restoration and upgrades over the last year. The program will feature the portrayal of at least one individual from the African-American history of Logan County or central Illinois.

March 18 -- Historians from Mount Pulaski and Elkhart will come together to present a biography and stories of Elkhart resident Adam Henry Bogardus, a Civil War officer, local legend, inventor and world-renowned sharpshooter. Phil Bertoni and Gillette Ransom will discuss the Logan County man, his family and his life's achievements.
---

Seasonal weight limits on Logan County highways begin Jan. 20

During the winter months, soils will freeze and thaw repeatedly. This can cause problems for local roadways that are not designed to support heavy traffic. Heavy loads during these freeze-thaw cycles can cause significant damage.

Beginning Jan. 20, the seasonal weight limits will be in effect on all Logan County highways. These roads are marked with five-sided blue signs and are posted with weight limit signs. Any vehicle in excess of the weight limits needs to have a permit issued by the Logan County Highway Department.

Permits are available by visiting www.co.logan.il.us/highwaydept, by calling the highway department office at 217-732-3059 or by visiting the office at 529 S. McLean St. in Lincoln. There is no charge for the permits. Permits will be valid only on certain days when conditions are suitable.

Hauling on township roads in Logan County during this time period will need to be coordinated with the respective township road commissioner.

Again this year, the highway department is asking for cooperation to help keep our roads in good condition.

For your convenience, call Lucille to sign up at 947-2702 or schedule an appointment online using sponsor code 60017 at www.bloodcenterimpact.org. Walk-ins are also welcome and truly appreciated.

Central Illinois Community Blood Center, a not-for-profit organization, is the provider of lifesaving blood for 14 hospitals throughout central Illinois, including Abraham Lincoln Memorial Hospital in Lincoln and Memorial Medical Center and St. John's Hospital in Springfield. CICBC is a division of the Mississippi Valley Regional Blood Center, which collects over 180,000 units of blood annually and serves 87 hospitals in Illinois, Iowa, Missouri and Wisconsin.
---

HSLC board election Jan. 30

A general membership meeting of the Humane Society of Logan County will be on Jan. 30 in the Steinfort Room at Abraham Lincoln Memorial Hospital, 200 Stahlhut Drive.

The annual election for three seats on the board of directors of the Humane Society of Logan County will be at this meeting.

Anyone who is current with their dues and has been a member for at least three months prior to the election may declare their intent to seek election to the board of directors. If you are interested in serving on the board, you may send a letter of intent to the board secretary, Wanda Stevens, at wstevens@ccaonline.com.
---

Atlanta Betterment Fund board introduces 'Rt. 66 Reinterpreted' Art Project

ATLANTA -- In celebration of Route 66 and all it stands for, Atlanta -- located on the Mother Road, midway between Chicago and St. Louis -- announces its first "Rt. 66 Reinterpreted" Art Project.

Modeled on Chicago's "Cows on Parade" exhibit, the Rt. 66 Reinterpreted project presents artists the opportunity to create their own take on one of the 20th century's most iconic and recognizable symbols: the U.S. Route 66 highway shield.

Participating artists will be provided a blank, 2-foot-by-2-foot wooden cutout of the Route 66 sign, painted white, which will then become their personal canvas. The only requirement in creating a reinterpreted shield is to incorporate the text "Illinois U.S. 66" somewhere on the face of the shield, in whatever size, shape or color the artist desires. Everything else about the design, style, background and color of the reinterpreted shield is left to each artist's imagination and creativity.

The project is open to anyone 16 years old and above. Up to 50 entries will be accepted in this year's project, as determined by the date applications are received. All 50 entries will be displayed outside along Route 66 in downtown Atlanta from May 1 to Aug. 31, 2013.

The board of directors of the Atlanta Betterment Fund will select 10 shields out of the 50 entries as finalists. Shields selected as finalists will be judged on originality of design, overall concept and quality of execution.

Voting will then take place May 1-Aug. 31 to select the top five shield designs as winners of the 2012 project. Anyone, anywhere may vote, either in person at selected Route 66 attractions in Atlanta or online via Atlanta's website at www.atlantaillinois.org. The top five vote-getters will be the winners of the year's Rt. 66 Reinterpreted project.

At the conclusion of the project, the five winning shields, along with the names of the artists who created them, will be displayed on a permanent basis in the Atlanta Route 66 Park. Entries selected as one of the top five winning designs will also be showcased at the International Mother Road Festival in Springfield Sept. 27-29, 2013.

Artists wishing to enter the Rt. 66 Reinterpreted Art Project must submit a completed application form, along with a $25 entry fee. Completed applications are due on or before Feb. 1. Applications received after Feb. 1 will not be accepted.

Completed Rt. 66 Reinterpreted shields should be carefully packaged and returned to: The Atlanta Betterment Fund, 114 SW Arch St., Atlanta, IL 61723. Shields should be submitted between March 1 and April 5, 2013. Shields received after April 5 will not be accepted.

The Atlanta Betterment Fund sponsors the Rt. 66 Reinterpreted Art Project.

All decisions regarding judging are final. Entries selected as finalists will be notified by April 30, 2013. Entries selected as one of the top five winning designs will be notified by Sept. 1, 2013.

Click on the "Route 66 Art Project" logo at www.atlantaillinois.org for more information, including project guidelines and an application form to enter the Rt. 66 Reinterpreted Art Project. Or contact:

William Thomas
Atlanta Betterment Fund
114 SW Arch St.
Atlanta, IL 61723

217-648-5077
---