The items give a fascinating glimpse of life at 54: author Fran Lebowitz shoulder-to-shoulder with pop artist Andy Warhol. A stone-faced Frank Sinatra staring off in the distance. Diana Ross, arms flailing on the dance floor. Robin Williams, Dustin Hoffman, Michael Jackson, Elton John, Cher -- and on and on and on.
Rubell's partner, Bill Hamilton, finally decided to part with the treasures, more than 23 years after Rubell's death at the age of 45. The boxes of newspaper clippings, photographs and everything else had spent decades in their apartment on West 55th Street in Manhattan, where Hamilton still lives.
Giving up the items was hard, said Hamilton, who was too young to ever enjoy Studio 54 himself. He decided to auction them, in part, because he got married last year and wanted to shed some of his possessions. But as he took a final look at the photos, he was reminded of Rubell's generosity and how much fun he helped create.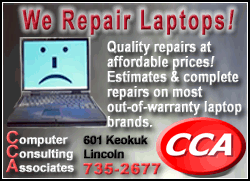 "He really just wanted you to have a good time. And he might have just met you and he invited you into the club, but he was going to make sure you remember it," he said. "These people from 1978, 1979 are still living those nights."
Rubell and Ian Shrager opened Studio 54 in 1977 and sold it in 1981, after they "got out of camp," as they called prison, where they served time on charges of federal income-tax evasion. It continued operating under different management for years afterward.
"They just pushed the envelope every single night," Hamilton said.
The club's memories are captured in hand-scrawled notes from its guests, such as one from Farrah Fawcett to Rubell that says "Dearest Steve, Thank you for a fabulous weekend. You made it work!" Or the telegram from Yves St. Laurent to Rubell, inviting him to a black-tie celebration of his perfume Opium.