Logan County Relay For Life kickoff potluck Monday

Send a link to a friend
[January 17, 2013] Kickoff for this year's Logan County Relay For Life will be at Lincoln Christian Church with a potluck at 6 p.m. Monday. New team leaders and past leaders are encouraged to come and join in the American Cancer Society campaign to stamp out this dreadful disease that has touched every person in Logan County one way or another.
The theme of the 2013 Relay For Life of Logan County is "Logan's Hero's -- Past, Present, Future."

In 2012 Logan County had 42 teams with 380 participants who raised over $81,235, which also included 1,081 luminarias that lined the Lincoln Center walkway in remembrance of those who had fought cancer and also for those who walked as survivors.

This year, the 16th Relay For Life in Logan County, organizers hope to surpass those totals and set new records too. As we celebrate another birthday, especially in the lives of our survivors, we strive to eliminate this dreaded disease for all humanity.

Co-leaders Nicole Tripplett Lee, Amy Weidhuner and Tabitha Weidhuner invite new leaders, new teams and especially those who have led in the past to join the campaign. Special recognition will be given to the teams that have already signed up for 2013.

To sign up before Monday, call Carol Motley, 732-8032.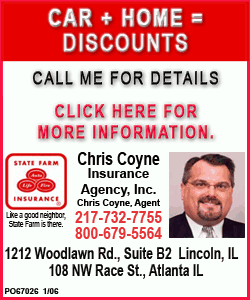 The American Cancer Society combines an unyielding passion with nearly a century of experience to save lives and end suffering from cancer, with nearly 100,000 volunteers in Illinois and millions elsewhere in this fight.