[January 22, 2013]

Send a link to a friend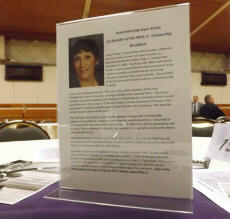 Monday morning it was a packed house at the Davidson-Sheffer Gymnasium on the campus of Lincoln College as the community came out in support of the Joyce Kinzie/Martin Luther King Jr. Scholarship Breakfast.
The scholarship program was the brainchild of Joyce Kinzie and the Rev. Glenn Shelton, with a lot of support from Les Plotner. It began as an annual breakfast at the Maple Club, which was owned by Kinzie. Each year funds were raised and scholarships given to minority students graduating from Logan County high schools.
The scholarship program began as just the Martin Luther King Jr. Scholarship, but after Kinzie died in 2010, her name was added to the scholarship in commemoration of her dedication to the program.
Monday's event kicked off with a buffet breakfast provided by chef Warren Wendlandt and the food service staff of Lincoln College.
Opening remarks were provided by John Blackburn, Lincoln College president. Blackburn spoke briefly about growing up in a southern Illinois community where the population was all-white. He recalled then moving to the Southern states as a young child with his family and witnessing segregation firsthand in shopping centers, movie theaters, restaurants and more.
He recalled asking his parents why, and their explanation was that if they didn't have separate services, it would get too crowded. For a child this was a reasonable explanation, but Blackburn said he thinks that at that time this type of explanation may have been how people justified in their own minds what they were doing in being separate.
Before leaving the podium Blackburn also acknowledged the committee that puts the breakfast together each year, including Shelton, Plotner, Cathy Tiffany (Kinzie's daughter), Tina Cunningham, Debbie Ackerman and Cynthia Kelley.
Pictures by Nila Smith